Camp Trippalindee
Opened in September 2017 in The Graduate Madison Hotel Camp Trippalindee offers locals and visitors alike a quirky and campy, indoor/outdoor dining and drinking venue complete with fire pits for roasting s'mores. Inside, mismatched vinyl chairs, vintage tables, knotty pine walls, blue and green checkerboard floors, homegrown art frames, and plenty of Cadillac greens, rusts and burnt yellows evoke a late 1970s/early 1980s raunchy teen comedy aesthetic. The 3,000-square-foot space is laid out with the bar at the back, the small dining room in the center and a wraparound outdoor porch. It can host private events for up to 100 people. Graduate Hotels' internal team led the design for the space.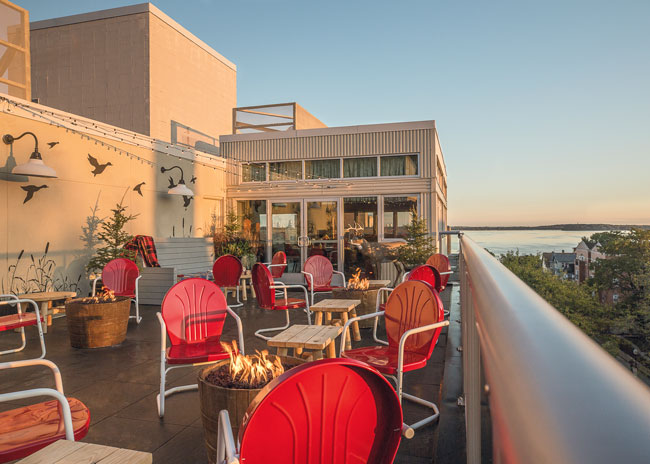 Images courtesy of Laura Kastner
Mint Mark
Chef Sean Pharr opened this eclectic, 46-seat restaurant in December 2017 with a lengthy list of whimsical cocktails and a menu focused on creative, memorable small plates. The design, by Mint Mark partner Chad Vogel and Jacob Morrison of MoTis Architects reflects the eclectic nature of the menu, from walls painted with mint-colored ferns to exposed blonde wood beams. A wooden trellis of sorts separates the small dining area from the 15-seat bar. Mint Mark also worked with Madison-based Art & Sons for logo and branding. A small chef's counter perched at the open kitchen allows a first-hand glimpse into the action and an opportunity to chat with Pharr.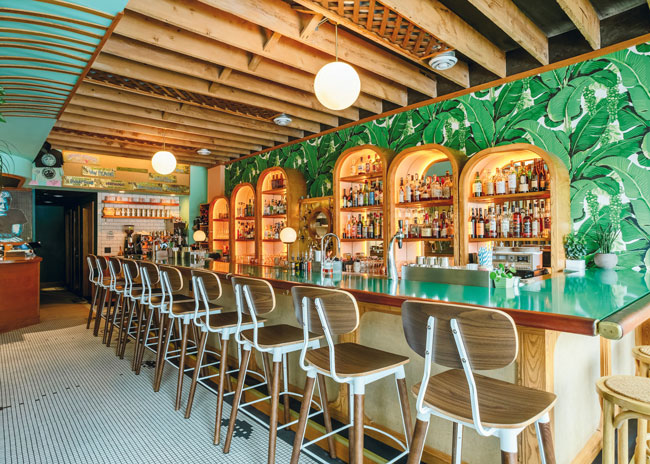 Images courtesy of Nicole Hansen
Lucille
OPN Architects won multiple awards for this passion-fueled, adaptive reuse project. Lucille is an energetic, indoor/outdoor, double-decker, 8,000-square-foot bar and wood-fired pizzeria in a 100-year-old building. Opened in May 2016 by Rule No. One Hospitality Group, the design team also included Owner Patrick Sweeney and Brad Nellis of Distillery Design. The century-old building had been altered in the 1970s, and many of the building's historical characteristics had been covered over. The project was meant to bring back many of those industrial and structural qualities while adding an aesthetic that married Madison's relaxed northern vibe with rock 'n' roll and whimsy.
Images courtesy of Mike Rebholz Photos
BelAir Cantina
This is the sixth BelAir Cantina location opened by Wisconsin natives Leslie Montemurro, Kristyn Eitel and Scott Johnson's Toro, Toro, Toro, Inc. Located just east of Capitol Square and in the heart of U-W's campus, the bright and colorful, funky space attracts many college students as well as local families and visitors. Blonde wood walls affixed with surfboards and photos of beach scenes create a breezy California vibe. Owners describe the modern Mexican restaurant's menu as "Oaxacan meets L.A. food truck."
Images courtesy of Rev Pop
Estrellón
The latest restaurant of celebrated Madison chef and restaurateur Tory Miller and his Deja Food Group, Estrellón opened in August 2015 with a menu focused on Spanish tapas, a decidedly different direction for Miller, known most for his leadership of one of Madison's most acclaimed restaurants, the French-inspired L'Etoile, and more casual sister location, Graze. Designed by Jacob Morrison of Morrison Architects, the design goal for the space was to bring a Spanish Mission style into the restaurant, in part by using dark mahogany wood, white tiles and iron-grate interior windows. The restaurant is split into two sides with a 120-seat main dining room and open kitchen on one end and a full-service bar with cozy nooks and couch seating on the other.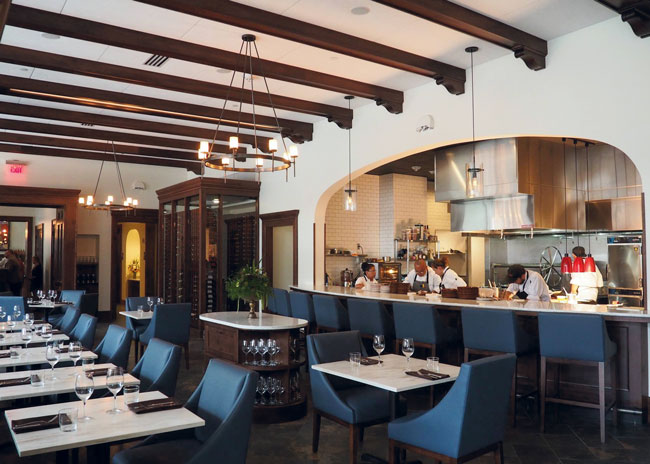 Image courtesy of Keni Rosales