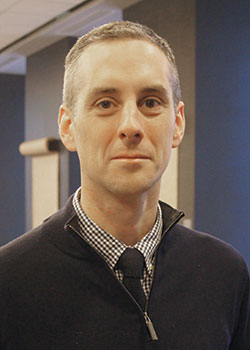 Have you seen a modern sports stadium lately — in person, not on a screen over the bar or facing your favorite armchair? If so, you've witnessed just how elevated the stadium hospitality experience has become.
Chicago-based Levy Restaurants, a leading food-and-beverage firm in the sports and entertainment space (as well as in restaurant, retail and convention center sectors), gets some of the credit. Yes, the food has come a long way from peanuts and Cracker Jack, but the concepts and designs are increasingly sophisticated as well.
With last summer's launch of Curiology, a wholly-owned subsidiary, Levy upped the ante. The move centralizes and enhances the company's own research, creative strategy and design resources for its partners as well as for clients outside of the Levy portfolio. Brian Graziano, whose career has included stints at top Chicago design consultancies and work on big brands like Nike, Gatorade and FedEx, now leads Curiology's experience design team.
First, can you clarify Curiology's place within the Levy organization?
BG: We're a subsidiary, but we function as a stand-alone entity. Our current portfolio consists of Levy partners and venues almost exclusively in sports and entertainment. Levy has always held design in high regard, but one of the big reasons they launched Curiology and reimagined our design capabilities is to stay in front of what's been a massive evolution in expectations that fans are bringing to the game-day experience.
What's driving that evolution?
BG: A lot of venues associate the need for change with the rise of Millennials, but I think it's less of a generational thing. It's just increasing consumer expectations for systemically designed, high-quality experiences. We all have access to Amazon, Uber, Netflix, Nest, Starbucks and so many other companies that have raised the bar and reshaped how we should think about our sports experiences. They've given consumers more power and choices, and we're trying to help our partners think about how they can deliver not just on food but on the whole game-day experience. It's no longer, "Hey, let's design this restaurant," but rather, "How can we think differently across this whole experience?" That's a pretty different role for designers and creatives.
Any examples that you can share?
BG: Levy is the F&B provider for the Atlanta Falcons' new Mercedes-Benz Stadium, and Curiology's role in that project is indicative of our approach. We started by working closely with E15, a separate Levy subsidiary that provides advanced analytics. We did a lot of research to find out who the people of Atlanta are, what they like to eat, where they spend money, etc., and to identify types of food and pricing that should be available to fans. Working in collaboration with executives on the Falcons' side, we then developed a variety of concepts to answer those needs. In one of our last meetings, we hung up all the concepts on a giant wall and did a virtual walkthrough of the stadium and said, "If we put this here, it's going to have this impact here, and if we put Tex-Mex here, it's going to have this impact here."
And while we had all the data points of what Falcons fans look like, we still had a number of questions about how we'd execute on that. We ended up prototyping several concessions concepts and doing a few events with the team's fan council so they could experience them. Those events gave us a much better understanding of how people in Atlanta really want to eat and what their expectations are. Several key changes were made as result.
Fox Bros. Bar-B-Q and Brew is one of several new concepts developed by Curiology for the Atlanta Falcons' new stadium.
So it's a left-brain/right-brain approach.
BG: That's right. The way we think about it is that you can use research to narrow in and also to think expansively. When we're developing an idea, we use design research and involve guests or even employees in creating a new offering or service or menu item. We also use ethnography and contextual inquiry throughout the process. And a lot of times, when we're thinking about a new concept in a blue-sky way, we'll go to a city and identify who we think the people leading the trends are. We'll spend time with them, watch how they spend their entertainment dollars and what they consider good experiences, and draw conclusions from that. So the constant left/right brain way of approaching research is very influential.
What are some tools that your own team relies on most?
BG: We use a lot of digital collaboration technology, things like Evernote, Slack and Google Docs. They're pretty essential because our people are often spread out everywhere. Our E15 group also has a tool that lets them gather data about fans' experiences throughout a game. That's been a good resource for us to figure out initial fan sentiment and give us a base to design from. We can also use that if we need to conduct surveys on the fly through mobile devices and start to gain initial perspective on certain design challenges.
How about technology in the venues themselves? Where do you see the greatest innovation?
BG: There's a lot of work being done in areas like digital wayfinding, speed of service, mobile ordering, etc. Those are all top of mind and really important to our partners. But the important thing for us to think about with new technologies is whether we can use them to remove barriers and enhance the guest experience. We don't want to use technology just because we can.
What are some favorite Curiology design strategies?
BG: One of our key methods for design is called "bright spot immersion." We task teams to go out and have experiences and share those on Slack or Evernote or Pinterest. It helps us frame challenges from a different perspective and that outside perspective is important. The other thing we do is start our process with a real user in mind. We have tools that help our teams create fictional characters that represent what our ideal guests are thinking or doing. Some of the best products in the world started with this idea of an early adopter and we try and bring that mentality to the creation of restaurants.
Still another tool we like is a guest journey framework to inspire brainstorming. It's thinking about what entices a user to go into an experience, how they enter and engage in the experience, how they exit and then extend their experience once they've left. These tools provide good guideposts to make sure we're always thinking from a guest-first perspective.
Stadiums have come a long way toward providing more elevated food and beverage experiences. What else is in store for fans?
BG: Venues are starting to think bigger about their role in the community and taking a richer approach to branding. I'm not talking about naming rights or logos, but a deeper, values-based approach that creates a sort of North Star for what their experience should be and gives consumers a way to feel connected. Imagine what it would be like if there was a Nike or an Apple of sports venues. It would have its own level of cool beyond just the games on the court or the field.
We'll also see more blended spaces that let fans choose where they'll go and how they'll experience them. Maybe it's not club versus concession stand, but there's probably some in-between type of space that we haven't even thought of yet.
And there will be bigger focus on authenticity and local. Bringing in local culinary talent is part of that trend. At the United Center in Chicago we recently created offerings called Chicago Pours and Chicago's Plate, which feature notable local chefs and mixologists. It's a whole new way to represent local, because you don't just bring people from the outside in, you work with them to create offerings specifically for your venue.
What's one really fun part of your job?
BG: I get to go to a lot of games to stay in touch with our teams and their fans. Whenever I travel, I try to catch a game and take in the culture of the events and venues. It's hard to be a designer from an office. The more we can be out in the world that we're serving, the better. Our work helps people celebrate life and have fun.
Fostering authenticity and community connection, Curiology developed the Chicago Pours program at the United Center. Featured local bartenders are invited to create craft cocktails specifically for the venue. Images courtesy of Curiology.