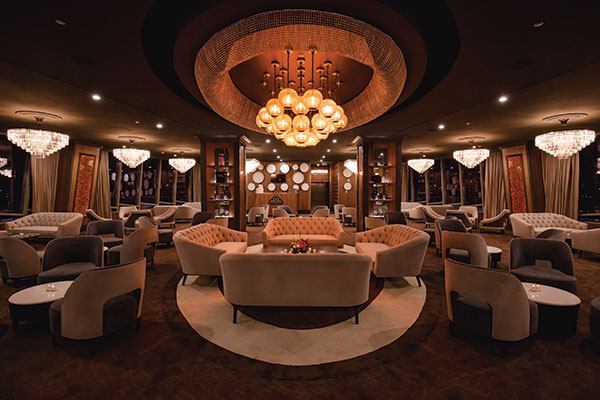 The centerpiece of the main lounge is a custom chandelier surrounded by a perimeter of more than 600 hand-strung strands of crystals. Three handcrafted drumheads, evoking the spirit of traditional Native American tribal drums, line the back bar wall and help to convey the concept's theme.
The centerpiece of the main lounge is a custom chandelier surrounded by a perimeter of more than 600 hand-strung strands of crystals.
Set on the 26th floor of the Morongo Casino, Resort & Spa near Palm Springs, Calif., The Drum Room is a stunner for its views alone. Floor-to-ceiling windows overlook the nearby San Gorgonio and San Jacinto mountains and the valley beyond. But the views inside this new VIP lounge and private-event space are equally seductive.
Designed by Santa Ana, Calif.-based designer Kenneth Ussenko, The Drum Room oozes glamour and elegance while honoring the spirit of the drums that are central to the heritage of Morongo Indians, the Native American tribe on whose 32,000-acre reservation the property sits. Opened in late 2004, the AAA Four Diamond hotel and casino bills itself as the crown jewel of California casinos. Providing a luxurious guest experience is a top priority, according to John James, chief operating officer, as is keeping every facet of the jewel at peak brilliance.
In early 2015, James and his team determined that some polishing was in order on the 26th floor. Club 360, the nightclub that had occupied the space, was becoming dated. James saw an opportunity for a redo — not just a design refresh but a whole new concept.
Three handcrafted drumheads, evoking the spirit of traditional Native American tribal drums, line the back bar wall and help to convey the concept's theme. Photos courtesy of Kenneth Ussenko Design"A primary goal of every hospitality property or resort is to keep refreshing its spotlight venues and ensuring that they're exciting and relevant," James says. "We always look forward to creating new experiences for our guests. We wanted to do something that would be completely unique and distinctive, something that would be very, very exquisite for private guest functions. We have a lot of demand for events and receptions, and people want something that's rare and unique. That's what The Drum Room provides. It's dazzling. From the moment the elevator doors open up, the story starts unfolding and the sense of arrival hits you. The glamorous bar with its beautiful drums, rich wood, buttery leather, beautiful lighting — the whole effect leaves you feeling enthralled."
While transforming the largely open and modern Club 360 space into the soft and luxurious Drum Room was largely cosmetic, the project had its share of challenges. Top among them was the tight timeline — 8 to 10 weeks from start to finish — but logistics factored in as well. The space is located directly below the hotel's signature top-floor steakhouse, Cielo, and directly above a floor of VIP suites, putting extensive demolition out of the question.
"There wasn't much construction involved. We didn't have the time, for one thing, and because we were sandwiched between a high-end restaurant and guest suites, demoing things like the tiles on the walls and columns would have been a big, loud mess," Ussenko says. "We did demo the tile floors throughout and much of the bar, but for the most part, my approach was to create everything I wanted on top of what was already there."
Starting with James' vision, Ussenko set out to marry modern luxury and tribal heritage in a way that would honor both. "Because Morongo is an Indian hotel and casino, John wanted to tap into the character of something that is really important, which is the culture and history of the tribal drums," he says. "So he created the theme and a canvas for the concept and basically stood at the bar one day and said that he wanted it to be glamorous, dazzling, exquisite and a list of 20 other adjectives. Then he told me to run with it."
Materials First, Then Design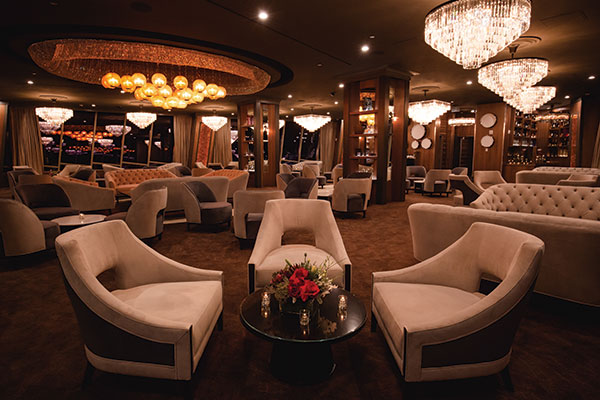 Currently operating as a VIP lounge and private-event space, The Drum Room accommodates parties of up to 120 guests. It may open to the public for occasional special events featuring celebrity guest drummers.Mindful of the schedule, Ussenko approached the project with a materials-first strategy, researching not just what he'd like to use to bring The Drum Room to life but which finishes he could realistically source and which custom craftspeople could deliver on the project's tight timeline.
All of the furniture and millwork would have to be custom designed and crafted, as would the carpet, the centerpiece light fixture and the decorative drumheads that carry the concept's theme. The red agate that would add an earthy yet swanky glow to the bar and column faces would have to be shipped in and fabricated. And significant structural reinforcements in the ceiling would be required to accommodate Ussenko's vision for big, glamorous light fixtures. On top of those challenges, every piece of the puzzle would have to be of a size and shape that would fit in the hotel's freight elevator.
"I spent the first week creating a materials list of what I wanted to apply to the space and making calls to figure out where I could get them and whether or not I could get them fast enough," Ussenko says. "With the exception of the red agate, which I found from a supplier in Israel, I was able to source everything here in California and rely on some great vendors and craftsmen that I've used in other projects."
As for the drum element, Ussenko says the rule of thumb was to play with a light hand. "The focus of this wasn't to go in and create a drum museum. The drums were just the canvas, so I populated both ends of the space with drums, pulling from the authentic, old rustic handmade ones to more modern drums that you see in use today. Gabe Corona, who I use for a lot of custom work, made them for me. I especially love the three traditional drumheads on the back bar."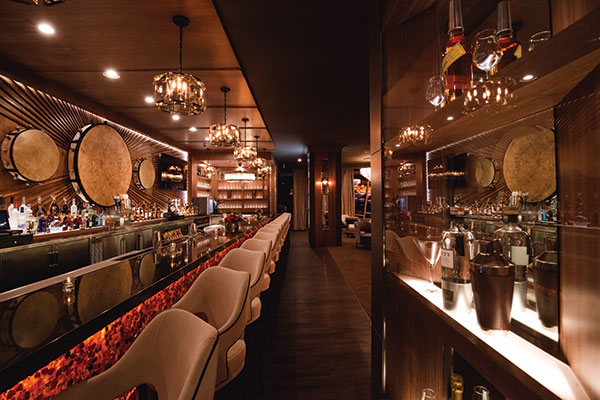 Backlit red agate panels line the face of the 14-seat bar as well as architectural columns in the lounge, bringing a dramatic but earthy element to the interior. While providing the appropriate thematic touch, drums informed the overall design vision in more subtle ways. Leather and wood — the two basic elements from which traditional drums are constructed — were used throughout the space.
"Those two basic materials were my artistic inspiration, but I applied them with glamour in mind," Ussenko says. "I designed the seating with beautiful leather and rich colors and used real walnut wood to contrast and complement the elegant fabrics. Then I added a bit of bling with the backlit precious stone and lots of crystal light fixtures, which bring a feminine side to it."
While the dozen or so chandeliers that hang throughout the space were sourced from a manufacturer, the centerpiece light fixture was custom designed by Ussenko and, like the drums, crafted by Corona. Its perimeter is comprised of more than 600 strands of individually strung crystals.
The Drum Room measures roughly 5,500 square feet, with an additional 2,000 square feet in the back of the house. It includes a full kitchen that handles everything from the concept's regular limited, appetizers-only menu to more elaborate spreads for special events.
The Drum Room's design enables comfortable socializing and includes a special side nook that allows for a few moments of respite and quiet conversation.Unlike a typical restaurant, the primary focus here is on high-end cocktails and on providing an alluring, see-and-be-seen setting in which to enjoy them. Against the backdrop of illuminated walnut shelving, simple, elegant displays of glassware, wine and spirits bottles underscore that focus.
"Our demographic calls for certain things. We have bottles of spirits that go as high as $14,000. We may have a patron who wants a $150 shot of a special brandy or a $200 pour of a special Scotch," James says. "But they don't want to sit down in the casino environment. They want to sit in an environment like The Drum Room and thoroughly enjoy themselves in a quiet, highly appointed area that has a lot of energy. We were missing that market previously, but we feel we hit the mark with this concept."
The Drum Room was designed to feel both spacious and intimate to accommodate a variety of events. Its normal layout includes 14 seats at the bar and another 86 in the lounge, with soft seating clustered around cocktail tables throughout the space. However, the space can comfortably accommodate party sizes of up to 120 guests.
"We have multiple diagrams for layouts that work for different groups and types of events," James notes. "We're flexible, as long as clients aren't looking to change the spirit or ambience of the room. But nobody does. Short of moving a few pieces of furniture around from time to time, they love it the way it is. This is the look and feel they want for their events."
Ussenko says that while he didn't have to factor traditional dining tables and chairs into the design and layout, service functionality was still a top concern. Seating and tables had to comfortably accommodate the focus on cocktails and small plates, and as with a traditional restaurant, smooth flow of both guests and staff drove the layout.
"We spent a lot of time ensuring that the flow would work and, with it being a lounge, making sure that people would be comfortable not just cocktailing but also eating there," Ussenko notes. "I met with the executive chef and head of F&B at the casino to discuss the focus of the menu and the service style they wanted to be sure the design would complement that. It couldn't just look good; it had to work for the full experience — for the guests but also for the back of the house and for profitability. Especially in this kind of corporate business, it's all about the bottom line. Glamour and glitz will get you only so far. The Morongo team loved the design, but their operations team is fantastic and helped to ensure that The Drum Room succeeds from a business standpoint as well. So far, from day one, they're just killing it with this concept."
Project Team
Concept development: John James and Team Morongo
Design: Kenneth Ussenko Design
General contractor: Jeffrey Wilhelm, Sage Mountain Construction Co.
Millwork/carpentry/stonework: David M. Collings, Collings Interiors LLC
Custom furniture: David Bina,
Deco Home
Custom center chandelier and drums: Gabriel Corona, Corona Concepts
Custom carpeting: Donovan Johnson, The Finishing Touch
Additional chandeliers and sconces: Stephanie Roberson, RH Contract
Snapshot
Ownership: Morongo Hotel, Casino
& Spa
Opened: December 2016
Location: Palm Springs, Calif.
Concept: VIP lounge and private-
event space
Size: Front of house, 5,500 square feet; back of house, 2,000 square feet
Seats: Bar, 14; lounge, 86; total event capacity, 120
Build-out: 8 to 10 weeks, design through construction
Design highlights: Mountain/valley views, handcrafted drumheads, custom furnishings and carpet, red agate bar and column faces, walnut millwork, crystal chandeliers