Design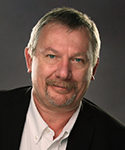 Jean Michel BoulotNext Step Design named Jean-Michel Boulot vice president, western division. Boulot will work out of Seattle, the firm's first outpost in the city. Boulot will draw on his 35-year global culinary career to deliver foodservice designs to the West Coast. Previously Boulot served as executive chef at the University of Washington and worked as a designer with Microsoft, Samsung and Disney.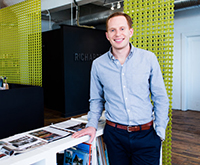 Alex HickeyCleveland's Richardson Design named Alex Hickey to lead the firm's newly launched Graphic Design team. He most recently served as art director for Pilot in Boston and has spearheaded branding projects for Star Wars, WWE and Transformers.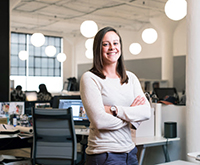 Mary WunderleMary Wunderle also joined the newly launched team as a graphic designer. She most recently served as a designer at WhiteSpace Creative.
Development
Janet DuckhamCaptain D's promoted Janet Duckham to chief supply chain officer. She will lead the worldwide purchasing functions, oversee all functions of quality assurance and manage all aspects of distribution and logistics. Duckham has been with Captain D's for six years. She started as vice president of purchasing.
Chris WardChris Ward was promoted to vice president of supply chain for Church's Chicken. Previously Ward served as the brand's senior director of purchasing. He has been with the chain since 2012.
Dunkin' Brands Group, Inc. promoted Grant Benson to senior vice president, franchising and development. Benson has held a variety of positions in the company in operations, restaurant development, franchising and business development.
Jean BaudrandJean Baudrand was named chief development officer for FSC Franchise Co., LLC, parent company of Beef 'O'Brady's and The Brass Tap. He has served in a variety of development positions at Burger King Corp., including overseeing their European, Middle Eastern and nontraditional development efforts. He has worked for and consulted with Yum! Brands, Arby's, Applebee's, and Quizno's Subs. Most recently he served for eight years as TGI Friday's vice president of international business development.
Marco's Pizza tapped John Ramsey to serve as vice president of franchise development services. He has spent 28 years in development, including at Jack in the Box, TGI Friday's, Long John Silver's and Sbarro. The pizza chain also announced the addition of Travis Edmonson as vice president of franchise sales and development. Edmonson's background includes working with various pizza and restaurant concepts such as J&H Foods, Cheezies Pizza and Campero USA on the global and regional levels.
Rave Restaurant Group named Judy Messenger vice president of real estate. She oversees both franchise support and corporate development for the company's two brands: Pizza Inn and Pie Five Pizza. Messenger brings 25 years of real estate experience to the role, including serving as director of real estate for Noodles & Co. and Smashburger.
Togo's named Glenn Lunde chief concept officer. Lunde joins Togo's with more than 25 years of experience in restaurants and retail, most recently as CMO at Grocery Outlet. He also served as COO at Einstein Noah's Restaurant Group and as CMO at Panda Restaurant Group.
Madison Jobe was named chief development officer at Wingstop. Jobe previously worked with Wingstop CEO Charlie Morrison at Rave Restaurant Group and launched Pie Five Pizza. Jobe's experience in development also includes working for Ruby Restaurant Group, Red Robin International and, most recently, as principal of Development Strategies International.