The Barn focuses on meat, drawing from both Chef Nicole Pederson's classical French training and Morton's memories of working with her father, Arnie, founder of Morton's The Steakhouse, who passed in 2005.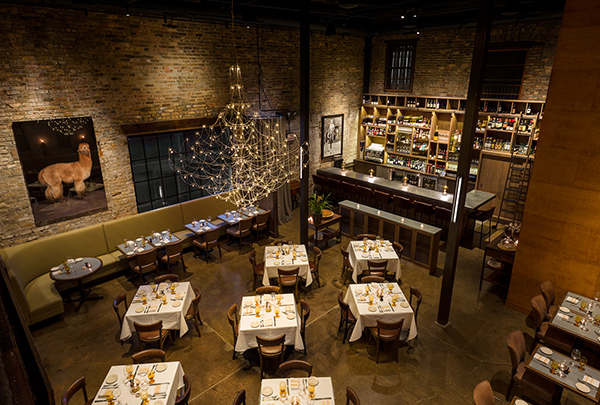 The Barn in Evanston, Ill.
The main goal of the restaurant's design was to maintain the integrity of the space, which had not been used in over 100 years. Built in 1883 to house horses for Borden Condensed Milk Company's delivery service, the building features dramatic 20-foot ceilings, original brick walls and two dining areas — one on the main floor and one on a balcony that was once a hayloft.
A whimsical 6-foot-by-6-foot chandelier with gossamer threads connecting its bulbs illuminates the dining space. The restaurant also features a backlit bar with a sliding library ladder.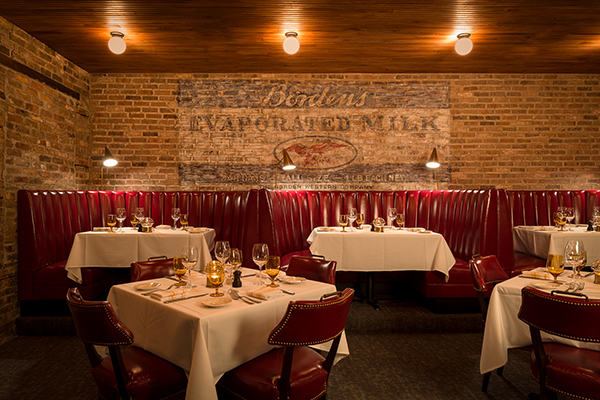 Red tufted booths at The Barn.
Neutral tones dominate, but three large, half-moon, tufted red booths grace the back wall. Artwork includes a nearly 7-foot-tall color photograph of an alpaca by Aliza Eliazarov; a rectangular, green moss installation by Heather Shouse; and a photograph of Arnie Morton riding a pony as a child.
"I hoped it would be like a secret joint or speakeasy supper club, and that's what our guests have been calling it, so it worked," Morton says.
Photography by Galdones Photography.