Finding restaurants with large, comfortable alfresco dining spaces in New York City is no small task. So when word leaked that La Bottega, an Italian restaurant fronted by an expansive outdoor plaza at the Maritime Hotel, would be closing, Batali & Bastianich Hospitality Group (B&BHG) jumped at the opportunity.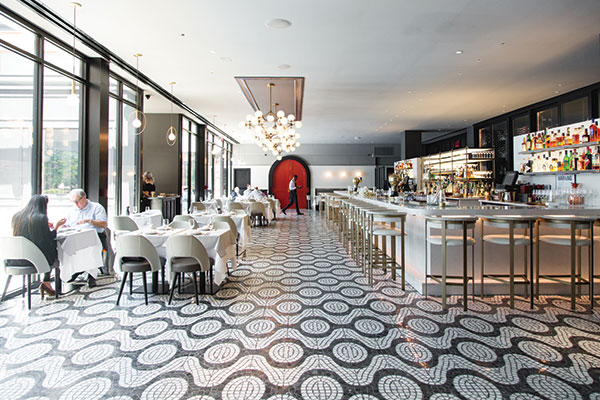 The 38-foot-long white quartz bar connects the two dining rooms. The bar area was created by enclosing what was formerly part of the outdoor plaza. Photo by Kate Previte
Helmed by culinary celebrities Mario Batali and Joe Bastianich, B&BHG signed the lease and spent more than a year converting La Bottega into a chic, contemporary home for their new Mediterranean concept.
Opened last February, La Sirena is the first new restaurant by B&BHG in 10 years, and their first in a hotel. Located in Manhattan's Chelsea neighborhood, the operation is large — nearly 15,000 square feet in all. It spans two main dining rooms that seat 80 to 100 each at the plaza level and two private dining rooms upstairs seat 300. A large bar area has table seating for 40 to 60, and the bar proper seats 30. Weather permitting, the outdoor patio located on the plaza accommodates an additional 150 diners.
The project was technically and programmatically complex. The spaces are somewhat disjointed and chock-full of challenges inherent with build-outs where existing businesses are operating — in this case, the hotel as well as the busy TAO Downtown restaurant and nightclub on the property's two lower levels. Diana Revkin, managing director at TPG Architecture, says her team was tapped in part because TPG had worked with B&BHG on previous projects, including New York's Eataly.
"We had an existing relationship, and our sweet spot is handling very complex projects," Revkin says. "They knew they wanted La Sirena to be a modern, upscale Mediterranean restaurant. Their in-house creative team had some early conceptual ideas and a strong sense of what they wanted the restaurant to look like. Following their initial creative briefs and the inspirational imagery they had collected, we worked back and forth with them in developing the plan, handling the programming and fleshing out their design vision."
Creating Continuity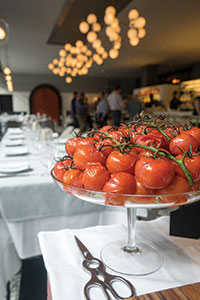 Cool, chic and modern in tones of gray and white, the restaurant's design creates a neutral backdrop against which its vibrant Mediterranean food presentations stand out. Photo by Alec ZaballeroLa Bottega was comprised of two separate spaces that were accessed through the hotel lobby and that had an open plaza space between them. "The only way to go from the kitchen to one of these rooms or the other was to go through the lobby or to cross over the plaza," Revkin says.
The project was so complex, in part, because these two spaces had to be not only redesigned but also reconfigured. Ultimately, the project team converted outdoor space to create the central bar that connects the two disparate spaces, which are now La Sirena's north and south dining rooms, and installed a new entrance vestibule. To compensate, the team also gave back a bit of space from each of the dining rooms to get more outside seating.
"We felt strongly that we needed to add a bar and make all of the spaces flow together cohesively," says Jeffrey Katz, managing partner at La Sirena and Del Posto, another B&BHG restaurant, which is located a block away from the Maritime Hotel. "We were able to put in a 30-seat bar as well as roughly 20 tables, so it's considerable space that we took from the patio to create what's now the heart of the restaurant. Even with that, it's still a large and inviting outdoor space, especially for Manhattan."
The entire front of the bar and of both dining rooms now has a blackened steel-framed glass curtain wall facade. It ensures great views and brings in lots of natural light. "The restaurant serves all day, from breakfast to late night. During the day, we have beautiful natural light streaming in, and in the evening, we have understated warm, sexy lighting throughout," Revkin says.
Katz admits that adding breakfast to the equation, per contractual obligation with the hotel, has been a challenge for a group used to operating primarily dinner-focused restaurants. In particular, achieving the right atmosphere is a work in progress. "It's a tricky business to operate breakfast when you're more used to doing dinner," he says. "Part of the challenge is that people associate you with more formal dining and not this big, casual breakfast spot. So we're even now trying to figure out how to make it feel more breakfast-like, which typically seems to be more clubby, cozy and rustic, without trading out our clean, modern and bright aesthetic."
Modern Italian Loggia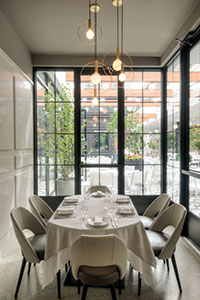 Two main dining rooms, one on each end of the bar, look out onto the plaza. Both feature original terrazzo floors, which set La Sirena's color palette. Photo by Kate PreviteLa Sirena's aesthetic character emanates from the bar. Cool, chic and modern in tones of gray and white, its lighting, flooring and furnishings provide both elegance and panache. Visual as well as physical access to the plaza lends an indoor-outdoor feel, which Revkin equates to a modern interpretation of an Italian loggia.
The impressive 38-foot-long white quartz bar is a neutral and modern accompaniment to the custom black-and-white Portuguese mosaic tile pavers used for the flooring. A nod to the hotel's nautical theme, the tile's undulating pattern mirrors a grid of porthole windows that stretches to the top of the landmark building. The pavers run from the bar area straight through the outdoor space and the plaza, which creates continuity between indoor and outdoor spaces. "When the weather is nice and the glass doors are open, it almost feels like one space," says Revkin.
In fact, Katz says the team was so enamored of the pavers that the pattern is picked up in custom tableware. And a late addition to the project, in progress as of last fall, was to run the tiles up a section of exterior wall to be visible from the street.
Inside, the brushed brass finishes and globe light fixtures have a midcentury-modern feel. Underbar lighting adds drama, and a bottle storage feature within the back bar wall is visible from both the restaurant and the hotel lobby. At either end of the bar space, a large arched door painted rich Tuscan red — a signature hue used in many B&BHG projects — provides a pop of color. Behind the respective doors, short coral-colored marble corridors lead to the north and south dining rooms.
While they differ slightly in size and shape, the dining rooms are otherwise aesthetically consistent. Banquettes line the back walls, and tables that are double draped in crisp white-and-gray linens create a calming ambience. One of few design features retained and restored during the renovation is the dining rooms' original light gray terrazzo floors, within which brass strips create a subtle porthole pattern.
La Sirena patio photo credit Alec Zaballero
The overall design effect gives the hotel's nautical vibe a fresh, Mediterranean feel with a modernist twist. "We wanted to evoke the Mediterranean of the 1950s and '60s and create a space in which you could envision Sophia Loren or Gina Lollobrigida sitting on the plaza, enjoying a cocktail and fried calamari," Revkin says. "And we didn't want the design to overshadow the food. It had to be a beautiful, understated backdrop against which the food presentation would stand out."
Project Snapshot
Opened: February 2016
Location: Maritime Hotel, Chelsea, NYC
Concept: Modern, upscale trattoria
Total square footage: 15,000
Seats: 250, plus 300 in private
dining rooms and up to 150 on the patio
Build-out: Roughly one year
Dayparts: Breakfast through late night
Entree price range: $19-$120
Design highlights: original terrazzo, glass and steel facade, custom mosaic tile, outdoor plaza, white quartz bar, midcentury-modern furnishings and lighting
Owner Insights
Utilities. Retrofitting La Sirena in a hotel that's been there for many years was tough. The utilities are older, and they used to run everything as one big business, so they didn't have to worry about separation of gas and electric, but we did. So getting the restaurant not just up to code but self-sufficient was a challenge. Even now, we continue to rely on the hotel for certain things.
Kitchens. The main kitchen is on the plaza level behind the north dining room. We also have a small satellite kitchen in one of the private dining rooms upstairs and a prep kitchen in the basement. It's tricky because prior to us taking our space, the hotel had given up the space below La Sirena to the TAO restaurant and nightclub, which takes up two floors below us. We had to figure out a way to use our basement kitchen without disturbing their operations. We ended up putting in a dumbwaiter, which wasn't easy, given that we had to install a shaft over five floors while existing businesses were operating.
Private dining rooms. They were another piece of the incredible, unique attributes that this space had. Sitting above the main dining rooms, they're big, beautiful rooms that have retractable roofs. We redecorated the rooms but didn't change the roofs, which pull back and leave open sky above when weather permits.
Bar dining. We don't do dinner at the bar. We figured we already have 250 seats inside and another 150 outside, so we didn't feel we needed those 30 bar seats for dining. And with the bar being such a focal point, we decided it was better to leave it for people who just want to have a drink or gather for a cocktail before sitting down for dinner. That might evolve, but right now it's where we are.
Project Team
Owners: Batali & Bastianich Hospitality Group – Mario Batali, Joe Bastianich
Managing partner: Jeffrey Katz
Executive chef: Josh Laurano
General manager: Luca Vesnaver
Design: Lisa Eaton, B&BHG
Creative Director
Architect: TPG Architecture
General contractor: Shawmut Design and Construction
Lighting design: Lighting Workshop
MEP engineer: AMA Consulting
Engineers