What's one way to give traditional brick-and-mortar restaurants a shot of food-truck cool? Follow the lead of a growing number of operators adding walk-up windows. Sure, they've been around forever in some segments — think custard and hot dog stands — but in an industry in which everything old is eventually new again, walk-up windows are emerging as a hot and hip restaurant accessory.
Reimagined by a new class of operators, they're serving up the convenience, simplicity, authenticity and originality that so many customers crave. And they're being brought to market in a variety of ways, from fully designed and integrated extensions of full-service restaurants to concept-within-concept approaches to simple add-ons that generate extra revenue during off-peak hours.
Here's a look at how three full-service operations, all opened within the past few years, have made walk-up windows popular and profitable and what the operators learned in the process.
BomboBar, Chicago
Opened: November 2015
Model: Two brands, one building
Walk-up for: Bomboloni donuts, sandwiches, coffee, gelato
Hours: 8 a.m.-11 p.m. daily
Developed as a side-street feature at DineAmic Restaurant Group's new full-service, casual Italian restaurant Bar Siena, BomboBar gives its parent restaurant's signature Bomboloni desserts — house-made custard-filled Italian donuts — their own moment. And, as a walk-up window only, it gives customers at Bar Siena's busy, pedestrian-friendly location a fast and fun way to grab Bomboloni as well as coffee drinks, sandwiches, Nutella calzones, gelato and Italian ice on the go.
Photos courtesy of DineAmic Restaurant Group
Lucas Stoioff, principal and founder at DineAmic, the group that's also behind Chicago's Siena Tavern and Prime & Provisions, says combining the full-service Bar Siena and fast-casual BomboBar walk-up window under one roof made sense for multiple reasons. It gave DineAmic a low-cost, relatively low-risk way to test the BomboBar walk-up prototype, which it may eventually spin off. It also was a fun way to add depth to the larger Bar Siena concept.
"It adds another layer to the brand and gives us more to talk about," says Stoioff. "It also was a creative way to utilize an area within Bar Siena that would otherwise have been wasted space. And no special licenses were required as we were already operating and serving food outside."
During the initial design phase for Bar Siena, the group recognized that a small storage room facing Green Street would essentially be dead space. After contemplating converting it to a chef's table room, the idea to do a small side concept highlighting Bar Siena's
signature Bomboloni was floated.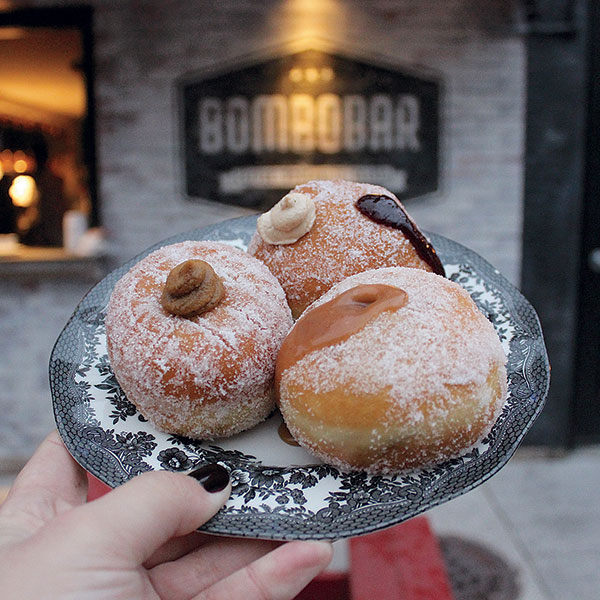 "It just clicked," Stoioff says. "We'd been thinking about developing the BomboBar concept anyway, and it made sense to launch it as a side feature that could enrich the main concept. Maybe, if this first prototype turns out to be a success and we get the operations down pat, we can take BomboBar on the road in different areas where we don't need it to be part of a larger restaurant."
BomboBar opened two months after Bar Siena launched, giving the staff time to get the main engine running smoothly before adding on the walk-up window component. Stoioff notes that for a restaurant group that has mastered opening and operating fine-dining and casual upscale restaurants, incorporating a fast-casual element presented some operational challenges.
Top among them has been handling very different guest expectations for speed of service. Not only does the staff have to be able to adjust and deliver accordingly, but the BomboBar space has to be able to efficiently handle what can suddenly be high-volume demand at the window while not skipping a beat with in-restaurant orders.
"We might get a Little League team walking up to celebrate a win, for instance. Suddenly, the person working the window is taking an order for 30 scoops of gelato, 5 Bombo Burgers and 25 Bomboloni. That's a whole different story than what we're used to inside because they expect to have it right now, as they might at a Dairy Queen," Stoioff says. "We've learned that every tiny detail in how we're set up matters in order to be able to make that happen. Everything from cup holders to utensil dispensers has to be set just so, and we've tweaked pretty much every aspect of it since it opened based on what we've learned."
Stoioff notes that the company opened BomboBar with little hype, preferring for it to grow organically in its neighborhood. Revenues have since increased steadily to the point where the concept could be self-sustaining, he says, but when it comes to spinning it off on its own, DineAmic is choosing to walk, not run.
Mamnoon, Seattle
Opened: November 2012
Model: One brand, one building, two expressions
Walk-up for: Middle Eastern street food
Hours: 11:30 a.m.-10 p.m. Mon.-Thurs.; 11:30 a.m.-11 p.m. Fri.; 2:30-11 p.m. Sat.; 2:30-10 p.m. Sun.
The vision for Seattle's popular Mamnoon, opened in 2012 by Syrian immigrants Wassef and Racha Haroun, was always to provide two experiences in one venue: elevated full-service dining and fast-casual walk-up window. In fact, Mamnoon's walk-up window — offering Middle Eastern street food —drives the business and the operation, from its storefront to its overall design and dual-kitchen operations.
Designer and architect Eric Cobb of E. Cobb Architects in Seattle helped the couple bring their street-food-focused vision to life. "The concept of being on the street and having authentic street food was absolutely core to the design conceptualization and the functional operation from the start," Cobb says. "The street-food focus created an opportunity to push a kitchen to the front window so there's activity and energy up front. It almost flips the relationship because you have to have kitchen components and operations up front or the walk-up window becomes inefficient. In turn, it pushes parts of the full-service restaurant seating deeper into the back of the space, away from the front and the street."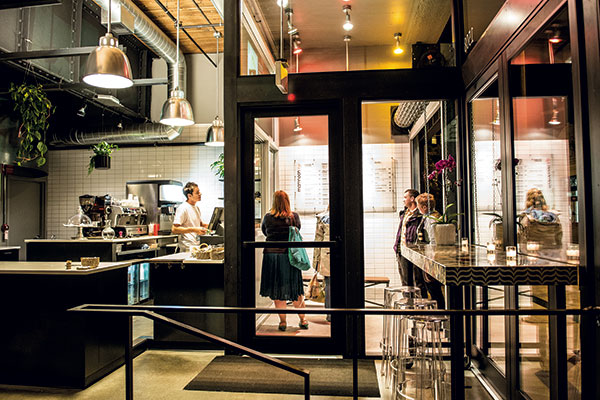 Photography by Sarah Floated
Mamnoon occupies the ground floor of a long, rectangular building in Seattle's vibrant Capitol Hill neighborhood. Its 25-foot glass storefront is divided into two main doors. The one on the right opens to a 9-foot-wide recessed walk-up alcove; the one on the left leads to the interior restaurant, fronted by a long communal table, beyond which is the main dining room and 1,300-square-foot main kitchen.
Well-lit, heated and lined in white subway tile, the walk-up window area is bright, open and inviting, and the dedicated, open kitchen that serves it adds both visual energy and enticing aromas. Measuring roughly 300 square feet, that front kitchen's visibility to pedestrians on the street and to guests entering the restaurant is a critical component of the concept's success.
The biggest challenge associated with the open design, Cobb notes, is controlling air quality. "It's not a little window with a peephole. It's a big opening, which presents significant challenges," he says. "You have weather conditions outside; you have a hood inside that's drawing air. But it's manageable. Overall, the operation of the street-food kitchen serving the street is super compelling, even to the dine-in guests," he adds. "It's turning the street into the restaurant, taking that energy and running it right through, past the communal table. It invites that density of experience deeper into the restaurant, and the impact on the total operation is enormous."
While the interior restaurant serves a broad menu of polished, contemporary Middle Eastern fare, the walk-up window offers a subset of the full menu that's focused on handheld items and dishes that can be quickly assembled and packaged for takeout in the smaller front kitchen. That area, which is supported by the main kitchen, also serves as the bread- and falafel-baking station for the entire restaurant. "It had to serve a larger purpose than just takeout," Cobb says. "Otherwise, you'd end up having to duplicate equipment and that's incredibly expensive."
With the street-food walk-up component of Mamnoon proven successful, the Harouns recently took it a step further. In February of this year, they launched Mamnoon Street, located at the base of Amazon's Doppler building. The smaller-footprint operation features a walk-up window for takeout, 30 seats inside and another 20 seats in a covered outside dining area. Jam-packed with Amazon employees at lunch — often 75 deep in the walk-up window line, according to Cobb — the operation shifts into bar mode at night, serving up wines, beers and specialty cocktails with Middle Eastern twists.
Coup d'
é

tat, Minneapolis
Opened: January 2014
Model: Late-night weekend add-on
Walk-up for: Burgers, fries, specialty sandwiches, cheese curds
Hours: 11 p.m.-2:00 a.m. Fri. and Sat.
When multiconcept operator Jester Concepts targeted Uptown Minneapolis for Coup d'état, its from-scratch kitchen, craft-cocktail-focused concept, it sought to fill a need in the bar-heavy neighborhood for an elevated dining experience. The stylish, two-level restaurant serves a menu built on Chef Tommy Begnaud's twists on contemporary American comfort foods.
The restaurant is large — 7,000 square feet, including a 2,000-square-foot mezzanine and outdoor dining spaces — and in summer seats up to 350. Strategically designed to handle large group events, it has a secondary kitchen line dedicated to banquet business.
It also has one small gem of a feature: a walk-up window that, on weekends, has the place serving up a simple menu of burgers, rotating specialty sandwiches, fries and deep-fried cheese curds.
"The walk-up window was a last-minute decision," says Brent Frederick, founding partner at Jester Concepts. "As we had drawn the kitchen areas out, it just happened that the banquet line was next to the sidewalk along a wall with windows on the side of the building. We got the idea that it would be fun to do a late-night food window — almost like going through a McDonald's drive-thru, but you're on foot. During construction, we found a drive-thru-style window and had it installed."
Photos courtesy of Jester Concepts. Photo by Sasha Landskov
Frederick notes that it took a little convincing to get the city to approve the walk-up window. "It hadn't been done before by a restaurant like ours, so they didn't really understand it," he says. "We can't serve liquor and have to abide by the permitted hours, but we're within that so it was fine. It helped that we were a full-blown restaurant and not a bar and that we had a good track record with successful restaurants in the city."
With limited service days and hours — weekend late-nights only — Coup d'état's walk-up window creates an add-on revenue stream without putting stress on existing restaurant operations. Just as the dining room inside is winding down, the walk-up crowds begin to gather.
"It doesn't make sense for us to have both going at the same time," Frederick says. "Our biggest rush starts after midnight, with people grabbing something to eat on their way home from a night out in Uptown. There are always a lot of young people out and about in this neighborhood, and we typically have a nice long line at the window. There's never a break."
Foods served at the window are made to order, fast-casual style. Customers place their order and give their name to the order taker, who calls it out when the order is ready. "It's very interactive and fun," Frederick says. "There's a lot of good-natured bantering between the window staff and the guests."
For staffing, Coup d'état typically has two to three people working the window shifts. On an average weekend night, the concept generates $1,000 to $1,500 in sales.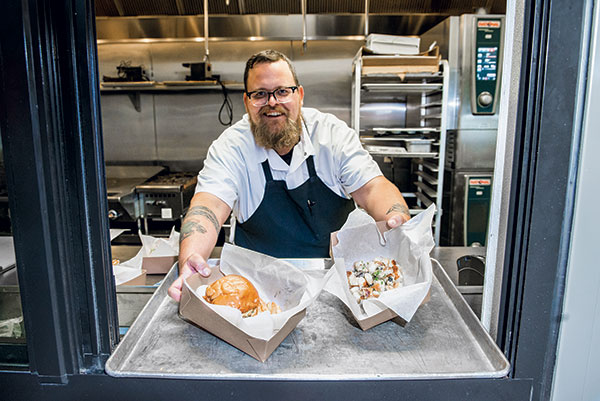 Photos courtesy of Jester Concepts. Photo by Sasha Landskov.
Frederick adds that a key to the window's success is its simplicity — serving a limited menu of simple foods freshly and quickly prepared on a flattop griddle and/or fryer works best. While most customers grab their food and go, the restaurant does place a couple of high-top tables near the window for those who want to linger outside.
The only snag is seasonality. The walk-up window bows out as Minnesota's winter blows in. "Right now, we run it from about April to October," Frederick says. "If we could get the city to approve some sort of heated vestibule out there, we'd keep it going in the winter. But so far, that's not happening." +
Save
Save
Save