When Cameron Mitchell Restaurants wanted to develop an abandoned, historic dairy building into a food hall, creating more comfortable dining areas was a key ingredient of their plans. The Budd Dairy Food Hall in Columbus, Ohio, features food from 10 vendors and indoor and outdoor dining and event areas.
For a more open, comfortable feeling in the main indoor seating area, developers used a garage door to create a bridge with an outdoor patio.
"With the operable motorized door up, the space feels more connected to the patio and feels like an open dining area, but away from the weather," said Brian Whiteside, the President of Accent Draperies of Columbus. "Of course the downside of having the garage door open is it allows glare and insects into the space."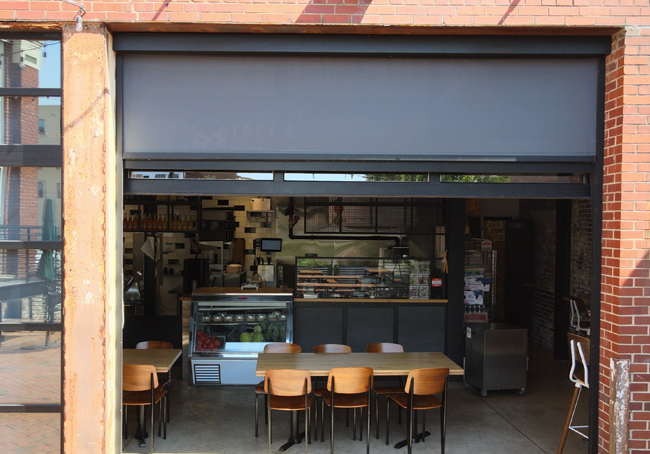 Accent Draperies' solution was the FlexShade ZIP outdoor shade by Draper, Inc. With this wind tunnel-tested shading solution, a zipper detail is heat welded to the fabric and runs through side channels to keep the panel in place and prevent insects, glare, and weather from getting through while still allowing views through to the outside. The fabric is Mermet USA E Screen™ Charcoal Grey with a 3% openness factor.
"Installing a shade on an operable garage door … there aren't too many options for that," said Whiteside. "To make the shade work without interfering with the operation of the door, we installed the ZIP on the exterior of the building. It worked out well. The mounting fits right in with the building's brick façade. It looks like it belongs there."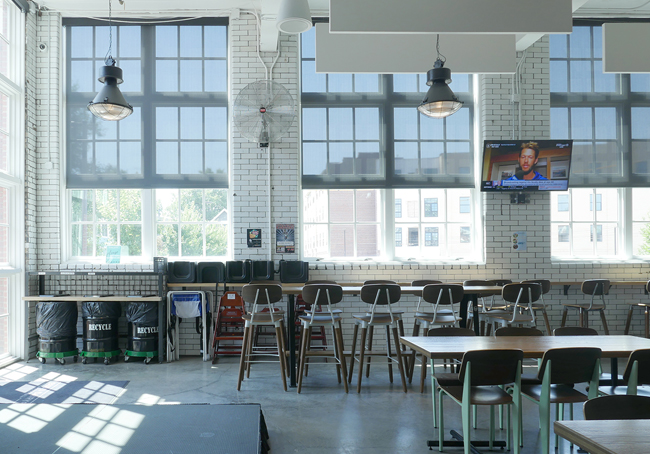 For quick, simple operation Accent Draperies installed two wireless wall switches that control the FlexShade ZIP via RF. They also installed several motorized and manual interior shades to provide a complete glare control solution on the large historic windows.
"This is a great example of the flexibility of the ZIP solution," said Scott Cash, Contract Marketing Manager for Draper. "We often see it used to create an outdoor space that is safe and comfortable, but this application, mounting the shade right to the building for insect and glare control in a large, operable opening, was a unique approach. And it was a successful one as well."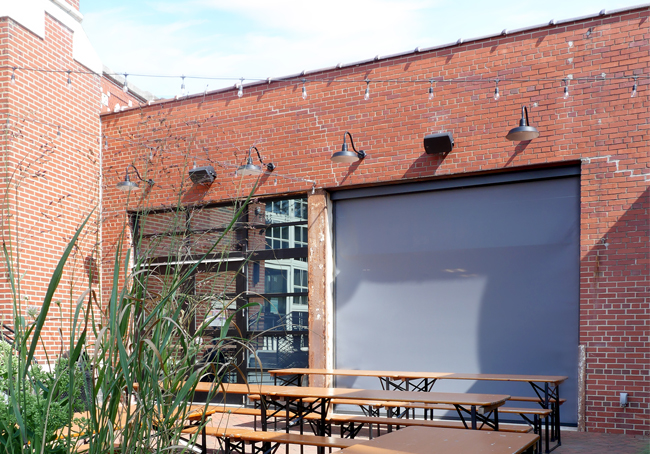 Details on the FlexShade ZIP can be found at:  https://bit.ly/3NOC0PA.
To learn more about the Budd Dairy Food Hall, click here.