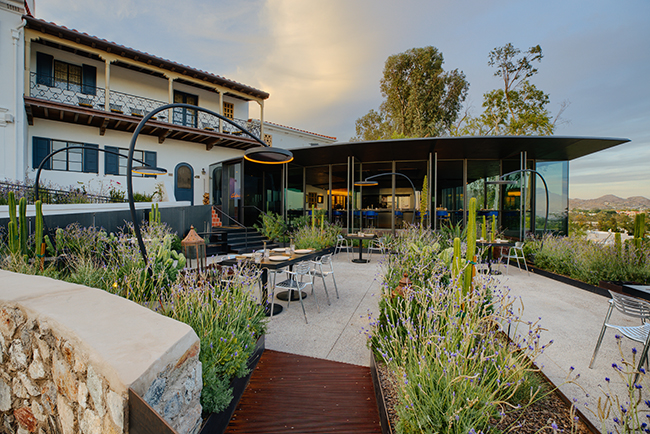 Bromic's Eclipse Smart-HeatTM Electric Portable outdoor heaters featured at Christopher's at Wrigley Mansion.
The evolution of outdoor heaters has transformed from just heat producing products to design-focused necessities needed for all outdoor focused spaces. Adding Bromic Heaters within the historic Wrigley Mansion is the perfect example of how both functionality and design were incorporated into an architecturally historic project.
Designed by William Wrigley and completed in 1931, the Wrigley Mansion is a true landmark of the Phoenix area. Sitting at the top of a hill, The Mansion commands the most dramatic views in Phoenix, showcasing the mountains and the city below. Its architecture includes curated elements of Spanish, California Monterey, and Mediterranean styles. Owner Jamie Hormel and her restaurateur partner of over 15 years, Christopher Gross, wanted to reimagine a new Christopher's restaurant at the Wrigley Mansion. The pair brought on Wendell Burnette of Wendell Burnette Architects to bring that vision to life.
Owner of his own architectural firm for over 26 years in the Arizona valley, Wendell knew that in order to adjust to the post-pandemic market demands, they needed a patio – and in order to have a patio, they needed to have heat.  "We had to find the right heater, or we couldn't do the patio, that's what it came down to," Wendall recalled.

The historic Wrigley Mansion with breathtaking views of the Phoenix skyline.
Because of the historic nature of the Wrigley and its breathtaking view of the Phoenix skyline, finding a heating solution that didn't take away from the design and atmosphere of the space was crucial. "We were very aware that Bromic has the best design in heaters," Wendall notes. Working alongside Bromic's heating experts, Burnette was presented with the new Eclipse Smart-Heat Portable, an electrical portable outdoor heater with a sleek, contemporary design that includes a dimmable LED light providing radiant outdoor heating.
One of the most common questions that even some engineers are unsure of is the advantage of using radiant heating in their outdoor spaces. Simply put, radiant heaters heat objects like humans, furniture, and plants, not the air surrounding them. Since radiant heaters are heating objects, not air, they are able to effectively heat outdoor spaces, unlike convection heaters which have little to no impact on an outdoor area. This type of focused heating means less heat lost therefore more energy saving. More comfortable temperature levels can be achieved with a lower thermostat setting rather than with a forced-air system, and having the ability to control outdoor heaters on different heat settings creates the perfect temperature output no matter the time of year.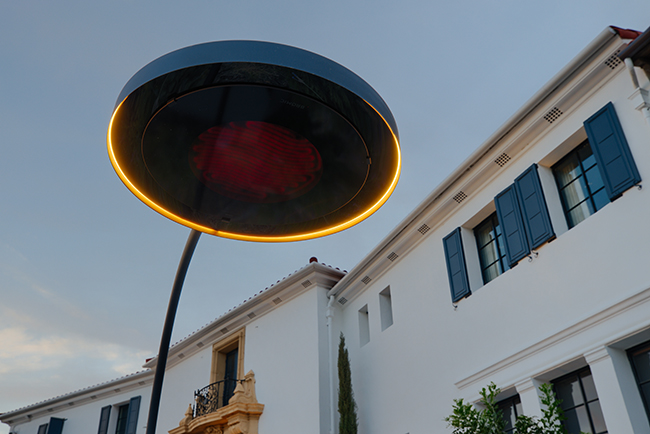 An innovative heat and light solution that strikes the perfect balance between ambience and functionality.
The results and response of adding design-focused heaters to the Wrigley Mansion have been tremendous. "Everybody that comes here, they comment about these heaters. They've never seen a heater that is this elegant and also incorporates a light fixture." With a bevy of satisfied customers enjoying comfortable temperatures, ambient lighting, striking views and gourmet cuisine – all partners in this project found themselves with a smashing success. Interested in learning more or adding the Eclipse collection within your projects? Leverage Bromic's Design Team to accelerate your project plans and provide technical specification support at no extra expense.
About Bromic Heating
Bromic Heating is a global leader in the design, engineering and manufacturing of premium gas, electric and portable outdoor heating technology for the commercial, residential, and marine sectors. Headquartered in Sydney, Australia, the company operates across North America, Europe and Asia-Pacific and is recognized around the world as an industry pioneer, having revolutionized the market with its proprietary Smart-Heat technology. With a strong focus on performance, reliability and beauty, Bromic heaters can be found in the world's most high-profile hotels, resorts, restaurants, and entertainment venues.