Vaask is the permanent hand sanitizing fixture people want to use for the experience alone. This unique, U.S.-manufactured fixture complements the style of any hospitality space while delivering zero-mess hand hygiene. Vaask provides guests and management with a better experience.
Permanent: AC powered or POE (power-over-ethernet); no batteries required
Built to last: Made of cast aluminum; backed by a 5-year warranty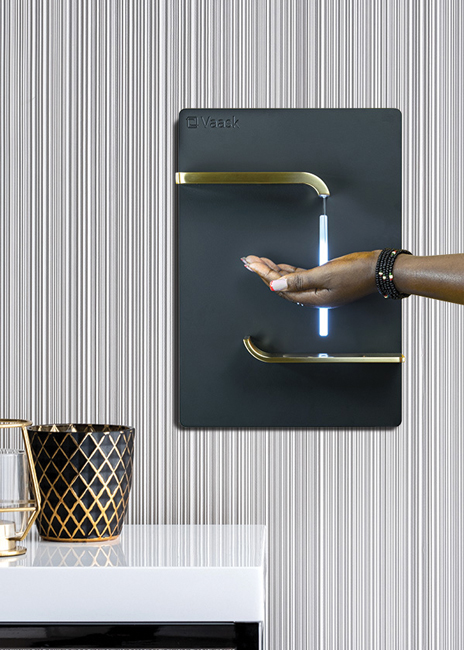 Vaask hand-sanitizing fixtures are durable, touchless, mess-free and designed to complement your space.Precise dispensing: PalmPilot® hand sensor and pump control eliminates mess
Visual alerts: LEDs attract users and notify maintenance staff when it's time to refill
Customized finishes: Powder coating, plated metal and custom graphics
Sustainable: Large-capacity, refillable tank is compatible with any gel-based sanitizer
Vaask was designed to address the specific needs of hotel and hospitality environments.
The new 55-room Muse hotel in downtown Nashville that caters to business travelers and vacationers installed Vaask to build in safety and cleanliness. Because it's so easy to maintain, Vaask allows Muse's busy staff to focus on guests' pressing needs. Property Manager Patty Williams said the sleek dispensers look right at home in the luxury facility. Since being installed, she added, "Vaask is doing exactly what it's meant to do: get people's attention and encourage them to sanitize their hands."