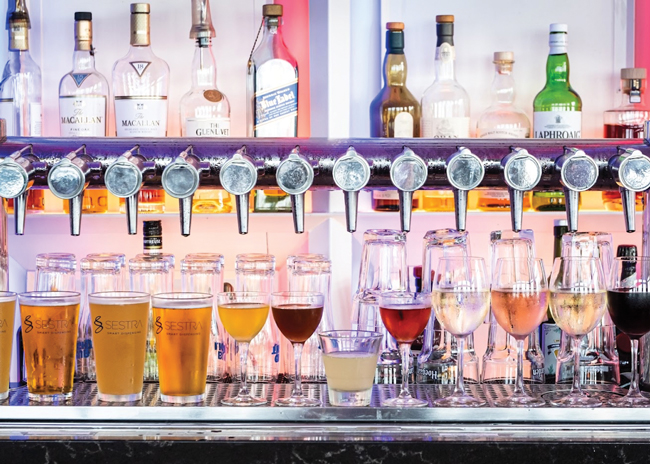 Beautiful + Functional. Beverage technology perfectly pours anything with the press of a button.Are you considering remodeling or redesigning your bar/restaurant? The hot trend you don't want to ignore is including beverage technology in your project. What is beverage technology? Smart taps and connected platforms that change the way you and your team operate. Don't believe us? Here are 10 things you'll no longer have to do with the right beverage technology:
1. Hold Open a Tap Handle
With one touch and touchless beverage
dispensing, bartenders no longer have to hold open tap handles. Instead, they can interact with guests and prepare other beverages knowing they're dispensing the perfect pour, down to a fraction of an ounce. 
2. Shake a Keg to See How Much is Left
No need to guess how much wine or beer is left in the keg when smart beverage technology tracks inventory for you. You'll also receive alerts when kegs are running low so staff can switch them out.
3. Worry About Unauthorized Pours
Lock taps with the push of a button. You can even set up automated locking and unlocking schedules to cut off pouring after the last call or at any designated time. 
4. Open a Tap and Pour Off Foam
Keep your beverages flowing smoothly by controlling pressure and preventing foam from filling the line.
5. Measure Pour Sizes in a Glass or Jigger
No need to use cups, jiggers, or speed pourers to measure ingredients. The right beverage technology apportions the perfect pour.
6. Count the Number of Drinks Poured
Your beverage technology platform counts pours for you, accumulating data that helps you determine how much inventory to order, staff to schedule, and other trends. Then it compares that data with your Point Of Sale (POS).
7. Physically Check Temperatures or Keg Volumes
No need to visit the cold room or be on-site at all. Refer to your beverage management app to ensure temperatures are just right, kegs are performing properly, and keg volumes are adequate.
8. Count Inventory at the End of the Night
More than the perfect pour. Get meaningful data + insights with each beer, wine, + liquor pour.Beverage technology is much more than hardware. Your system tracks inventory, eliminating the task from your closing checklist.
9. Hire Third Parties to Maintain Your New Beverage System
The right beverage technology will come with their own team of industry experts that will evaluate and update your hardware and software as needed.
10. Wonder if Automation Would Have Made the Job Easier
Automation 100% makes the job easier. It also ensures consistency and reliability while reducing waste and enhancing the guest experience.
So, does this beverage technology exist? It does. Meet Sestra. Sestra's patented technology was built to overcome the hurdles of managing your beverage program. Offered through TapWise and Dispensing as a Service, Sestra delivers control, real-time data, actionable insights and measurable business results across your entire venue. Sestra gives you insight into the who, what, where of your beverage program. With taps connected to the cloud, data and seamless integrations — the possibilities are endless. TapWise makes sure you always get much more than the perfect pour.