For many business owners in the restaurant industry, the thrill of finding the ideal location or cultivating a brand-new menu brings excitement and joy. If you are building your dream eatery, restaurant interior design ideas can be more difficult for you to come by. As you reach the phase of construction where it's time to furnish your new establishment, you may need a little help with restaurant interior design. Our friends at Restaurant Furniture Plus helps us learn the top 10 tips and tidbits when buying restaurant furniture, to help you turn your vision of the perfect restaurant into a reality on opening day and for years to come.
1. Ideally, the restaurant furnishings you choose should balance both style and functionality. You can have the most beautiful furniture in the world, but if it isn't comfortable, and you can't clean it, you have a problem.
2. Pick a design style that fits the mood you are trying to create. Here are a few examples:
Traditional Design. Traditional furniture can bring a classic feeling to your restaurant. As you shop for traditional restaurant furnishings, look for pieces with clean lines and deep natural hues. Traditional pieces often include the use of wood and bring a sturdy, Old-World appeal.
Modern Design. Despite how it may sound, modern furniture doesn't necessarily refer to current trends. Instead, modern style draws inspiration from design elements of the 1900s to 1950s. Modern restaurant furniture is often thought of as a contrast to the more old-fashioned traditional style and is popular for creating dining areas with eye-catching patterns and unique flair.
Mid-Century Modern Design. Mid-century modern pieces take cues from the styles and colors of the 1950s to 1980s. Mid-century chairs and tables often have thin, skewed legs as opposed to straight angles and lines. The look of these furnishings usually falls somewhere between old school and contemporary.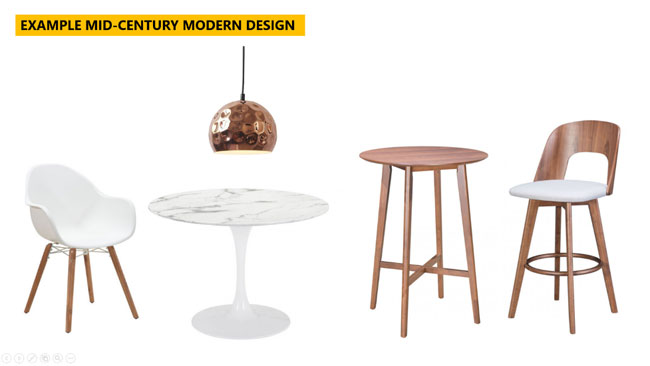 Industrial Design. Industrial furnishings create bold visual statements. Inspiration for industrial-style restaurant furniture may come from machinery, industry and unexpected materials. Metal, wire, rivets and raw wood are all common elements of this design category. Industrial restaurant design is often seen in open-space floor plans with lots of natural light, open ceilings and exposed pipes.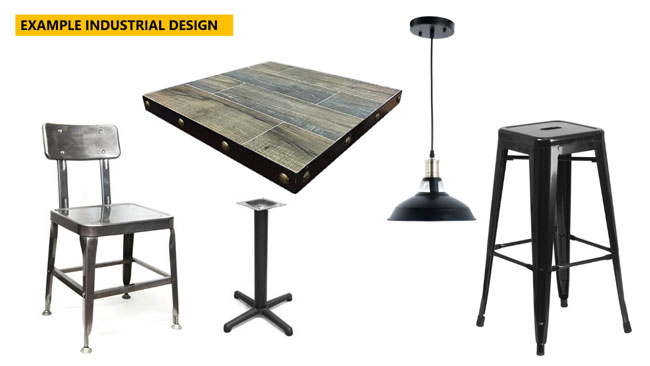 Farmhouse Design. If you are looking for a more country, rustic design, than the farmhouse style is the way to go. This often has a more antique design to the furniture, usually from wood products. You often see this in breakfast restaurants trying to recreate the "on the farm" experience.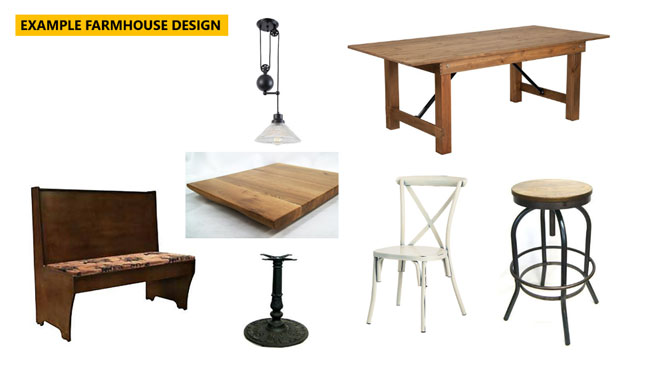 3. When calculating how many tables and chairs are needed, the general rule for spacing recommends leaving at least 24" between table corners to allow adequate space for dining as well as walking by. Be sure to avoid overcrowding the dining area. If guests feel lost in the crowd, the dining area is too loud, or the seating is too close together, your guests may become uncomfortable or not have enough room to eat their meal. 
4. As you choose the places for your guests to sit at, remember that tables that seat fewer people (e.g., two-tops) can be moved and pieced together to create the ideal dining space for groups of any size (e.g., ten-tops). So, buy furniture with that flexibility in mind.
5. Use bar-height tables along walls with windows or wherever a full table would not fit. Bar stools work great for more casual environments where guests seat themselves or wish to sit alone.
6. Restaurant furniture should be easy to wipe down so you can maintain its cleanliness and visual appeal. Tables and chairs with small crevices and delicately carved grooves require higher maintenance. If not properly cleaned, furniture may start to fade, stain or break prematurely. If you prefer a chair with a cushion, consider getting a vinyl fabric that can be wiped clean with a wet cloth. If you prefer a different fabric, have it pre-treated with stain-resistant spray. 
7. Select sturdy commercial-grade pieces that will outlast the rigorous use of restaurant diners. Most commercial-grade chairs have been tested to support at least 300 pounds of weight. And, thicker grades of metal are used. The last thing you want is someone hurting themselves from a defective product.
8. Keep noise control in mind. If you have a large dining space, high open ceilings, or hardwood floors, noise may be a problem you need to deal with right away. Upholstered seating can help absorb some of the noise and echo that occur in such a space. Add carpets or rugs to entryways to absorb sound. Adding plants can also be helpful here.
9. When trying to maximize small spaces, consider custom-built booths. By using seating designed with your layout in mind, any space can be made into a functional dining room setting. 
10. To create a feeling of privacy and intimacy, use booths as dividers between dine-in parties. Guests like to have conversations without feeling like the whole room is listening. Booths can be used to create spacing in restaurants with one large dining area.
Whatever your restaurant design ideas, consider your typical dining audience, the atmosphere you wish to create, and how you plan to maintain your setup. Quality furnishings can be purchased in bulk to save money and create a cohesive flow throughout your space. The restaurant of your dreams should always include a well-thought-out design plan that takes into consideration the style and functionality of the furnishings. 
Ready to start applying your learnings above? You can browse over 10,000 restaurant furniture products at Restaurant Furniture Plus, or any of their expert project managers are happy to help you find exactly what you are looking for.