Co-owner of the Fork n' Pint restaurant in Lake Orion, Mich., Doug Young thought a complete remodel of an existing restaurant would set the table for optimum American comfort food dining. However, after fielding customer wintertime complaints of being cold and losing revenue by eliminating tables near the drafty entrance, Young knew he needed to find a better solution.
Most patrons were cold due to the front door constantly opening during peak times. "When your host is writing down reservations wearing a heavy coat and winter gloves, you know there's an air comfort situation," quipped Young.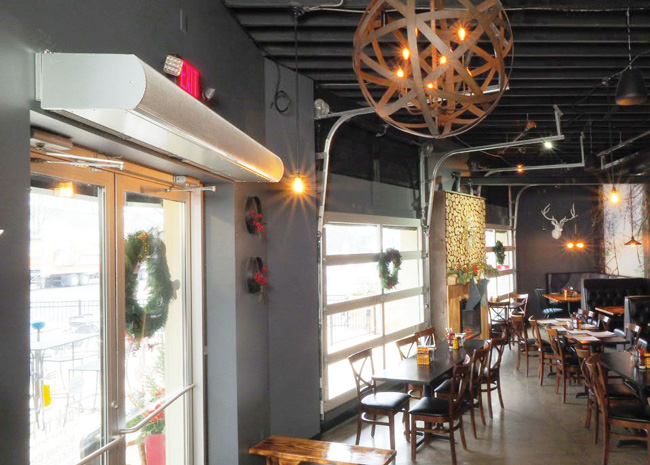 Frigid winter temperatures and annoying summertime insects remain outside the Fork n' Pint restaurant with a Berner air curtain.
Young could have chosen to add a space-consuming vestibule at an estimated $15,000. But the perfect solution came in the form of a 72" wide Berner Architectural Low Profile 8 air curtain mounted over the double glass exterior swing doors. The air curtain successfully protects the indoor environment from outdoor elements, such as extreme temperatures, flying insects and vehicle exhaust. According to Young, customers who were previously cold while sitting near the door, now describe the air comfort as comparable to other parts of the restaurant.
In addition to protecting the indoor temperatures when the door is open, and keeping both patrons and employees happy, the Berner air curtain at Fork n' Pint is estimated to save the owners almost $600 a year in energy costs.