A Q&A with Greg Veale, President, Altro Americas
What are the trends you're seeing in restaurant flooring today?
Greg Veale: What we've been seeing for quite some years is a lot more emphasis on making the front-of-house more colorful, with designs and patterns, but still very functional and durable given the traffic. Also, restaurants are trying to achieve a much warmer, "residential" feel. They are tending to move away from coated or colored concrete floors. Then, some years ago, we saw the "open concept" trend, a much more exposed and industrial look. It made the room not as nice acoustically for customers while dining. Designers and architects have tried to find ways to make the area better acoustically, and floors are playing a role there as well.
Are restaurants moving away from quarry tile?
GV: Today, you have a more educated group of restaurant owners and building owners, who are looking at quarry tile as something that does not meet all the needs of today's restaurant workplace. A lot of restaurants are becoming "open plan," where the customers are able to see the chefs doing their work. With that in mind, restaurant owners want to make sure the floor choices meet the standards of customers who are now seeing the back-of-house areas much more than before. Quarry tile's grout lines soak up water, grease and dirt which can make them look unsightly and unhygienic. Customers don't want to see that.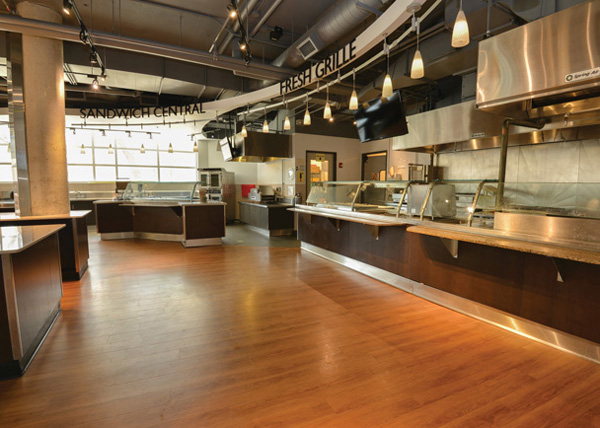 In casual restaurants, the wood-like look of luxury vinyl tile from Altro adds warmth.Is luxury vinyl tile making inroads in restaurants?
GV: Luxury vinyl tile continues to be the fastest growing flooring category. It has grown very fast across all segments, whether it be hospitals, schools, universities and obviously hotels and restaurants. Its growth continues in restaurants because owners want to keep up with market trends and provide that natural wood- or stone-like feel without sacrificing ease of maintenance or durability.
How can adhesive-free flooring help restaurant operators?
GV: Restaurants rarely close, even for any renovation or work. Generally speaking, contractors will have to work around the schedule of the restaurant to fix things or put in floors. Any floor product that can be installed very quickly, with minimum downtime and disruption to the building or restaurant owner, is going to be an advantage. If an adhesive-free flooring product meets the many needs of the restaurant owner — slip-resistance, hygienic, watertight — then installing that type of product will minimize the disruption to the building owner.
In the kitchen, Altro flooring can stand up to heavy usage.How is Altro meeting the needs of operators with flooring that meets these trends?
GV: Altro is working very closely with customers in all market segments. We've listened to them for many years and developed a range of floor and wall products that can go into back-of-house areas, which can get an awful lot of abuse and traffic. In front-of-house areas, we've done the same, but gone in a slightly different direction by having products that are more aesthetically driven. You have to develop different products to meet the needs of the customer.