Created by Marriott Corp. in the late 1960s, Roy Rogers, the fast-food chain named for the affable singing cowboy-actor who rose to fame in the 1930s and '40s, is proof that loyal fans and a committed brand champion can overcome tough odds.
Jim PlamondonMarriott sold Roy Rogers to Hardee's in 1990, by which time it had grown to nearly 650 units nationally. But Hardee's wanted the real estate, not the brand, and undertook a conversion strategy — which failed. By the early 2000s, Hardee's had converted or sold off all corporate locations, the franchise system was in disarray and less than 80 franchised units remained. Roy Rogers looked ready to ride off into the sunset — until one of the remaining franchisees stepped up to rewrite the script.
Plamondon Companies, led by second-generation owners Jim Plamondon and his brother, Peter Jr., negotiated a deal to buy the Roy Rogers trademark and franchise system. They sealed the deal in 2002 and spent the next decade refining and refreshing the business while navigating the transition from being franchisee to franchisor. Today, they own and operate 24 corporate stores and 29 franchised units, and they're pulling the trigger on expansion. Jim recently sat down with rd+d to share the backstory.
Your family had strong ties to the Roy Rogers brand even before you and your brother got involved.
JP: That's right. Our dad started with Marriott Corp.'s restaurant division back in the mid-1960s and actually oversaw the Roy Rogers brand for them for many years. He later left Marriott to become a Roy Rogers franchisee, developing a number of restaurants and enjoying a lot of success with the brand, even when Hardee's was pulling it apart.
And that success led you and your brother to believe that purchasing the brand was a good idea?
JP: Yes. The brand was never broken; it was the victim of damaging real estate transactions. We joined Dad's business in the mid-1990s and purchased it from him in 1998. We wanted to protect the brand, to get control of it so that it couldn't get sold off again to someone else who might do even more damage. We knew Roy Rogers had a lot of brand equity, particularly in the mid-Atlantic and Northeast markets, where it had the greatest density. During the years Hardee's owned it, a lot of franchisees bailed, and we diversified to become Marriott select-service hotel franchisees as well — in part as plan B if Roy Rogers went away. But we also continued to open and operate several Roy Rogers units, which were very successful, so ultimately we negotiated to buy the brand. All of the corporate real estate had been sold off, so we got the trademark, the franchise system and the right to expand the brand. That's what we're now doing.
In the decade or so between buying the brand and getting it ready to franchise again, what was your primary focus?
JP: First, we had to learn to become franchisors and get the franchise system in shape. There were maybe 75 franchised restaurants left, but we pruned that way back. Many of the franchisees were at the end of their agreements, some had leases coming up, and many were coming to a point where they needed to figure out what to do with their businesses and ended up closing them down. In many cases, we encouraged them to do so because they weren't maintaining brand standards and hadn't been paying their fees for years.
We continued to build corporate restaurants during this time, but we weren't selling any franchises. Three or four years ago, we felt we had gotten it down to a good group of franchisees who were executing brand standards very well and decided we were ready to grow. But that takes time. It's not like you can throw the switch and start opening restaurants. You have to find the right franchisees, qualify them carefully and get all the wheels in motion. Now, we're beginning to see the fruits of that labor.
What does the development schedule look like these days?
JP: We're now at 53 units in six states — Maryland, Virginia, West Virginia, New Jersey, Pennsylvania and New York. We opened three restaurants in 2015, and this year we'll open six, five of which are franchised and one that's corporate. That's a good pace for us. I think we're at a tipping point with our brand. We haven't had six restaurants open in a year since Marriott owned the chain.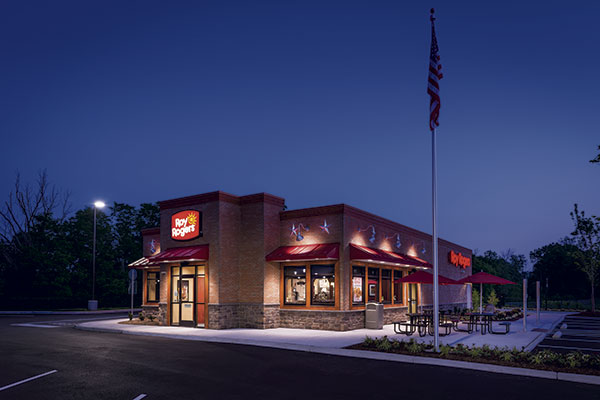 Our ratio of corporate to franchised restaurants right now is about half, but that will shift to 20 to 25 percent corporate as we grow. Our corporate stores generate revenue and profits, but we also think it adds value and credibility with franchisees for us to have skin in the game.
What changes have you introduced since taking over and getting ready to franchise again?
JP: When Pete and I bought the business, we launched what we called Project Trigger, which was the name of Roy's horse. We refreshed the brand and updated the design. The basic menu — built on what we call the "holy trio" of roast beef, fried chicken and burgers — is the same, but we've expanded the number of side items. We've also made a much bigger deal of the signature Fixin's Bar, where guests can add their own fresh toppings, condiments and sauces to their sandwiches. It's a real competitive point of difference, so we made it bigger and the centerpiece of the new design prototype.
We also updated the kitchen equipment package and food delivery systems. When we expanded the number of side items to nine, we had to change the back line in the kitchen to be able to accommodate that. We also changed the way we cook our burgers.
Right now, we're doing a complete exterior reimaging and refacing on many restaurants, adding stacked stone, tower features and standing seam metal roofs where we can to give them a more
contemporary look and feel.
Back in the day, Roy Rogers used to make celebrity appearances in the restaurants. He's now long gone and not even likely on the radar of younger customers, employees or potential franchisees. Is that a marketing challenge?
JP: We definitely do talk about what the role of Roy the cowboy should be in the brand, but ultimately we don't focus on him a lot anymore. We have some nostalgic movie posters in the restaurants and some references on our website, but it's not overstated because it just wouldn't resonate with many of our customers. Most people in this market know Roy Rogers by the restaurants, not by the cowboy.
That being said, we still want his presence in some capacity. It may sound corny, but we want our brand to represent the kind of "cowboy values" that Roy stood for. We call it the Code of Roy, which includes integrity, hard work, honesty and authenticity. That's our messaging. We don't necessarily have to talk about Roy to do that, but if we follow the code, we're being true to our roots.