Founded in 1994 by a pair of firemen brothers, Firehouse Subs has become a major player in the sandwich sector. Starting with its first restaurant in Jacksonville, Fla., the fast-casual operation has grown methodically over the years, placing an emphasis on geographical continuity and product consistency. This approach has helped the chain expand to more than 970 restaurants in 44 states and Puerto Rico.
Each Firehouse Subs location includes fire helmets, coat racks, poles and axes as part of its decor package. The fast-casual sandwich concept encourages franchisees to look for helmets and coats from local fire departments.
Late last year, Firehouse Subs took its initial steps outside the United States. Its first restaurant in Canada opened in October 2015, with a long-term goal of having 90 units in the province of Ontario alone. The chain is also setting up the infrastructure to open its first restaurants in Mexico.
Recently, Co-Founder Chris Sorensen and Director of Construction Services Richard Elkins shared their approach to international expansion, the challenges of building a restaurant in a new country and the biggest surprises of growing outside the United States.
rd+d: How did your international expansion start?
CS: The first experience we had was not international, but it was a good testing ground for us. We had been introduced to some people that owned over 150 Burger Kings on the island of Puerto Rico. Those folks had a lot of experience and were crazy about wanting to open Firehouse Subs there.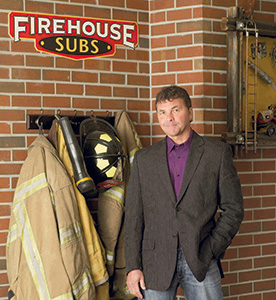 Chris Sorensen
It's a whole different culture down there. We did a lot of homework, a lot of consulting, a lot of legal work. But we knew we could get the product to them. These were the right people to do it with their background. That was four or five years ago. We've got units down there, and they've done a great job. So Puerto Rico was a good testing ground for us to move product elsewhere. Getting it down there was a challenge, but they made it work and we made it work.
So after a few years of doing that and learning what we learned, we started entertaining Mexico and Canada.
It's a whole different culture down there. We did a lot of homework, a lot of consulting, a lot of legal work. But we knew we could get the product to them. These were the right people to do it with their background. That was four or five years ago. We've got units down there, and they've done a great job. So Puerto Rico was a good testing ground for us to move product elsewhere. Getting it down there was a challenge, but they made it work and we made it work.
rd+d: Right now, Firehouse Subs is sticking close to home with international growth. Why is that?
CS: Fifteen years ago, we used to get excited when we'd get a call from Europe or other places besides the states. [Expanding there] would be exciting, but really we had no earthly idea how to do that with consistency. It presents a lot of problems, so we just let that go. As we grew, we grew contiguously. We didn't just jump out to L.A. or jump out to Denver. We've got to be able to get our product to our restaurants.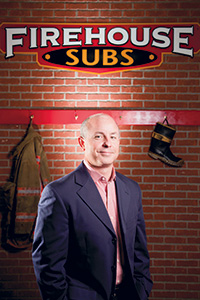 Richard ElkinsWe're taking the same approach to our international expansion. We have not gone overseas. We've looked into that, and at some point, we'll see how it goes. We get requests for it. But that's a different ballgame across the Atlantic. Right now, we like expanding smartly, where we can get our product. If all of a sudden we're opening 1,000 miles away overseas, then we've got to make some changes.
rd+d: How are you executing your international growth?
CS: In Canada, we are using an area rep model, just like the one we have for U.S. franchising. They live in the area, know the people, know the shopping centers. They help recruit potential franchisees, provide some training, and support them through the design and construction process. All our area reps are also franchisees. It's good to be able to say, "I have to do the same things you do." So that first unit was actually opened by our area reps in Canada.
RE: One of the partners with our Canadian area rep group is in charge of site selection and development. He's familiar with the territory as he has worked with other brands, so it's not new to him. He already had architects he'd dealt with before and general contractors he'd dealt with before. Once he received proposals from the different GCs, I made a trip up there and went with him to meet with some of them. We discussed their proposals, their scope, and simply made sure they had everything our restaurants specify since it was their/his first time with Firehouse Subs.
rd+d: Are you following the same expansion plan for Mexico?
CS: We are registered and ready to go in Mexico. We haven't opened there yet. We are interviewing franchisees for that. Instead of going with an area rep, our franchisee in Puerto Rico is going to be the master franchisee for Mexico. They've worked all in Latin America. It's a different animal, so we feel comfortable with them. They understand the politics and the way things work down there. They will sell, and we will do a royalty split with them.
rd+d: How does the master franchise agreement work?
RE: A master franchise agreement is allowing a company to act as if they are the franchisor in Mexico. Everything related to restaurant development and operations is going to be funneling through them. The things that we're doing here at headquarters [for domestic franchisees], they're going to be doing for their group in Mexico. They will be managing the entire pre-construction process. We will have a franchise business manager in place for that group, an employee that works for us who helps oversee a territory. And probably for the first restaurant or two, we'll help them through the process to make sure everything's going the way we would expect it to, but from there, it's going to be on them to provide that support.
rd+d: What's surprised you most about this process?
CS: From a legal perspective, I was surprised by the steps we had to take to get set up to do business. There's the tax code, getting your money transferred from Canadian dollars to American dollars, registering the corporation and the franchise agreement. There's a lot to it. We took it a step at a time with good counsel and got all that done. You've got to make sure you comply.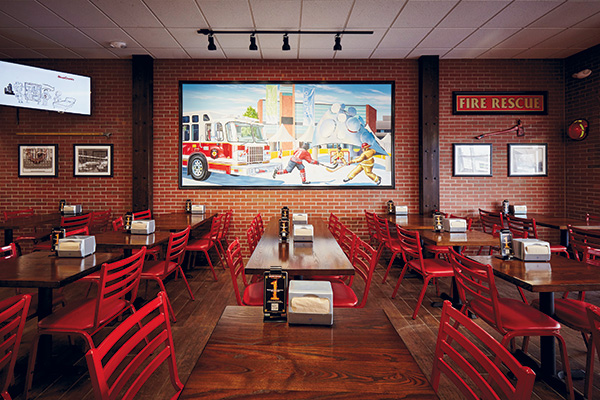 Each Firehouse Subs location features a custom mural.The cost to bring goods over the border was another surprise. I think it was chicken and cheese that they really wanted bought there. If you bring that over the line, there are higher taxes that raise your food costs. So we tested apples to apples, same cuts, same flavor profiles.
RE: Probably the biggest surprise is the amount of money they have to pay to use materials from the United States. The duties paid to get materials from the States to Canada are expensive. With the first restaurant, the Canadian group chose to use all of our U.S.-specified materials simply to set it
up right, get it in place. They paid more for those materials because of all the duties they had to pay. Everything else, as far as operations, restaurant environment — it's really not any different than what you'd find in the U.S.
Since the opening of the first Canadian restaurant, we have discussed substitutions and alternative materials from what our spec is. I think there are similar products out there that really are not going to change things in the guests' eyes. Swapping out the same color of a porcelain tile is not going to affect our guests' perception. It's still going to have the same color, the same feel, the same basic look.
CS: If it lets them save money to get the tile locally as opposed to importing it to Canada, we're open to that. We want them to open the restaurant for the least amount of money possible so the return on investment is great.
rd+d: How do you go about specifying these materials in another country?
RE: One thing we did while I was up there was visit materials suppliers. We collected samples of some different products. Also, the Canadian area rep is helping to find some local substitutes and sending me samples. It's a collaborative effort to find the right materials that are as close a match as possible. Really, there shouldn't be any impact as far as the guest is concerned. If you go to a Canadian Firehouse Subs versus one in the States, the guest shouldn't notice a difference, whether it's the food, aesthetics, quality — all those things should be there.
rd+d: Your concept has major design elements that play off the idea of a firehouse, like a coat rack with uniforms. How does this translate internationally?
CS: I was a fireman well over a decade at the Jacksonville Fire and Rescue Department, the biggest fire department in Florida. The one thing about the fire department — it's a world entity. It doesn't matter what country you go to, there are fire departments. Maybe the gear looks a little different, but most places you go, people love firemen. So the concept translates to different countries pretty easily.
Also, we're not making a museum. We have fire helmets and coat racks and poles and axes. Wherever we are, we look for the helmets and coats from that area. We also like our franchisees to reach out to their local department to see if they can get some photos. If they're willing to share with us, they can make [the location resemble their local area].
Each store also has a custom mural. We're in many college towns, we're in cities, and the franchisees will send a picture of a historic building or some other local landmark or feature. We have a muralist who's been working with us since our very first restaurant, and he customizes that mural for each area. The murals in Puerto Rico are customized for their area. So you tie the restaurants in that way. It's not a generic look.
rd+d: Have you had to change your operations to fit with different cultures?
CS: Right now we do have a few small things we let the guys in Puerto Rico do, but 99 percent of our product is there. We let them try some things as a testing ground, but we don't want to get into major menu changes. If it's not really worth it and you've got to change who you are drastically, then why fool with it?
RE: I guess one thing that was a little bit unique about Canada is some of the QSR chains there are a bit more upscale than what you'd find in the United States. The Canadian area reps chose to build our [newly imaged prototype launched in 2015] to be more competitive with other brands.
rd+d: Any advice for other companies considering international expansion?
CS: Make sure you've got the proper advice and counsel. It's not something you jump into. You need to do your homework. You've got to take it slow and hire the right people to advise you.