The team behind the health-focused smoothie concept, Protein Bar, has launched a new concept in Chicago called Thrive360 Eatery, with plans to open a Denver location next month.
Throughout the space, blonde wood floors, paneling and furniture pay homage to the menu's use of all-natural ingredients for nutrient-dense wraps, salads, grain bowls, smoothies and more, many of which feature playful combinations like Chicago BBQ sauce with Korean sambal oelek, and chia vinaigrette with aronia berry.
To create a bright and airy, urban oasis feeling, designers installed a lighting system resembling natural light, while a four-panel flat screen monitor displays sunsets and other nature scenes for some much needed Zen in the middle of Chicago's busy Loop office district.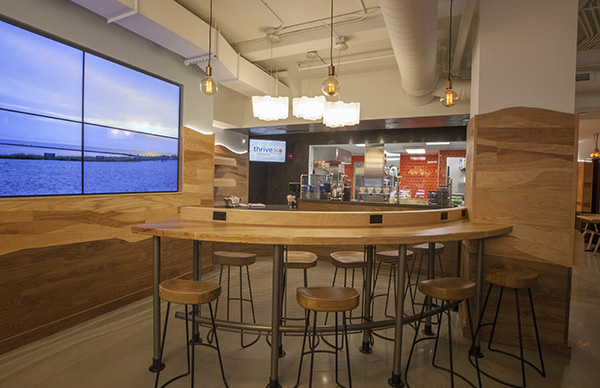 "We used horizontal lines on the floors and throughout the space to naturally guide the guests from the front entrance through to the menu boards, grab-and-go cooler and POS kiosk where they can place their order," says Artur Uchanski, one of the designers. Guests can also place their order directly with staff behind the serving counter with a peek into the kitchen to see their food being made fresh.
An innovative beverage menu features kombucha on draft, mocktails, and many of the same smoothies and blended beverages offered at Protein Bar locations.