All things considered, now's a pretty good time to be an emerging brand in the Mexican fast-casual segment. Just ask Downing Barber, whose Barberitos Southwestern Grille & Cantina chain is growing fast across the Southeast.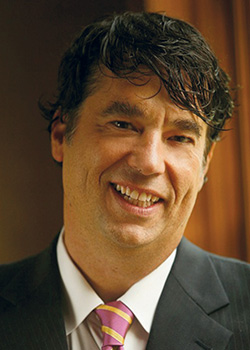 Downing BarberFounded in 2000 in Athens, Ga., the brand's story is textbook entrepreneurialism. Initially headed toward a career in international business, Barber instead listened to his gut, veered off the corporate path and pursued his passion for food and restaurants. Now, with three corporate stores and more than 45 franchised units, he's leading "Barbs" expansion with a focus on employee and franchisee development, customer service and a commitment to serving fresh, high-quality food. His mission: to make Barberitos the quick-service burrito segment leader.
rd+d: Things didn't go so well for you at first. What happened, and why'd you stick with it?
DB: I had discovered Mission-style burritos when I was in graduate school in Aspen, Colo., and was blown away by how good they were. All that food inside one easy, quick, cheap meal really excited me. After graduation, I interviewed for a corporate job in Atlanta but quickly knew it wasn't right for me. My real dream was to open my own restaurant, and I thought Athens would be a great place to start. But we did terribly at first. I was undercapitalized, doing pretty much everything myself and sinking fast — negative $60,000 on the books after a few months. But then one day, the Georgia Bulldogs played the Tennessee Volunteers, got a big upset win and all these people partying after the game headed over to our area. I went out in front of the restaurant and waved them inside to eat. That was truly our turning point, and the brand started to catch on. We're growing, and we've won numerous awards, including best burrito in Athens for 14 consecutive years. We're really proud of that, considering all of the national competition we're up against.
rd+d: How different is that first store from what guests find in a new Barberitos?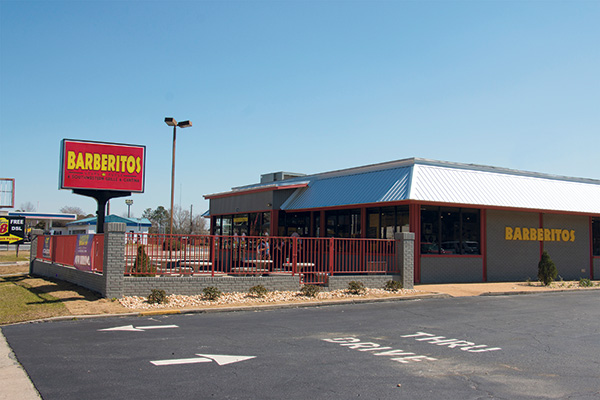 The company's new Tifton, Ga., unit is the first to include a drive-thru service. Photos courtesy of BarberitosDB: The food is the same. People have loved our food since day one, so we've stayed consistent with it. The only significant change we've made was to cut the salt content by 50 percent a few years ago. Otherwise, everything's still all natural, all made from scratch and all fresh. The interiors are much nicer now. We've done a lot of upgrading, and we've just opened our first freestanding restaurant with a drive-thru at a franchised unit in Tifton, Ga.
rd+d: Is the drive-thru a one-off opportunity, or is it a part of your growth strategy going forward?
DB: It was a one-off opportunity, but we're taking a close look at it. Our main concern is service. We had to put in a whole other restaurant — a second serving line — because we customize everything. If you want half chicken, half beef, lettuce, two pieces of cheese and one cucumber, you get it. That was a concern with drive-thru, but we put in a system where the orders show up on a screen on the line as they're being taken, so we're able to make the food almost in real time. We're still testing it. It's expensive, but from what I've seen so far, the revenue you can get from drive-thru might make it worth it. Call me in a year on that one.
rd+d: You seem to be in a more aggressive growth mode right now. What's driving that?
DB: Honestly, a lot of it is simply that we have the confidence to go out and compete against anyone in the category and win. I'm especially confident now. That has to come from me, and it's radiating through the brand and igniting our growth. People love Barberitos, and there's a real following for us that's growing.
rd+d: How did you transition from independent operator to franchise company?
DB: A customer in one of our first stores approached me, saying he wanted to own a Barberitos. I had to tell him I wasn't franchising, and he said, 'Well, if you ever do, I'll buy one.' That started it. I realized that I had a customer, so I started going down that road and getting some legal advice. That customer now owns three units. We also have a number of employees who have become franchisees. Initially, our model was to sign with owner-operators. But as many of our existing franchisees grew their businesses and we saw how well they're doing with multiple stores, we began to feel like we could open it up to larger franchisee groups, too.
rd+d: What have been your biggest moves to build an infrastructure to support your growth?
DB: We've recently brought on a new marketing director and a new head of operations, who previously oversaw 90 corporate stores at Zaxby's and has a lot of experience opening new stores. We also brought in a director of franchise development, also a Zaxby's veteran. So we have our management team in place, an architecture team, a purchasing team, and we're firing on all cylinders.
rd+d: Were there any particularly tough growing pains on the way to where you are today?
The new Barberitos prototype features a warmer, more upscale color palette.DB: The recession was a huge stall for us, as it was for so many. We couldn't get capital, and there was no movement at all. Lack of development since the recession has made real estate issues tough to deal with, too. Nobody was developing new centers, and that's created a backlog with everyone, including us, starting to grow again. Real estate is still tough to find, but it's getting better. The flip side is that everyone in construction is so busy right now, they're short on workers, and demand is outweighing supply. Getting on contractors' schedules has been a little bit of a hurdle.
rd+d: What's your real estate sweet spot for new stores?
DB: We like between 2,000 and 3,000 square feet, preferably end-cap locations near anchors like Publix and Target. And we'll see how our freestanding drive-thru goes. There may be more of those in the future.
rd+d: You mentioned prototype updates. What are some of the new design highlights?
DB: Our floors are stained concrete and wood-look tile, we've changed our primary interior color to gray and we're using natural wood, stacked stone and stainless steel. We changed the artwork to large-format food photography and put in padded wooden chairs. Overall, it looks and feels fresher, calmer and a little more upscale. Our original look was pretty basic and dated — quarry tile floors and lots of laminate. We've moved far away from that. We've also upgraded our exteriors, using gray accented with our brand colors. We'll be rolling that look into our uniforms, as well.
rd+d: What impact are the changes having on unit opening costs?
DB: They've gone up a bit, but not too much — $20,000 at most. We're sensitive to that and took a balanced approach, upgrading materials in some areas to get a little more wow factor and saving in areas that aren't as important.
Photos courtesy of Barberitos