Fast-casual Italian chain Fazoli's opened its first new stand-alone prototype restaurant in Macon, Ga., and announced the planned opening of its first St. Louis market locations.
The Macon restaurant, owned and operated by C&P Italian Company, LLC, is the first of five Fazoli's that the franchise company plans to open in Georgia by 2021. C&P Italian Company, LLC brings partners Allen Peake and Mike Chumbley back to the Fazoli's chain, as they previously operated 12 Fazoli's in South Carolina, Georgia and Florida.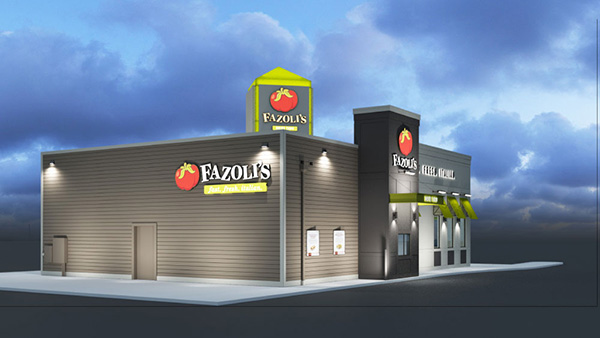 The St. Louis location, expected to open in October 2016 in the Washington neighborhood, is being developed by Brad Swederska and local businessman and University of Missouri professor Fred Travis. The two own an Orange Leaf Frozen Yogurt shop and will both own the Fazoli's location. This will be Fazoli's first franchised location in the St. Louis market.
Like the Macon restaurant, the Washington site will use an all-new, contemporary prototype design developed to appeal to both a new generation of diners and long-time customers. Fazoli's new prototype design allows franchisees to open units in non-traditional locations and even in-line and end-cap locations. The design features a distinctive, 35-foot tower that can be modified to meet local zoning restrictions; improved lighting to make the building more visible at night; prominent placement of the recognizable Fazoli's tomato logo, and a versatile color scheme for a fresh, modern look.
The expansion comes on the heels of Fazoli's opening of five franchised units in 2015, achieving consecutive same-store sales increases during 67 of the last 70 months. Fazoli's plans to open at least 12 franchised restaurants in 2016.