Site selection is and always has been about two simple objectives: picking darlings and avoiding dogs. But that's where simplicity ends.
Finding right-size sites that offer affordability, visibility and accessibility in areas with ideal customers, complementary competitors, and the magic mix of retail, business and residential is increasingly challenging. Demand for traditional A+ endcap locations in premium developments far exceeds supply. The availability of attractive second-generation sites has tapered off significantly from high levels seen after 2008 when brands with access to financing went into real-estate vulture mode. Rents and construction costs continue to rise, and with the lines between some industry segments blurring, the field of competitors vying for sites with similar attributes has mushroomed.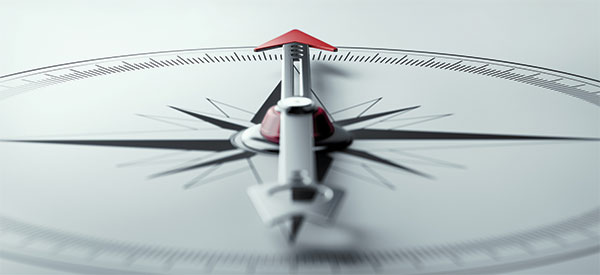 Add to that laundry list the fact that seismic shifts in consumer usage patterns are rapidly changing both the restaurant and retail landscapes — and, in some cases, what darlings and dogs now look like — and the challenges become even more complex.
So what's an operator to do? Real estate pros at growth-oriented companies say they're sharpening their site-selection strategies with bigger data, stronger relationships, more flexible formats, and a proactive approach to mining new and emerging opportunities.
"The restaurant space is challenged and has been for the past 12 to 18 months. There's a lot of discussion in the industry that there are too many units, especially fast casuals, and issues like minimum
wage, labor shortages, food safety and healthcare are big concerns," says Stephen Polanski, senior vice president at Buxton, a Fort Worth, Texas-based customer analytics firm that works with a number of leading and emerging restaurant chains. "There's a lot of turmoil. But from my perspective, when it comes to site selection, the biggest issue is that customers are changing the way that they live their lives and how they use restaurants. They want to order on their app or a kiosk, not talk to a person. And the biggest disruptor as it relates to traditional selection methodology is the growth of takeout and delivery. Just as Amazon and online shopping have impacted the retail space, the restaurant space is adapting to some of these new realities."
Get Closer to the Customer
Fazoli's is sharply focused on getting the brand in front of developers to remain competitive for prime drive-thru-friendly sites and utilizing analytic tools to improve the accuracy of its sales modeling. Image courtesy of Fazoli's Franchise System, Inc.Polanski says one big-picture impact of the changing nature of how consumers want to use restaurants is that traditional metrics become less important. In a sense, he says, the landscape is shifting from one that targets highly trafficked, big-draw retail centers (i.e., bringing customers to the restaurant) to one in which the best sites could simply be those in closest proximity to target customers for takeout and delivery (i.e., bringing the restaurant to the customer in the quickest, most efficient manner).
"Of course it differs by segment, but the reality from a statistics standpoint is that where customers live and work is becoming a larger percentage of the total site-selection equation," Polanski notes. "Co-tenancy is becoming less relevant. Things like grocery stores, schools and universities still matter for many brands, especially those growing with catering. But in general, the tried-and-true co-tenancy and traffic-pattern metrics are becoming less relevant and the proximity to customers more relevant. Why? Because food quality deteriorates the farther it travels from the point of production."
Drilling down to really understand a brand's target customer and how that customer prefers to interact with the brand is critical, Polanski adds, drawing on the retail concept of omni-channel marketing. "Restaurants need to start thinking in the same way," he says. "You have dine-in, catering, takeout, delivery — many different ways that customers can interact with a restaurant. One size doesn't fit all; you need an overarching strategy with multiple prongs beneath it. Recognizing those various opportunities and analyzing trade areas accordingly has to drive site selection. It's about dissecting and understanding customer demand by channel within specific trade areas. If you just look at total sales — or even sales by daypart, which has always been a piece of site-selection analytics — you're not going far enough. You have to slice the pie a few more times to understand true opportunities for a new site and the type of physical asset that would best enable you to tap those opportunities."
Mark Chase, principal at Restaurant Real Estate Advisors, a Los Angeles-based brokerage, agrees that off-premise sales via takeout and delivery will increasingly impact site-selection strategies for many brands. As that end of the business grows, he says, it provides important new metrics for operators to add to their search criteria.
"In general, I'm not completely sold that some of the big-data analytics are as helpful as some of the companies assert. Site selection still has to be a blend of art and science," Chase says. "But it could be very helpful if we could mine data from companies like third-party delivery services, for instance. If we had access to data from, say, GrubHub, that would clearly show where a brand's customers are ordering from and how far the driver has to go to reach them; it would help to identify trade areas and where there may be gaps for brands that are targeting delivery."
Go Small, Trade Down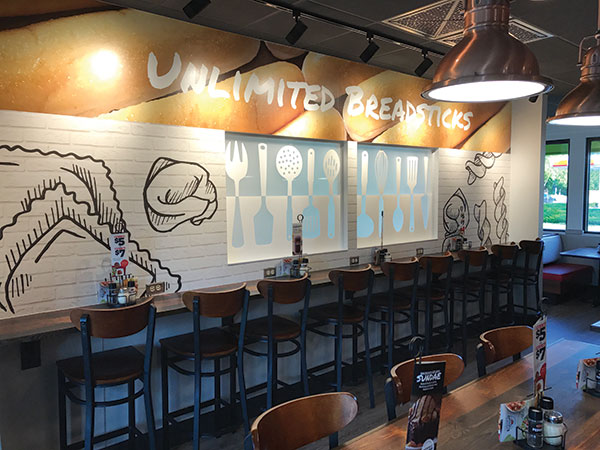 For Fazoli's Franchise System, Inc., the search for sites increasingly means going up against emerging competitive brands for prime retail-draw sites. Image courtesy of Fazoli's Franchise System, Inc.If moving closer to customers is one ramification of takeout and delivery trends, so is a developing taste for smaller sites, often in slightly less traditionally desirable locations. At a minimum, restaurant companies winning the real estate game are getting smarter about developing multiple, flexible prototypes that enable them to tap new opportunities and right-size locations for specific channels.
Judy Messenger joined Rave Restaurant Group as its vice president of real estate in February 2017. A veteran of corporate chains including Noodles & Company and Chipotle Mexican Grill, she's part of a new leadership team working to transition Rave, parent of Pie Five and Pizza Inn, to a franchise business model.
"I think that the inevitable reset is happening right now," Messenger says of the restaurant real estate market. "At corporate-driven chains such as Noodles and Chipotle, we were always looking for the A+ endcap spaces, and there was so much competition for them. In key markets, rents and the cost of real estate and construction have gotten so high that it's just not sustainable for the franchise business model."
As a result, many companies see their franchisees settle for what Messenger calls "tweeners" — locations that fall somewhere between two trade areas. She counsels Pie Five franchisees to avoid making such a mistake, advocating instead to locate within a desirable trade area but not necessarily to go after the A+ sites.
"When I work with franchisees to develop market plans, we pick the trade area where we want to be — one that has the most generators that fit who our customers are. We start at the main intersections and go from there," Messenger says. "I don't think you have to be in an A+ site or that you even necessarily need to have an endcap as long as you're in the right trade area and the fundamentals of access, visibility and parking are reasonably good. I'm not sure that from a profit standpoint it was ever worth going after the very best locations because the rents are so much higher. If you have a strong brand, you probably would make as much if not more money by taking a slightly lesser site with decent fundamentals."
Messenger notes that Pie Five's development team is also in the process of determining the sweet spot for unit footprints, with smaller sites and more flexible footprints being the order of the day. "I'm a big believer in going small," she says. "It takes a ton of pressure off the franchisee to not have to do those big numbers just to pay rent. And with so much growth in delivery and takeout, I don't worry too much about having a lot of seating and square footage. I'd rather have a really good product that's served quickly and an efficient site that accommodates takeout and delivery. We're experimenting right now to see just how small we can go."
At Taco John's, a 400-unit QSR Mexican chain headquartered in Cheyenne, Wyo., smaller footprints are also now a bigger part of the site-selection equation. Over the past four years, the company has signed roughly 110 commitments for new franchised locations, most of which will be traditional freestanding restaurants but also those that will be endcaps with drive-thrus and nontraditional locations in airports, c-stores and travel plazas. The latter are newer targets for development. Vice President of Development Van Ingram, whose background is in the petroleum industry, believes strong opportunities exist for c-stores, travel plazas and restaurants to leverage each other's traffic.
"We're also using those venues to go into tertiary markets, where perhaps we don't have the population base to justify a freestanding investment," Ingram says. "We can bring a benefit to those operators by bringing more people onto the property and vice versa. We get to leverage their customers when people pull in for gas and convenience items."
Taco John's recent expansion is also taking it into new markets beyond its core upper Midwest territory, including Kentucky, Tennessee and North Carolina. In all markets, real estate and construction costs have the development team working to secure locations with significantly smaller footprints.
"We used to build 2,100- to 2,300-square-foot facilities, and we're now down to 1,600 square feet with 250 square feet of freezer/cooler out the back wherever we can. We've also moved toward endcaps of 1,500 to 1,800 square feet with drive-thrus as a key component of our strategy," Ingram says.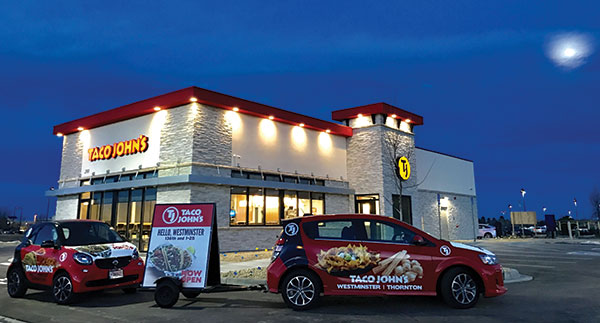 With drive-thru/takeout business continuing to grow versus dine-in, Taco John's has been able to reduce its footprint for traditional freestanding units to 1,600 square feet. Image courtesy of Taco John'sWhile Ingram concedes competition for such endcap sites is fierce, he says developers are beginning to respond to growing demand for them and that they're more affordable options compared with freestanding buildings with drive-thrus, which remain essential to the concept. Taco John's now generates 63 percent of its volume via the drive-thru, and that number is growing. Another 15 percent of sales comes from takeout.
"Only 20 to 25 percent of our business ever sits down in the dining room," Ingram says. "At other QSRs, that percentage is even smaller. So we're starting to see everyone reduce the size of their footprints, shrink their seating capacity and work hard to maximize their drive-thru capabilities."
Ingram adds that wherever possible, Taco John's looks for second-generation site opportunities as another way to reduce up-front costs. The company has recently converted former Jiffy Lube, Arby's, KFC and Wendy's locations, for instance. "In addition to cutting development costs, those sites have the advantage of typically being grandfathered in with a drive-thru, which overcomes that possible objection," he notes.
Culver Franchising System Inc., based in Sauk City, Wis., has grown to more than 500 units, expanding outward from its Midwestern base to enter Southeastern and Western states over the past few years. Development activity is at record levels, with more new franchisee applicants in the pipeline than ever before, and the challenge of finding real estate on which to develop the chain's prototypic freestanding restaurants with drive-thrus is intense.
Dave O'Brien, Culver's director of real estate, says the chain is seeking more diverse real estate opportunities than in the past for its traditional restaurants, which average between 4,100 and 4,300 square feet. Unlike many competitors, Culver's isn't shaving much off its footprint as a cost-saving strategy — it needs large kitchens to produce its full menu and prides itself on spacious, safe and convenient drive-thru service requiring ample land and good ingress and egress. Rather, it is looking more closely at second-generation site opportunities, leasing versus buying, following population shifts to more urban areas, and investing in sophisticated analytics to support franchisees in their site-selection efforts.
"There's no silver bullet, and even with the technology that's out there now, there's still nothing that replaces on-site visits — standing on the site with the franchisee, driving the trade area with them and getting a good feel for things," O'Brien says. "It's a multifaceted effort to try to eliminate as many red flags as possible. And as we get into more urban areas, we want to make sure we don't overlook some of the existing opportunities versus always trying to be in new developments. We don't want to bypass opportunities to convert a building or scrape a site that's in a heavily traveled area. We've converted everything from movie theaters to Applebee's to banks."
Rethink Retail
As Culver's moves into new markets across the country, it requires sites with great visibility, easy ingress and egress, and ample space for safe and convenient drive-thru service. Image courtesy of Culver Franchising System, Inc.With retail sales continuing to migrate online and traffic in all but the most progressive malls on the decline, the economic model of placing restaurants in malls no longer works for many concepts.
"Most companies in our category are moving away from traditional mall opportunities," says Ingram. "There may be an exception here or there, but in general, mall food courts or large, enclosed malls are not something that we would consider going forward. We've exited quite a few over the past few years. Our franchisees find it's too hard to make any money there. You're even starting to see chains like McDonald's, Chick-fil-A and Subway exit some malls because rental rates and CAM (common area maintenance) charges have gotten out of control. Leasing companies are trying to offset loss of shopping revenue by increasing rents. You can't justify the investment for what is an extremely seasonal business."
Buxton's Polanski concedes that traditional mall locations' attractiveness is fading fast, thanks to the advent of online shopping. But he points out that rather than disappearing, malls are in a period of dramatic reinvention and that opportunities for restaurants are still strong: They're just evolving.
"Everyone talks about the fact that malls are dying," Polanski says. "The reality is that they're changing. I know of a mall in the Midwest, for example, that is converting to 70 to 75 percent office space. A traditional demographics study or even mall traffic study isn't going to tell you if that opportunity is relevant to your concept, but there is absolutely opportunity for growth in the segment if you're smart about it."
Chase notes that emerging chains and even strong local independents have an edge in today's market. As malls and other retail centers in particular struggle to reinvent themselves, developers increasingly seek unique concepts and/or concepts with local connections. "Rents are really high right now, so it's a challenge," he says. "But developers and landlords are starting to realize that they need to be unique in the market. They're going after smaller, more unique concepts, whereas five years ago, all they cared about was brand names and financials."
For all brands, Chase emphasizes the need to be proactive and establish close relationships. "Get to shopping centers and better landlords early and often and let them know that you're in the market. Educate them about your concept," he says. "Understand when existing leases are set to expire, and start soliciting six to nine months prior."
For Fazoli's Franchise System, Inc., the search for sites increasingly means going up against emerging competitive brands for prime retail-draw sites. The Italian fast casual is slated to open 12 new restaurants in its current fiscal year, ending March 30, 2018, and another 25 units over the next three years. Perry Pelton, director of real estate for the Lexington, Ky.-based chain, says one of the biggest challenges to meeting those growth goals is finding drive-thru-friendly real estate for its traditional locations, which measure 2,400 to 2,800 square feet.
"The real estate market for restaurants is highly competitive. Every day, there's a headline about a private-equity group funding a new restaurant concept with the intention of growing the brand," Pelton says. "The older, traditional brands aren't the competition anymore; it's the brands with 20 to 200 units that are driving the market. Fazoli's requires drive-thru capability, and prime locations that can provide a drive-thru are in high demand."
Pelton says Fazoli's is more focused than ever on getting the brand in front of developers to remain competitive. "Local brokers who have their finger on the pulse of the market provide us with these critical contacts and market insights," he says. "We're also watching some of the advancements being made in analytic tools to see if there are opportunities to improve the accuracy of our sales modeling."
For now, he and his team continue to evaluate the performance of recent openings for trends or common threads in the location or market where those units have opened. That sort of "inside" information, paired with sophisticated analytics and in-market evaluations, will continue to drive the chain's efforts to pick darlings and avoid dogs as the market continues to change. The end goal, according to Pelton: "To make more intelligent and deliberate real estate decisions."