Hollywood, Calif.-based DRNK coffee + tea and Qwench juice bar have co-branded to offer coffee, tea and freshly prepared, made-to-order sandwiches, salads and parfaits as well as a line of juices using fresh vegetables and superfoods in the same retail space.
Having originally started as It's a Grind and Robeks franchised coffee and juice bars, Qwench juice bar has three stand-alone locations open in the Los Angeles area, the first of which opened in April. There are four DRNK units, including two express sites on the USC campus, and the first location opened in October 2013. There are now two co-branded DRNK and Qwench units in downtown Los Angeles. The company has also launched franchise development efforts globally, according to Mitchell Baker, chief marketing officer.
In the co-branded space, the DRNK and Qwench sides stand separately with their own unique designs, although customers can both order a coffee and juice from either side without having to go through two separate lines and the back of the house shares the same space.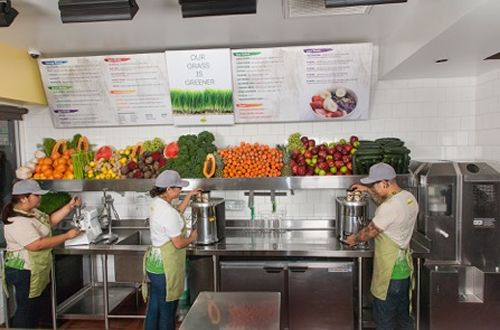 DRNK coffee features a refined, toned-down look with warmer, earthier colors, rich, red woods and stamped logos on the wall, according to Baker. A custom-made, multi-head tap system dispenses organic cold brew coffees, iced teas and Kombucha, a fermented health beverage. Fresh pastries and baked goods are prominently displayed behind the counter like a bakery. Some sandwiches are pre-made for convenience in the grab-n-go refrigerator at counter-level, but most are made fresh-to-order using a rapid-speed oven, says Baker.
"We have also set up a food program designed for our franchisees to maximize profitability but also reduce waste and control food costs," he says.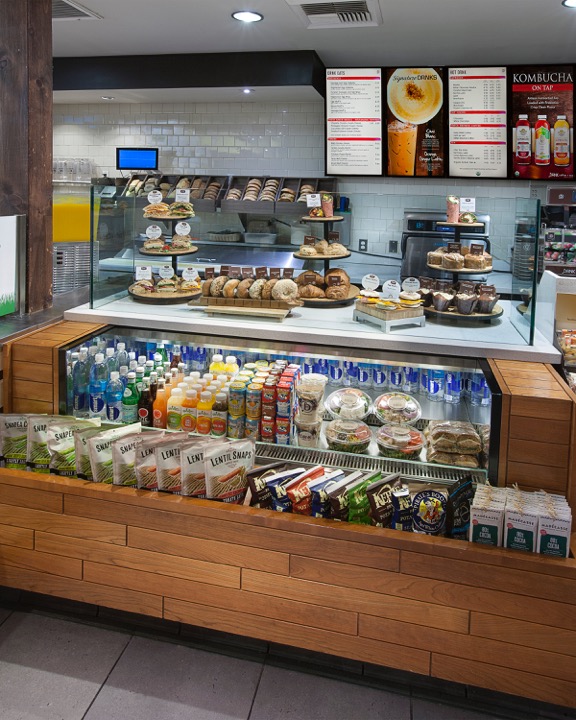 On the Qwench side, the use of brighter colors and yellow Corian and quartz help give the space a little "pop" of energy. "One thing we've seen in the juice and smoothie world is that some brands have a cartoony, almost bubble gum look and we wanted to stay more sophisticated with the look and feel," Baker says.
Fresh fruits and veggies are prominently displayed in a 20-foot-wide clear bin raised up behind the serving counter with a misting system to keep the produce fresh and crisp. At counter-level, customers can watch as employees wash their produce in front of their eyes.