When was the last time a new customer walked into a restaurant without having checked it out online?
Having viewed your restaurant online, are consumers surprised when they get there? Or is the feel of the restaurant so similar to the digital introduction they had that it's simply an extension of it?
Too many restaurants and chains cannot answer yes to the second question, but it's critical. There's no point in having a brand that exists out in the digital space and another that exists in brick-and-mortar format. Both need to match in order to set expectations and create a seamless guest experience.
"These days, you're hitting a customer at multiple touch points, and each one is 100 percent important," says Amy Dennis, owner and creative director of Nice Branding Agency in Nashville. "Every single touch point has the opportunity to make an impact on a customer," she says, adding that when you ignore one or two, "you are weakening the overall potential impact of the brand."
These touch points, Dennis says, include any portal of communication like signage, menu, social media advertisements, email marketing, website verbiage and design, and images of food presentation.
Joseph Szala, principal, creative and strategist at Vigor, a restaurant branding agency in Atlanta, agrees. "There can be a chasm between the digital and the in-store experience, and it stems from the fact that websites don't cost a lot," he says.
However, before you can ensure your brand — whether you're an independent restaurant or a chain — is consistent, you have to know exactly what your brand stands for, Dennis says, "or you're going to be on a wishy-washy road."
Whatever you decide is your brand, it has to be consistently mirrored in the store and on the website — everything from colors and patterns to verbiage. If you take a slightly cheeky tone via your menus and in-store signage, you need to replicate that in digital experiences. If you're clean-cut and tailored, have your website and all your social media reflect that. "Whatever your personality is, it's got to be on display," says Dennis. "People find a connection to personalities. Similar to when a person is inconsistent in the delivery of their personality, customers will not be drawn to your brand personality if it shows inconsistencies from one platform to another."
When examining your brand, explains Szala, the first question to ask is what people want from it — experience-wise, both online and off. "Brands who consider that have a stronger experience," he says. "It's about interpreting your brand through everything you do." This experience goes beyond copying colors, fonts and aesthetic to the entire experience and must take into consideration the type of service. A consumer on a fast-food retailer's website, for example, probably wants to order food, then move on; a consumer on a fine-dining restaurant's website likely wants a more leisurely online experience.
Rebranding Across All Platforms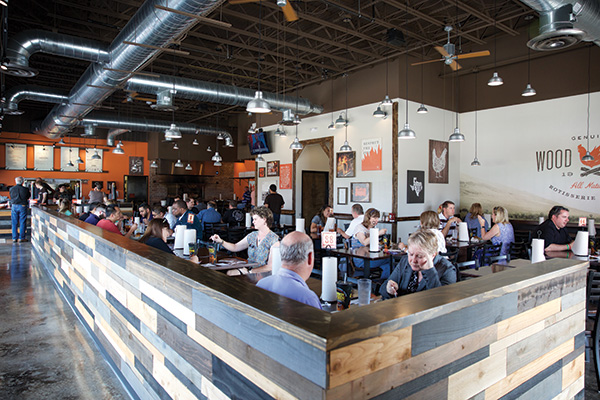 Two years ago Dallas-based Cowboy Chicken went through an extensive rebranding process, looking at every single aspect of the brand, including both the in-store and digital experience. Image courtesy of Cowboy ChickenTwo years ago, Cowboy Chicken, a Dallas-based fast-casual chain with more than 25 locations, went through an extensive rebranding process — looking at every single aspect of the brand, including both the in-store and the digital experience. "We now use that as a roadmap anytime we develop anything new," says Marketing Director Kim Jensen-Pitts.
To delve deeply into the brand, the Cowboy Chicken team looked at its pillars. These were fire and flame, honest food that's not "fancy" but is good, affordability, and a scratch kitchen. "All these things have to be reflected in everything we do," says Jensen-Pitts. "One of our taglines is 'food as honest as a handshake,' and that says it all."
What Cowboy Chicken calls pillars, Szala calls silos. "Ask yourself what makes you different, and create silos," he says. These may be community, fun or mastery. "Once you have those, you can think of how your brand delivers them so you can decide how you capture that." The first step, he says, is finding adjectives that describe your brand that you can work from.
Once it had refined its brand, Cowboy Chicken came out with a brand book, detailing certain colors, fonts, and even materials like burlap, "and those are things we use consistently in everything," says Jensen-Pitts. "We're also very careful with tone of voice, even in social media." For example, important to Cowboy Chicken is wit and wisdom, so the social media pages for the brand feature lots of proverbs, poems and stories of the Old West.
Tone of voice is also critical online and off, Jensen-Pitts says. "We are warm and welcoming, down-to-earth and also somewhat charming. We want people to feel we are a trusted and reliable friend but that we have some grit since the western folks had some grit about them to be able to survive."
Cowboy Chicken has a mood board featuring its brand architecture — inspirational photos, tone of voice references, etc. — "that sets the mood for the creative," says Jensen-Pitts. "We refer to it when it comes to any materials — online or in the stores — that we design to make sure they all fit, are cohesive and mirror the brand strategy."
Restaurants like Cowboy Chicken that really examine their brand, then portray it in every single thing they do, have a very strong sense of self. Far too many restaurant brands instead emulate their competition, says Szala. "You've got to have a mission statement and know what your brand stands for. It's your brand essence, passionate purpose or your true north. Understand what that is." Brands, he says, need to ask: What makes us different? What do we want people to feel? And, most important: Why should customers care about what we do?
Szala points to some examples of brands that have done a great job with seamlessly blending their digital and off-line experiences. Domino's Pizza, he says, doesn't have a place for people to sit. Customers want to pick up their food and leave. So, Domino's website is geared around facilitating orders with no fuss and no fanfare. And at Panera Bread, online ordering is fast, and in-store pickup is likewise speedy with an entire section devoted to pickup orders, which diners find via their name on a bag. "If you streamline so much online, you have to take it back to your stores," he explains.
"Brands need to ask themselves how they fit into people's lives," Szala says. "Your digital experience needs to be an extension of everything people get when they're in your four walls. You've got to have content, and you've got to cultivate that content — someone has to generate and personalize it to your brand."