Sandwich leader Subway recently hit a milestone in its nontraditional franchise development, opening its 5,000th c-store/truck stop location, in Lima, Peru. Subway now has 10,498 restaurants in nontraditional venues.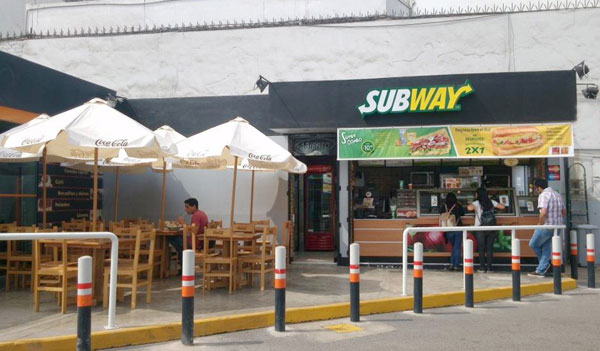 The new Lima, Peru, unit is Subway's 5,000th in the c-store/truck-stop segment.
"The c-store and truck stop category was an immediate winner in that it opened the door to the first and earliest growth for us because it let us go into small towns where the real estate was a little scarce and the build-out costs were high," said Don Fertman, chief development officer. "All along, this growth in nontraditional areas has allowed us to bring our product to where the customers are. With 25 percent of our overall growth in nontraditional locations, it shows that the nontraditional has become the traditional."
Behind c-stores/truck stops, Walmart locations are the chain's second-largest nontraditional outlet, with 1,956 locations. It also operates 597 units in colleges and universities, 293 in hospitals, 263 in department stores, 201 in airports and 126 in grocery stores.
"We are fortunate that there is a lot of flexibility and adaptability in the Subway store model so we are able to fit in some of the more unique and unusual locations that many brands can't," said Jacqueline G. M. Jones, who owns the c-store location in Peru and serves as a developer for the brand in Latin America. "Subway has a wonderful product to offer and through these nontraditional locations we are able to reach as many customers as we can."
All told, Subway now operates more than 43,800 Subway restaurants around the globe.