Virgin Hotels Chicago, located in the landmark Old Dearborn Bank Building, has opened the doors to its newest restaurant, Miss Ricky's, a fresh take on the American diner with a touch of British cheekiness.
The company says the restaurant's name is a nod to the nickname given to Virgin's founder, Sir Richard Branson, by his mother, as well as his jokingly dressing in women's clothing on occasion.
"Miss Ricky's is the third of four public dining offerings in Virgin Hotels, and is the perfect complement to The Commons Club, where smaller plates are served. The diner, along with our coffee and wine bar, Two Zero Three, have created a new Loop dining experience, with options that aren't currently available in the neighborhood," said Marlene Leslie, vice president of food & beverage, Virgin Hotels. "We're excited to present our interpretation of a diner to not only our hotel guests, but also Chicagoans that live and breathe food and are looking for terrific options around the clock."
Designed in collaboration with Rockwell Group Europe, Miss Ricky's features suspended modern lamps, classic penny-tile flooring, leather-upholstered walls and music-inspired artwork. On the north side of the diner is The Casting Room (shown below), an intimate, curtain-lined private-dining space. Movie-set spotlights and a gold-embellished vintage ceiling add dramatic flair to the room.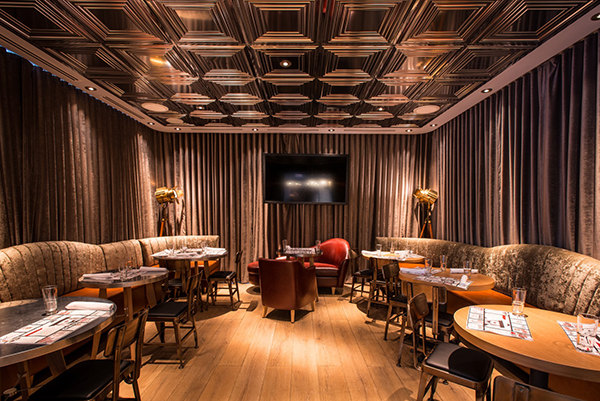 A feature wall at the restaurant's entrance is another nod to Branson, with a collection of snipped ties that reflect the entrepreneur's disdain for ties. Alongside the feature wall is a red British phone booth that serves as a host stand.
The restaurant features an open kitchen, an eclectic array of seating for 80, 15 counter seats and an additional 20 to 30 seats on an outdoor patio.