When competition stiffens or the economy weakens, restaurant chains face the challenge of finding new, creative ways to pursue expansion. These days, competition is fierce, and the economy, while on the road to recovery, has dealt foodservice a heavy blow. Creating new formats that can take chains into nontraditional locations represents a growing strategy employed by more and more concepts.
Generally smaller in size than traditional concepts, these new platforms enable operators to travel in new directions with site selection and realize savings on real estate and build-out costs. The new formats also come with smaller operational requirements and a lower franchisee investment. And they can be extremely effective for reaching new consumer markets.
But they do come with some big challenges, especially how to develop these new platforms without breaking the restaurant chain's original brand promise. Doing so takes a lot of strategic, creative work and a big tolerance for risk. Here's a look at three chains that have taken the leap and grown as a result.
Philly Pretzel Factory Takes New Platform Twists
For 14 years, Philly Pretzel Factory stores were true to the original concept: 1,200 to 1,500 square feet, with big rotating ovens, big mixers and other equipment, including a proprietary pretzel stringer, needed to make fresh pretzels all day. Patrons could watch staff mix the dough and feed it into the hopper, before forming it and baking it into Philadelphia-style pretzels.
The stores acted as retail and wholesale operations, also selling in bulk to schools and other organizations. The system worked well, and the stores produced thousands of pretzels every day. The company grew with stand-alone and shopping mall units up and down the Eastern Seaboard.
In 2012, however, the leadership team began to consider creating additional, smaller platforms that could take the brand into nontraditional markets. "The economy had something to do with it," says Marty Ferrill, president. "When the economy tightened up, it made it harder for franchisees to get access to capital."
The company looked at the idea of smaller formats to lessen the investment required but grappled with how to replicate, in smaller footprints, the pretzel-making process that had been so finely tuned in the larger stores.
Ferrill says they went to their manufacturer to reengineer all of the equipment, making it small enough to fit in a 250- to 300-square-foot space and still produce the quintessential pretzel. "You get used to doing things one way, and you don't think you can do it," Ferrill says. "But with a little hard work and engineering, we made it happen."
The company's first foray into nontraditional territory was to locate inside discount retail giant Walmart. This strategy has proven to be extremely savvy: The traffic is great, Ferrill says, and the pretzels are a snack opportunity or a reward for the kids.
Other nontraditional sites continue to be successful for Philly Pretzel Factory too. These include train stations, the Philadelphia Zoo and the Philadelphia airport. At the zoo, the chain's 425-square-foot unit takes the shape of a small hut similar to others on the property. Like the chain's more traditional, larger units, it sells pretzels wholesale to other concessions within the zoo, as well as selling pretzels retail. And the airport unit ranks in the top 10 of system-wide unit sales volume.
In addition to shrinking the footprint and reengineering the equipment, the new platform stores feature a streamlined menu and use less labor. The larger units serve specialty items, such as sausage-stuffed pretzels, but the smaller versions stick to pretzels, pretzel dogs and drinks. As few as two employees can staff each location.
For the future, Ferrill says Philly Pretzel Factory will continue to pursue this multiplatform strategy. "It's a matter of perfecting the model and focusing on the East Coast, serving our franchisees with locations that make the most sense," he says. "You still have to do all the fundamentals of running a good business: quality product, good customer service and marketing."
As for the marketing, the new nontraditional units have a key benefit: In a traditional format, it takes aggressive marketing to bring people to the store as a destination, whereas in the new, nontraditional sites, they're already right there in front of you.
Since introducing its smaller prototype option, Philly Pretzel Factory has expanded to 24 Walmart units and 18 units in entertainment and transportation venues. It operates 107 of its traditional bakery units and continues to develop this format, but franchisees now have the option of going small.
New Brand Expressions Drive Johnny Rockets' Growth
Legacy better-burger casual-dining brand Johnny Rockets continues to find new ways to grow with new expressions of its brand that are both consistent with the original and distinctive in strategic execution.
"Our traditional locations have a physical plant of 1,800 square feet and up, which works well in high-volume, high-traffic areas," says James Walker, president of operations and development of the Aliso Viejo, Calif.-based chain. "They are usually located in malls, entertainment districts, theme parks and the like. They are full service and have a relaxed speed of service where people are going for a good experience."
This prototype has been in place for 28 years and has made Johnny Rockets the popular brand it is today, Walker explains. The chain has 330 of these locations, with two-thirds in the United States and one-third in other countries around the world.
This year, the brand plans to take some new turns, debuting two new concepts suited to nontraditional locations. One is Johnny Rockets Express, a fast-casual, pay-first iteration designed to fit in a 700- to 1,100-square-foot space. It's especially targeted to food court settings, Walker says, and touts new kitchen equipment technologies that will enable the Express operations to keep up with the high volume in less square footage.
The other new prototype is Johnny Rockets Route 66, the chain's first drive-thru concept. Route 66 demonstrates that not all spin-off platforms are smaller than the traditional. This will have a 2,800-square-foot space with seating as well as the drive-thru. Walker says the concept makes Johnny Rockets the first quick-casual brand to have an integrated drive-thru that the platform is designed around rather than modified to include later.
"Route 66 is designed to be highly accessible and fast. It has a lot of technology the guest can interface with," Walker says. The units will contain ordering kiosks, but guests will also be able to place their orders from their desks at work. When they are five minutes away from the restaurant, they press an app button, and the cook staff gets the message to start their order, which customers find waiting for them — still hot — upon their arrival.
The technology will help from a consumer standpoint but also for labor optimization, he adds. "We're using the technology for quality, for speed and for engagement."
Walker says new kitchen technologies enable the culinary staff to cook great food fresh to order in less than three minutes. To ensure this process would work, the company built two pilot plants for testing. Only the kitchen configuration needed changing based on actual use of the equipment. It was good to discover this ahead of time, Walker says, rather than having to go back and retrofit later on.
Part of the process of developing the new platforms involved optimizing the menu. Any items that took too long to prepare or required too much storage space were removed, and the menu was honed down to core items: burgers, shakes and fries.
The legacy sites require 25 to 35 front-of-house staff. Cooking is done in front of guests, and the back of the house is used for prep and storage. While the exact number of staff required for the two new prototypes isn't yet known for sure, the Express platform will require far fewer workers; and Route 66, thanks to technology, will enable labor savings, as well.
Walker emphasizes that the brand is not stepping away from the prototype that made it famous — rather, the company wanted to make it easier for guests to access Johnny Rockets and experience what they love about the brand. "These new prototypes are not replacements," he says. "They are incremental growth for the brand."
The company has a couple of signed leases for the Express platform and more are in negotiation, as are a number for Route 66. Walker expects that the Express units will open this summer, followed by the drive-thrus before the end of the year.
Smoothie King Scores with Flexible Models
Many chains design new platforms to go in nontraditional locations, but few, if any, will operate in an arena that bears their brand name. The New Orleans Arena became the Smoothie King Center in February of last year. The multipurpose indoor arena serves as the home to the New Orleans Pelicans NBA team and host to a number of concerts and other events. Selling smoothies in the arena has required a total redesign of the company's operating methods as well as its footprint.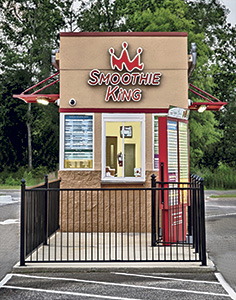 Smoothie King, headquartered in Metairie, La., was founded more than four decades ago, with the tagline "Smoothies with a purpose," as a healthful alternative to traditional blended drinks. In 1989, it became the first franchised smoothie bar and health store in the United States. The original format was a 1,000-square-foot box found in inline spaces such as malls. As the company grew, it added endcap drive-thrus. This often increased the footprint as well, to accommodate seating and a drive-thru station.
"Over time, the footprints became dictated by the real estate they fit into," says Bret Cunningham, vice president of design and construction. "We had to be creative. That's when we started to think about new models. Now we can fit into an amazing variety of footprints."
The kiosks in the Smoothie King Center are a case in point. This venture was a challenge for a concept that offers more than 100 fresh-to-order items on its traditional menu. Rather than a steady flow of guests all day long, events likely have a 15-minute break during which the kiosk will need to serve up to 1,000 customers.
The team met this challenge by limiting the menu to six of the concept's best-selling smoothies and reducing ingredients to just those that can be stored efficiently in the small footprint. And the floor plan now includes a freezer and drop-in coolers. An hour before an anticipated rush period, staff begins blending smoothies and storing them in the freezer. Close to the busy time, staff transfer the smoothies to the coolers, which sit toward the front of the kiosk near the cashier. This transfer continues until the break ends. The texture and quality of the smoothies hold up since they have been made within the hour. The model works, and Smoothie King now also has kiosks in the Superdome in New Orleans.
Cunningham says the company continues to build traditional prototype stores, especially drive-thrus. In some places, where the real estate allows for it, the chain has double drive-thrus, with one long central facility serving customers from windows on two sides. "We find there are a lot of consumers who want to stay in their cars, especially on rainy days," he says, noting that while the drive-thru model can generate higher volumes, it requires additional labor and usually a larger footprint.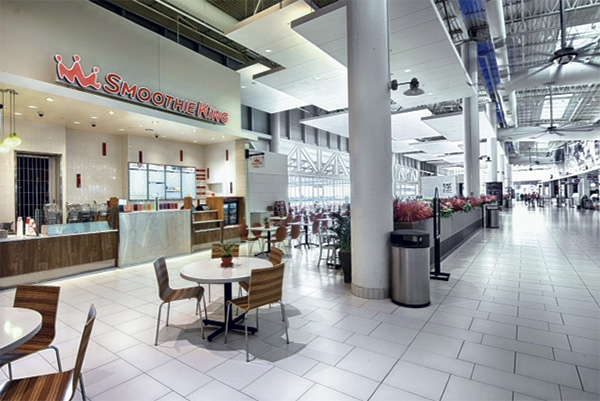 The company has found that its mall locations attract a different demographic, primarily younger people. In the old days, Cunningham says, they would have hung out and done homework at the library. Now, they bring it to the mall. Smoothie King now has Wi-Fi in its inline locations to satisfy this generational demand.
Smoothie King has units in Korea, Singapore and the Caymans as well. The more than 100 stores in Korea employ a variety of the footprints the chain's U.S. locations use. Its new platform designs apply to all of the different formats. "We didn't want to have 100 variables," Cunningham says. "We wanted to build those core elements that can fit easily into most of our layouts."
This works well with new construction but can be a challenge with renovations, which can present unforeseen obstacles such as immovable utilities. Regardless, or perhaps because of the challenges, however, the multiplatform strategy is providing new growth for Smoothie King. The initiative has spurred management to capitalize on the brand's core promise and has sparked successful penetration into new markets.
+ rd+d Web Extra
Visit www.rddmag.com/nextgen to access "Next Generation Platform Strategies," a one-hour webcast on multiple-platform development strategies.