High-end steakhouse operator Smith & Wollensky Restaurant Group (SWRG) has introduced a new, more casual sister concept, Wollensky's Grill. Positioned as a place for best-in-class shareable dining and interaction with a gastropub-style menu, Wollensky's Grill is located on the lower level of the iconic Smith & Wollensky restaurant on the Chicago River.
The roughly 5,000-square-foot space, half of which can be sectioned off for private dining, is fronted by glass walls overlooking the river. The existing kitchen was retained, but the entire front of the house was gutted, reconfigured and remodeled. The project included raising the ceiling by 8 inches to open up the space and maximize river views.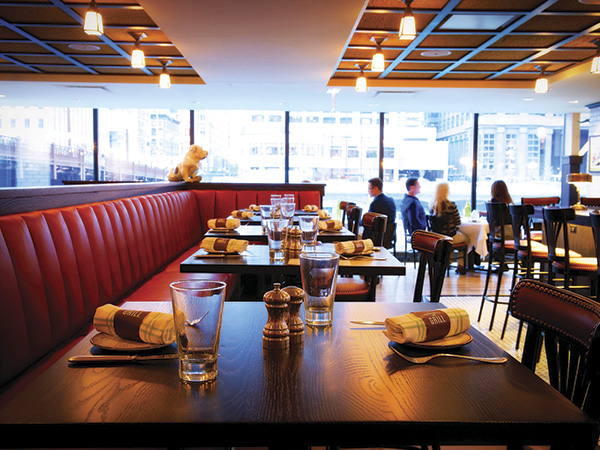 "Most of our Smith & Wollensky locations have had an area that we've called Wollensky's Grill, but it was essentially a separate bar with a few tables. It looked exactly like Smith & Wollensky and had the same menu," notes Kim Lapine, vice president of marketing at SWRG. "As the steakhouse segment becomes more competitive and dining options become more refined and creative we felt we needed to create a standalone identity for Wollensky's Grill."
Designed by Boston-based Peter Niemitz Design Group, Wollensky's Grill features a large, 30-seat bar shaped like a horseshoe. Bar stools have high backs and comfortable padded leather seats, and the space offers a mix of leather banquettes, booths, high-tops and traditional table seating.
"We doubled the bar capacity and repositioned it for full river views," says Michael Feighery, SWRG president and CEO. "The sharable menu concept lends itself to more socially interactive dining, so a larger, more comfortable bar compliments that."
Design highlights include a mix of pinwheel black-and-white mosaic tile flooring, scrubbed oak hardwood, antique lighting and classic bentwood furniture. "The combination lends a classic but fresh, modern feel," Feighery says. "It fits the look we wanted — classic American speakeasy style with nods to the Smith & Wollensky heritage."
The company plans to study and refine the concept before expanding it to additional markets.