Fresh out of grad school and armed with an MBA, Bill Martens launched his career in the finance department at Yum! Brands, where he spent nine years. Midway through his tenure there, however, the development bug bit Martens and he shifted his career to that side of the business. In 2008, he joined Del Frisco's Restaurant Group (DFRG) in Southlake, Texas, as director of development and in 2011 he advanced to vice president of development and construction.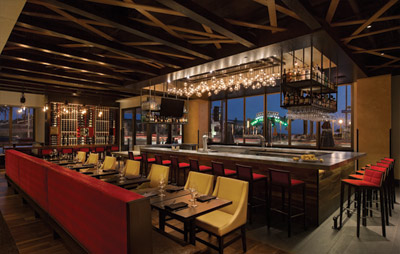 Del Frisco's Restaurant Group's newest concept, and the one it expects to expand with the most this year, is the upscale casual Del Frisco's Grille.To maximize the social nature of the concept, the design features an island bar to encourage interaction among the patrons.
Today, Martens heads up market planning, site selection and acquisition, and construction for the company's three high-end concepts: Del Frisco's Double Eagle Steakhouse, Del Frisco's Sullivan's Steakhouse and Del Frisco's Grille. This year's shaping up to be a busy one for Martens and his team. Here's what he's up to.
rd+d: Corporate finance guy shifts to development and construction. What led to that career shift?
BM: I was brought into some of the development deals at Yum! at the time, wearing my finance hat, and found I had a strong interest in all things related to development. It might be a little unorthodox, but the more I got into it the more I discovered I really liked the creative aspects of development. It's a privilege to be able to work on something from conception to completion, hand it over to operations and ultimately see it be successful.
rd+d: What's on the docket right now for DFRG?
BM: We're targeting five to seven new-build projects a year for the foreseeable future. For 2014, we plan on doing at least four remodels as well. Our newest concept, Del Frisco's Grille, will be our main growth vehicle. In 2013 we opened six Grilles and the bulk of our development in 2014 will be Grilles as well. We're also working on some re-concept issues at Sullivan's. Our development will take place on both coasts and points in between. There's a lot of green space out there for us.
rd+d: How much of the development process at DFRG is handled internally?
BM: Our team handles real estate, development, construction and facilities. Our VP of real estate and I work together on site selection and acquisition and from there my group takes care of design and construction. The group includes two construction project managers and a facilities manager. For design, we work with a number of third-party architect and design firms. At some point, we may reach the scale where it makes sense to bring in our own designer, but for now we outsource to multiple design firms. We do that in part so that our concepts aren't cookie-cutter; each should have a bit of a different personality.
rd+d: Del Frisco's is known for its high-end, high-style steakhouse experience. How would you describe the design vision?
BM: At Del Frisco's Double Eagle we like to think big and bold and create an atmosphere that's just 'wow!' We start by looking for dramatic spaces, from 14,000 to 18,000 square feet, with large windows. We usually include mezzanines and we always incorporate a dramatic wine feature. In Chicago, for instance, we have an amazing three-story wine tower and we have a similar feature in Fort Worth. At Sullivan's, we create a slightly more approachable, comfortable feel. We do that with the furnishings, décor and music, including live music in the bar that drives energy out into the restaurant. It's still white tablecloth dining, but a little more relaxed. Del Frisco's Grille is more casual still. It's smaller — 5,000 to 8,500 square feet — and is designed to offer affordable, everyday upscale dining at multiple dayparts.
rd+d: What are some key design elements that set the Grille apart from DFRG's other brands?
BM: Two focal points are an exposition kitchen and a large, prominently placed bar. People like to see into the kitchen, to see that activity and it drives energy throughout the restaurant. The concept is also designed to be very social in nature so we have gone mostly with an island-style bar to maximize social gathering and guest interaction. We also try to incorporate elements that create a very warm and comfortable feel — a lot of natural woods and warm lighting, for instance. And while we like an open, spacious layout, we're very cognizant of acoustics to make sure they're comfortable, as well.
rd+d: What new trends are impacting how your team is designing and building restaurants?
BM: We're seeing some great advances in LED lights and energy-efficient products. Initially, we didn't embrace LEDs because they were very expensive and we didn't like their color ranges. But they've come a long way and we're embracing them more than ever. We're also using some energy management systems and some of the projects we're doing are LEED certified. On the design side, we're seeing great strides being made with sophisticated rendering and 3-D modeling. They enable us to improve our decision making and give our team a much better feel for what we're trying to achieve in terms of the look of the restaurant. Ultimately, that means fewer changes out in the field during construction. Equipping all of our people with tablet computers has also greatly enhanced efficiency and accuracy.
rd+d: When schedules aren't met, what's usually the cause?
BM: Usually it's either permitting or plan related. In many locations building departments have been scaled back since the recession and haven't yet staffed back up, so we're seeing lengthier delays in permitting approvals. Another big issue is accuracy of plans. You always want to minimize surprises and do a good job with due diligence, but if we're retrofitting a space we often run into unforeseen conditions. We also sometimes have audibles called by inspectors in the field that can cause delays.
rd+d: Many of your restaurants are conversions of historic spaces. Any particularly memorable war stories?
BM: Philadelphia Del Frisco's Double Eagle Steakhouse tops them all so far. We're in a building that was constructed around 1935 as a bank. It's a split-level: you go up a few steps to enter the main dining room and bar and down to a lower level, which originally housed the vault and safety deposit boxes. There was no way to x-ray the area so we weren't 100 percent clear on what we were getting into as we set out to convert the lower level into private dining rooms. We had to create three access points for the main room, which is in the old vault. The walls were 24 inches of steel-reinforced concrete sandwiched between 4 inches of solid copper. The idea was that if someone tried to use a cutting torch to break into the vault, the copper would liquefy and deter them. Our GC had to bring in a specialist to come up with a way to cut through and it ended up being considerably more expensive and time-consuming than planned.
rd+d: What advice would you offer to someone seeking to enter this side of the business?
BM: Our business is very cyclical and the design and construction process is very collaborative, so having patience, keeping an open mind and maintaining a long-term view will serve you well. Also, do your best to align yourself with a company that embraces innovation and growth. That, as much as anything, will yield a rewarding workplace but also some attractive career prospects.