Focus Brands has captured the market on co-branded mall restaurants with its almost ubiquitous pairing of Auntie Anne's and Cinnabon — and that doesn't even touch on the imprint the tantalizing smell of cinnamon and warm bread has on passersby.
Earlier this year Focus Brands announced that it planned to open streetside co-branded locations featuring the two chains. The company now operates 13 co-branded units across the country, from Gatlinburg, Tenn., to New York City.
But that's not all. The Atlanta-based company has also debuted seven Jamba-Auntie Anne's co-branded locations, three of which feature drive-thrus. Focus hopes to open nine more before the end of the first quarter 2023. And, in the first half of 2023, Focus will debut a Cinnabon-Carvel
co-branded concept that will be known as Cinnabon Swirl.
"We'll take the best of Cinnabon and the best of Carvel soft serve and have a whole mash-up menu of treats like ice cream sandwiches and our Center of the Roll Sundaes and top with soft serve," says Kristen Hartman, president, specialty category with Focus Brands.
In December 2020, Woworks, based in St. Petersburg, Fla., was created as an umbrella organization housing several restaurant brands. Today, that family includes six concepts including Saladworks and Frutta Bowls, and in July 2021, the first co-branded location opened, featuring those two concepts under one roof.
Woworks now has nine co-branded Saladworks-Frutta Bowls units in Michigan, Delaware and Pennsylvania, one of which is a nontraditional unit within a Fresh Grocer.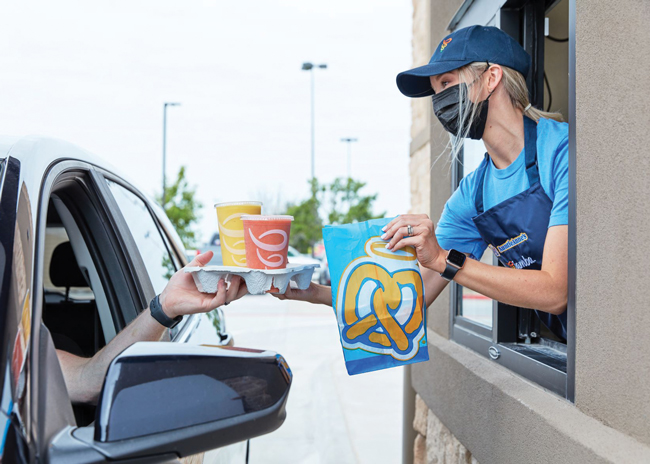 Focus Brands has debuted seven Jamba-Auntie Anne's co-branded locations, three of which feature drive-thrus. Images courtesy of their respective brands.
And Woworks expects to open nine more in the first quarter of 2023. In fact, "the overwhelming majority of our new Saladworks are being built with Frutta Bowls," says Brian Farris, chief development officer. "They are so complementary, but they have some key differences that make them great for one another." Both brands' dishes contain healthy, good-for-you, honest ingredients, he says. "They're designed from a product standpoint, and they're both cold-serve so fit on the line very well and mix and match well."
But the differences come in dayparts and demographics, Farris says. Frutta Bowls skews toward a slightly younger demographic and has longer dayparts. "It's a morning daypart and an afternoon pick-me-up," which can help boost sales for Saladworks at those times, too. Frutta Bowls is popular on third party delivery platforms, he adds, "so having additional points of distribution through co-branding allows us to reach more people and bring them into the Saladworks fold."
Meanwhile Saladworks, whose meals are popular afternoon and early evening dayparts, brings the idea of buying a Frutta Bowl meal as an indulgent dessert later into the evening, Farris points out.
Saladworks is a more established brand than Frutta Bowls, says Farris, which is helping drive awareness of the latter. "When we enter a new location or new market, the Saladworks [takes off] faster — people get it right away and that gives them an opportunity to discover Frutta Bowls [which] leads to more guest loyalty and more customer frequency."
The co-branded locations feature almost all menu items from each brand, barring one or two from Frutta Bowls "because they don't mix as well," Farris says.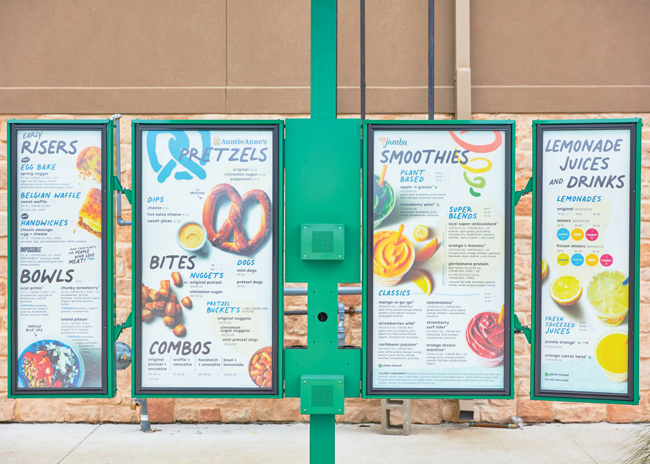 Menu boards at co-branded Jamba-Auntie Anne's locations keep menu items segmented.
Design Aesthetic
Unlike most of Focus' dual brands, the Cinnabon Swirl locations will have a fully integrated store design where "you can't see one brand more than the other," says Hartman. "We've taken each brand's design aesthetic and blended them in terms of color palette and branding."
The stores will feature separate menu boards for each brand, as well as a menu board featuring items exclusive to Swirl locations. But customers will order from both brands together, from the same ordering station. "It's a complete integration between the two brands," says Hartman.
However, at the Jamba-Auntie Anne's co-branded units, the parent company is maintaining distinction between the two. This is based on consumer research that showed diners felt the two brands complemented each other in terms of their offerings but thought a degree of separation between the two brands was necessary to avoid confusion.
So, the restaurant design in those units is more distinct. Jamba locations often include a mural and in co-branded units with Auntie Anne's the mural includes both smoothies and pretzel iconography. The brands' signature colors — green for Jamba and blue for Auntie Anne's — can found throughout the space.
Menu boards are separate at these locations, though beverages are combined into one. "We were thinking like a consumer; when you want a beverage you want to go to one place on the menu," Hartman says.
"We wanted to maintain a level of distinctiveness, [so] you see two logo signs on the outside of the building," says Hartman. And at the drive-thru, the logos and menu boards are separate, but customers order both offerings from the same window.
The co-branded Saladworks-Frutta Bowls locations provide a "cohesive" experience, Farris says. "We want everything to work together very well. We try to use some nuance to bring the brands together that feels very comfortable and natural."
Outside, the stores feature full-sized signage for both brands. But when customers enter, he says, "they're instantly going to feel this is both."
What Woworks did not want, was the feel of a restaurant where "you'd walk in and feel like the dining room is split in half," Farris says. Instead, he points out, "the furniture package and colors are cohesive and represent the feel of both brands. The artwork is a merge of people enjoying fresh salads, fresh bowls, so it shares a common theme and brings the product and the brands under that theme. That's the beauty of bringing these brands together — they can grow together and still maintain the brand."
And both brands share a POS system, "which is great for a lot of reasons," Farris says. From a customer standpoint, it makes it simple: Guests come to one place to order and are encouraged to mix and match from both.
From an operations standpoint, it makes it very efficient, so you have one person who helps you build your order. And from a technology standpoint, he says, "we can leverage one POS for the cash-out experience, and it's very natural. It doesn't feel like two brands. It encourages people to order from both. And it allows us to drive occasions and frequency."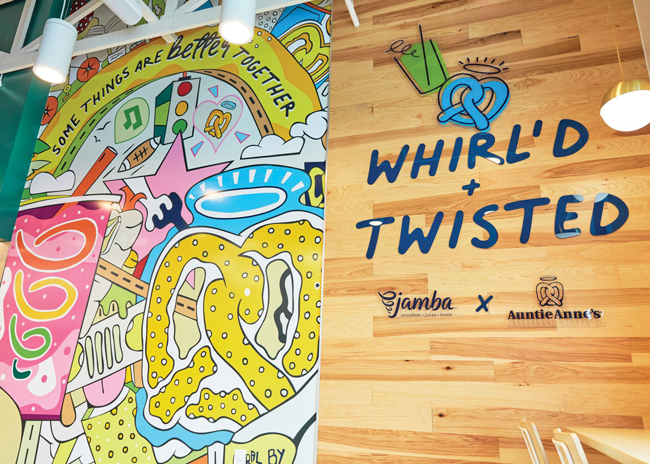 Landlord and Franchisee Appeal
The streetside Cinnabon-Auntie Anne's locations, says Hartman, "are doing very well because there's a lot of density and a lot of traffic."
She expects Swirl to go into both suburban and urban locations, especially tourist spots where impulse buying is high, and malls.
With Jamba and Auntie Anne's, she expects the two brands to prop each other up seasonally, since the former tends to be more popular in the spring and summer, and the latter in the fall and winter. "So, one holds the other up in two seasons," she says.
And from a daypart standpoint, the same holds true. For both brands, the biggest daypart is the afternoon snack occasion, but Auntie Anne's has not traditionally had a lot of morning business, though that might pick up when customers come to the store for a breakfast smoothie.
Co-brands certainly help with the development of each brand, says Hartman, because Focus has one development team that manages real estate, construction, etc. over all seven of its brands. "It gives them the ultimate flexibility because we have a number of combinations for them to consider."
And it's beneficial for franchisees, too, she says, because a significant percentage of franchisees own more than one Focus brand. "So, they're growing their portfolio by having the flexibility and the dual brands and one can help float the other in dayparts."
Co-branded Woworks locations "allow us to be even more choosy with our real estate," says Farris. "We can pick the very best; landlords love it because it's a multi daypart experience [so] there are more occasions and we're going to bring traffic." They're attractive to franchisees, too, Farris points out. Woworks ran the co-branded units as a corporate store first, to ensure it worked well, "but when we started offering it, in almost every case, franchisee candidates are opting for co-brands."