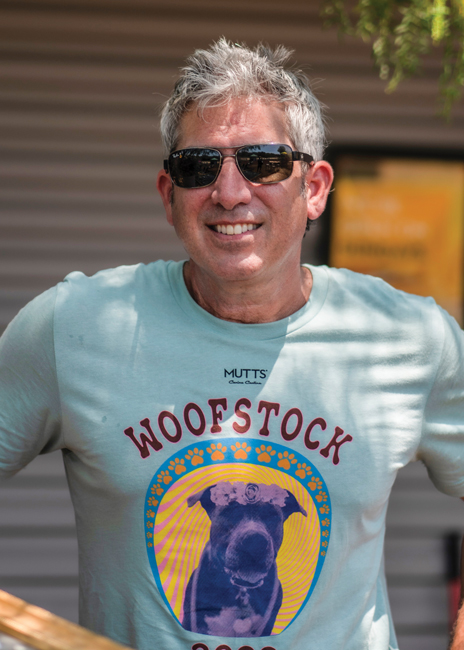 Austin Green, Director of Operations, Mutts Canine CantinaMembership is a white-hot model for success these days. Mutts Canine Cantina combined membership with beer, burgers, puppies and puns to create a recipe for business success. Mutts bills itself as an off-leash dog park, bar and grill aimed at single Millennials (and younger) who want to pamper their pooches and take cute pics and videos for social media. There's also cheeky puns galore — Would you like to try a signature "Barkarita"? Come for "yappy hour" and sign up to bring your pup back for the "Howl-O-Ween" costume contest! — all part of the sweet and silly brand vibe.
Here, Austin Green, director of operations for Mutts, provides some intel on the brand's growth plans.
What brought you to Mutts?
AG: I got on board almost four years ago, in August of 2018. They were looking for a director of operations, and I had never done that before. It sounded great as an opportunity to expand my resume, so I met with the president and managing partner/owner and saw the property. And I loved it. I loved the brand and the branding. I thought it was spot-on, some of the best I'd ever seen. When I got home, I told my wife about it, and she said, "You're gonna go work at a dog park?" I said, "Yeah, but you don't understand; this is gonna be great!" And it took off. Mutts is one of those brands that's hard to explain, but when you see it and touch it, you get it. To be around a bunch of four-legged friends and their owners, it's really — to steal a line from Disneyland, it's like the happiest place on earth.
I spend a lot of time on a laptop now, but if I'm ever having a bad day, I just say I'm going to hang out with the dogs for a little while.
Membership models are hot right now. How does this one work?
AG: We're an off-leash dog park first and a cantina second. A lot of our competitors around the country position themselves as a bar first with a little dog park. We're the opposite. Memberships are the lifeblood of Mutts. If we didn't have members, there would be no Mutts. We sell day passes if you want to just come and check it out, but we have monthly recurring memberships, and we offer annual memberships at a discounted rate.
At its bottom line, Mutts is a dog park where you can drink. So that's the appeal. We also have Bark Rangers that look after the dogs, prevent fights, clean up the dog poop and bring the dogs fresh water. We also have some great events throughout the year that drive excitement and traffic. I just got off the phone with the marketing team because we are hosting an event in October called Woofstock, and it's a music festival at the dog park with vendors selling flower crowns, tie-dyed shirts and we'll also do bandanas for the pups. We also have adoption events, of course. We have Santa Paws, where the member dog and their human parent can get pictures with Santa. Members get discounts and even priority access to these special events.
My favorite event is Howl-O-Ween, where people dress their dogs up in costume and we have a costume contest. People line up around the block!
At Mutts Canine Cantina, the dogs are members and the humans are guests. Images courtesy of Mutts Canine Cantina
What is the development trajectory for Mutts?
AG: We have briefly paused selling franchises to work on delivering a more affordable and scalable prototype model. I'm working with some designers and architects to bring overall costs down.
Currently [as of summer 2022], we have four stores open. We're about to start construction in Gilbert, Arizona. In Texas, we're looking at opening three to four units in Austin and one in El Paso. In Arizona, we're looking at opening one in Tucson and six in the Phoenix area. We also expect to expand into Denver and Las Vegas. Then we are moving to the Southeast, like Florida.
With the desire to get a more scalable prototype, what are you looking at?
AG: The first three that opened were modular units built off-site and then were shipped to the site and put together. Then, we pivoted so that the next three are stick builds because they are currently less expensive than modular. So, we're looking at alternatives right now with our new design. We're looking at container buildings, as a lot of people are, so we would bring in two or three 40-foot containers and build out our bar and kitchen from there.
Since it's an outdoor space, we'd bring in containers and cut them out on the sides to create a dining or lounge space where we can put TVs. The containers would be a smaller footprint and, at current prices, cut the construction cost in half.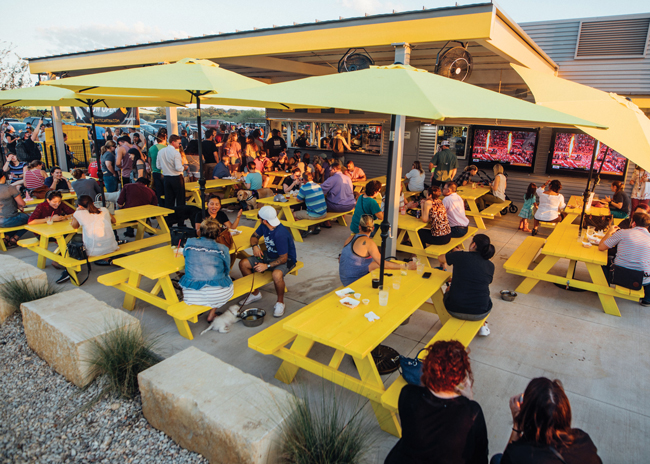 Any issues with local building codes and food and beverage being served alongside animals?
AG: That's why it's all outdoors. In most municipalities, you can't have a dog in a building that houses a commercial kitchen. We don't allow food into the dog park because food causes fights, but we have a dining area with picnic tables, and you can sit with your dog so long as it's on a leash. The idea is that the F&B component of the brand covers your [operational] costs and the memberships flows through to the bottom line.
Who is Mutts' ideal customer?
AG: It's a mix, but it's about 55% women, 45% men. The majority of our dog members' parents are 25 to 40, so in that Millennial and younger space. The makeup does vary from location to location, of course. Uptown Dallas is densely populated with a lot of Millennials. That's who is going to that location. They use Mutts like a city park. They come, have a couple of Barkaritas for Yappy Hour, let their dogs hang out and then leave. The other locations aren't in as densely populated areas, so it's more of a destination space. In those locations, the owner stays longer. So they don't come as often as the Uptown Dallas member, but they spend almost twice as much [time and money] on a given visit. It's the mindset of a walk versus a drive. If you have to drive for 10 to 15 minutes, you're going to stay longer once you get there.
We look at the population of people in a given area, and then we look at the population of dogs. And then we look at, of that population, how much are they spending on their dogs? I was just looking over a map of the metroplex in Dallas, and it shows all the towns in the area and the population. In Allen, Texas, we know that there are 10,000 apartment doors in 4 square miles. The average apartment has one and a half dogs. So that tells us they have roughly 15,000 dogs. That's just the apartments and doesn't include the homes. We drill down to all of that because we have to approve the sites for potential franchisees. We've turned down sites that we didn't feel were a good fit.
Do you see signs of further growth?
AG: The pet space in 2022 is projected to be $1.9 billion in the U.S. alone, and there's no slowing down in sight. Everyone is projecting it will continue to grow. And there's the fact that now pets — and dogs in particular — are part of our everyday lives and are seen as family members. People want to take their dogs everywhere. Millennials lead the pack of dog owners at 32%, and I think the generation behind them will expand that number.