If there's one big lesson brands have learned over the past few years, it's that they the need to be nimble: to embrace opportunities to reinvent themselves as needed to keep pace with changing consumer wants and needs. The pandemic forced that learning in very real and challenging ways, but so have massive and ongoing disruptions across technological, cultural, behavioral, economic and environmental fronts. Another big lesson? Target consumers aren't static, predictable entities. Any or all of said disruptive forces can quickly change how, why and even if they choose to engage with particular brands. 
Keeping tabs on target consumer groups — not just who, where and what they are, but digging deeper for insights into why they do what they do, go where they go, buy what they buy, shop how they shop — has become a critical business strategy. In the post-pandemic marketplace, such increasingly nuanced consumer insights are driving everything from menu development, branding and marketing to real estate and design. Here's how three fast-casual restaurant companies are keeping their sites and strategies sharply focused on their target customers.
Concept: Artisan, customizable pizza
HQ: Pasadena, Calif.
Units: 341 in mid-2022
Target moves: New research-driven brand promise, restaurant design
In advance of its upcoming 10th anniversary and a development push that's expected to net more than 30 new units by the end of next year, Blaze Pizza leadership started asking some big questions about how the brand should evolve. Part of that evolution is very much pandemic-driven, says Ed Yancey, chief development officer. "We were almost entirely a dine-in experience," he says. "That, of course, has changed as customer behaviors have changed. We've retooled our designs to make sure we have curbside pickup, dedicated parking spaces for takeout and delivery drivers, digital order pickup stations, etc."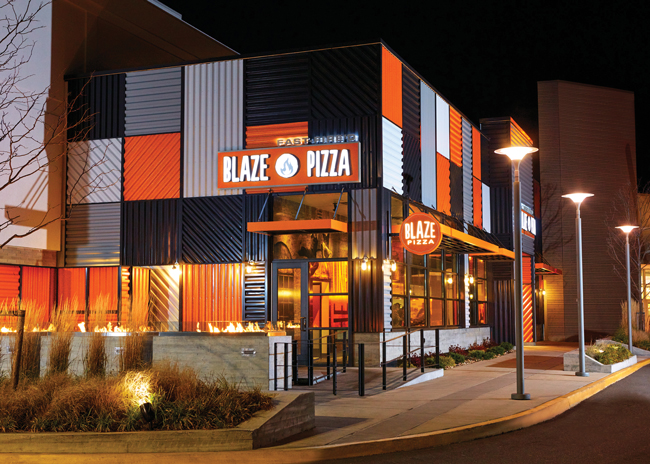 Blaze Pizza is introducing a new brand promise, "Free to Be You," and new restaurant design elements driven by new insight into why customers love the brand. Image courtesy of Blaze PizzaTo gather and evaluate insights that would help provide answers and guide decision making, Blaze's development and marketing departments teamed up to undertake what turned out to be a months-long research endeavor. It was the largest such project in the brand's history, according to Vincent Szwajkowski, chief marketing officer. Based on internal and external findings and analytics gathered from surveys, focus groups and interviews with customers, franchisees and unit-level staff, Blaze developed a new brand promise, "Free to Be You," and is creating a new restaurant design that's on track to be introduced in early 2023.
"Our target customer base hasn't changed much in that pizza is so universal to so many. But as our brand is maturing, we wanted to take a hard look at how the Blaze consumer is evolving and maturing as well," notes Szwajkowski. "From the research, the common theme we found was around our core value proposition of customization. That's what we were founded on. But the really big insight we gained, which drove our new branding initiative, was the idea of our customers also feeling valued as individuals. It took us into much more emotional territory, and the result is 'Free to Be You.' As a brand promise, it speaks to the functional, customizable side of things, but it also speaks to the more emotional aspects of individuality, acceptance and care between our guests and team members."
The next step, Szwajkowski adds, is injecting elements of that brand promise into physical and digital spheres. That means a new logo, brand colors, photography and storytelling. And the marketing team is working closely with Yancey's team to determine how the new branding will be expressed inside the restaurants through new signage packages and menu boards. Online, the brand's app and website are being updated as well.
"With Ed's team, we're figuring out how we take what we learned from the research about how and why guests like to engage with us, and then thinking through what that looks like in terms of the overarching prototype," Szwajkowski says. "What's their shift to digital channels? How are they thinking about what they want from a guest experience as they walk down the line? We're letting the data and the research, compiled with the help of an outside consultant with no agenda or vested interest in the results, drive much of the decision making. That really helps to keep the focus where it should be — squarely on the consumer."
---
Concept: 100% plant-based
HQ: Chicago
Units: 12 in mid-2022
Target moves: Wider net, refined branding, new design
When Native Foods was founded in 1994, the brand targeted a very specific and limited customer base — dedicated vegans. A pioneer in the plant-based fast-casual restaurant space, Native's go-to-market strategy has since evolved significantly, as has the consumer niche it was created to serve. With interest in convenient, plant-based foods soaring and competition in the segment growing exponentially, the brand is now doubling down on its roots while also introducing a far broader target customer demographic to new branding, refined menu strategies and a comfortably contemporary new look.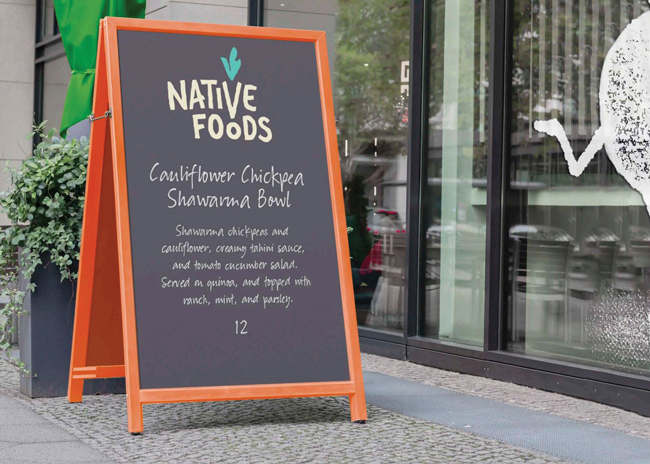 Image courtesy of Native Foods"Early on, we had a fairly myopic view of our target customers, really focusing on classic, quote-unquote vegans — people who follow an exclusively plant-based diet, who are passionate and perhaps even activist about environmental sustainability and animal rights," notes Sandra Thum, Native's director of marketing. "It was enough then just to be plant-based. But over the past nearly 20 years, the market has evolved and matured to include a much broader audience. It's no longer enough for us to simply be plant-based."
Working with St. Louis-based strategy and design firm TOKY, Native Foods recently completed a rebranding initiative that incudes messaging focused on creative, scratch-made, plant-based comfort foods, along with a new interior design and updated graphics. It's all part of a focus on growth led by CEO Carin Stutz, who joined the brand in 2019 after holding top leadership positions with chains like Red Robin Gourmet Burgers, McAlister's Deli and Brinker International. Stutz describes Native's target guests today, defined in part using mosaic segmentation data, as young, urban individuals, who have long been central to the brand's success, but adds that mature, upscale suburbanites are also now in the mix.
"We've always been an urban brand," Stutz says. "But our three newest units — one that just opened in Lone Tree, Colo.; one opening soon in Fort Collins, Colo.; and another slated for Clayton, Mo. — are in suburban markets. With so many people continuing to work from home, we're balancing out our portfolio and shifting our targets a bit. We have to go where our guests are, and a much more diverse group of guests is now attracted to our brand."
As for the rebranding initiative, the Native Foods team based its inspiration and decision making on a combination of data gathered internally from its guest loyalty program and product mix review. And a TOKY-led study lent deeper insights into how guests feel about the brand.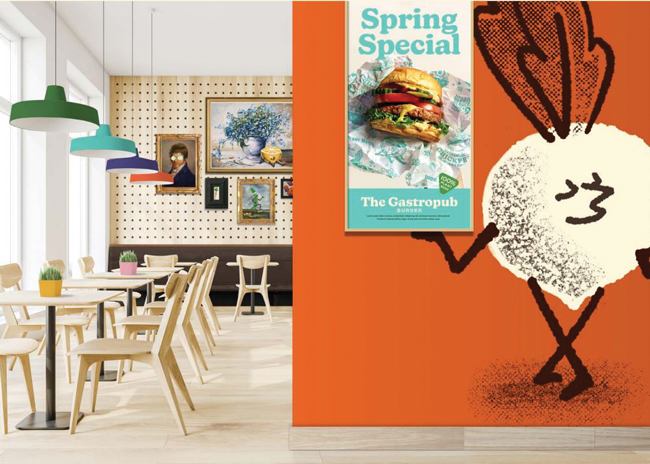 With demand for plant-based growing and competition in the space intensifying, vegan fast-casual pioneer Native Foods is rebranding and redesigning to target a broader customer base. Image courtesy of Native FoodsAmong the insights gleaned from that study were fundamental this-not-that sentiments, including: "vibrant and bold but not overpowering," "comfortable but not ordinary," "lighthearted but not goofy," "unpretentious but not unsophisticated" and "passionate about plant-based but not preachy." During the rebranding, such sentiments and descriptors drove decisions at every level, Thum notes, and they continue to guide every move the brand makes, from menu development to brand color selection and graphics to interior design and marketing.
Katy Fischer, TOKY's executive creative director, adds that from a directional standpoint, her team's initial simple observations of and conversations with guests interacting with the brand in the restaurants shed a bright light on the fact that messaging around veganism was no longer the road to take. "What we saw was absolutely not your activist, vegan cliche," she says. "It was people patronizing Native for craveable, indulgent, familiar and comforting foods that happen to be 100% plant-based. Any brand messaging had to be less around 'eat vegan' and more around just enjoying great food in a nice restaurant with a noncorporate, neighborhood feel. It opened our minds to see what the consumer was doing, and the consumer — vegan and non-vegan alike — was saying, 'Yes, we're interested in and curious about plant-based, but that's not the only reason we're here.' We don't have to teach or preach; we can just highlight food and atmosphere and position the brand for a new phase of plant-based segment leadership."
---
Concept: Pizza and Italian
HQ: Denver
Units: 8 in mid-July 2022
Target moves: Operational transformations, rebranding, redesign
Founded in 2004 by three siblings of the Miceli family, Mici Italian is a small brand with big plans. A new franchising effort launched late last year had by midsummer netted agreements to develop more than 50 units, taking Mici beyond its home Colorado market into Arizona, Texas and Michigan. In advance of its aggressive growth push, however, Mici's team did a lot of legwork to ensure that its new franchisees would be going to market with the very best expression of the brand. New tech systems were implemented, operations were overhauled, and branding and interior design were reimagined while retaining the brand's ethos, at the forefront of which are family, all-natural ingredients and convenience.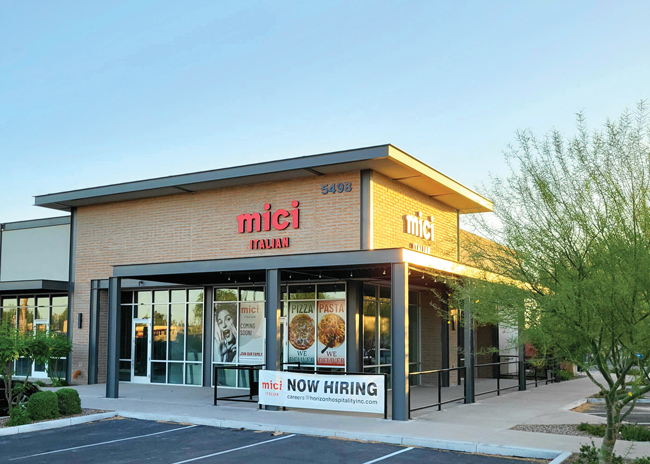 With demand for plant-based growing and competition in the space intensifying, vegan fast-casual pioneer Native Foods is rebranding and redesigning to target a broader customer base. Image courtesy of Native FoodsElliott Schiffer, CEO, says Mici has been very purposeful about redesigning its restaurants for the way today's consumers experience the brand, focusing especially on two core groups who account for the majority of visits and sales: young families and retirees. The transformational changes were driven in part by the growth of off-premises sales during the pandemic and in part by a desire to update branding and store aesthetics, guided by a clear understanding of those groups and what they value.
"We're a small organization without a lot of resources for deep-dive research," Schiffer says, "but the most compelling thing we look at is data generated through our rewards program. It's a very robust program, and it enables us to create great relationships with our guests. Across our first seven stores [the eighth recently opened in Arizona], we have 81,000 loyalty program members or an average of 11,000 per store. We drive a lot of traffic through the program, but we also get a lot of information from it to truly understand who is coming into our restaurants and why. And then we can cross-reference what we know about who's actually in our dining rooms against demographics of the neighborhoods we're in to see how we're skewing with our target groups there."
Recent changes made to appeal to those groups are many and varied, ultimately aiming to ensure an "honest, warm and playful" brand as well as to create a sense of familial connection. From a physical prototype standpoint, the biggest changes have been driven by the dramatic uptick the brand has experienced in off-premises business. Dining rooms, once designed for 60 to 70 seats, in new units will now hold 35 to 40, Schiffer notes. Prominent pickup stations and systems to ensure temperature consistency have been added. Those stations are roughly 2 feet deep and 9 feet wide and are positioned near the front counter to ensure ready staff assistance, if needed.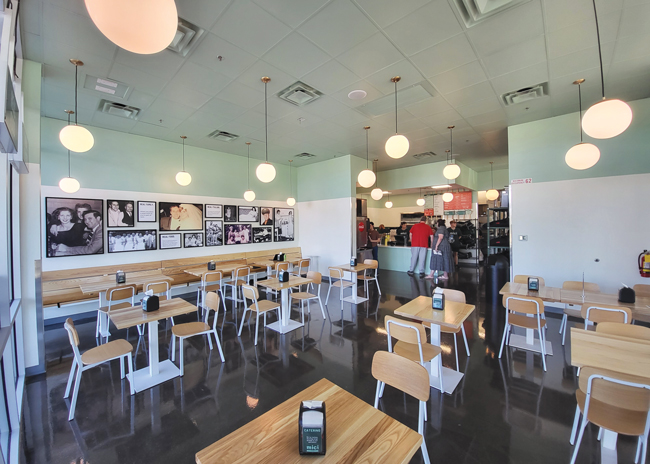 "Out of that 18 square feet, we're doing about half of our revenue," Schiffer says. "We also do our own delivery, which accounts for about 25% of sales, and we have another 18-square-foot pickup space for our drivers. Our kitchens are a bit bigger now, and our dining rooms have been reduced pretty significantly to accommodate these areas. Consumer behaviors have changed, and we need to evolve to make sure it's easy and convenient to engage with us however they choose to do so."
The new interior design strategy seeks to target young parents with a light, fresh, and modern look and feel. The brand's prior use of red and green to reflect the Italian flag was updated to more contemporary shades. Lighthearted in-store graphics celebrate family, iconic Italian art, and everyday restaurant items and ingredients. A kid-focused bright and colorful gelato display was added right up front by the order counter.
Insight into the value that guests place on Mici's all-natural ingredients also influenced many design decisions. "We go to great lengths to serve all-natural products, in part because a lot of our recipes are family recipes developed generations ago," Schiffer says. "But also because today's young families really care about feeding all-natural foods to their children. We wanted the materials that we use in the stores to be all natural as well. We chose light ash or maple wood with just a clear coat instead of a stain for our furnishings, for instance. It's a subtle way to give guests an in-store experience that matches the food experience."