Reach in to a grab bag of casual-dining brands these days and what you pull out might just surprise you. Yes, many in the segment continue to struggle and suffer consequences of over-supply, under-differentiation and chronic inertia. And all share the pain of higher costs — labor, real estate and food — compared to their fast-casual and QSR competitors. But the odds of pulling a shiny apple out from among the lumps of coal are beginning to improve.
You might just grab BJ's Restaurants Inc., for example, a 200-plus-unit beer-centric casual-dining company that operates BJ's concepts in 27 states. The company's comparable-store sales rose 6.9 percent in the third quarter of 2018 over the same 2017 period, marking the biggest comp-store sales growth for the brand in 29 quarters. For the first nine months of 2018, BJ's comp-store sales were up 5.5 percent over 2017, a year in which that same measure took a -0.7 percent hit. In 2016, BJ's saw comparable-unit sales drop -1.3 percent over the prior year.
Maybe you'd grab Texas Roadhouse, which operates more than 500 casual, steak-centric restaurants under that brand. In the third quarter of 2018, Texas Roadhouse saw comparable-restaurant sales rise by 5.5 percent at company restaurants and 4.2 percent at domestic franchise units. Those results are on par with comp-store sales gains of 5.4 percent and 4.1 percent, respectively, reported by the company for the first nine months of 2018. Development is up, too: Texas Roadhouse was on track to add 28 new units in 2018 and plans another 25 to 30 new company stores this year.
You might even snag Applebee's. Last October, the leading casual-dining brand reported its strongest quarter in 14 years. Domestic same-store sales rose 7.7 percent in the third quarter and 5.5 percent over the first nine months of 2018. That compares to domestic comp-store sales declines for the brand of -5.3 percent and -5.0 percent, respectively in FY 2017 and 2016.
With guest traffic growing and marquee brands like his regaining steam, Stephen Joyce, CEO of Applebee's parent Dine Brands Global, calls reports of the death of casual dining simply "false news."
Recent Datassential Inc. research appears to bear out his assertion. According to the firm's 2018 Casual Dining SNAP! Keynote Report, half of casual-dining operators say sales are higher than a year ago and more than two-thirds expect their sales to increase in the year ahead. Consumer data in the report also support the case for the segment's comeback. Consider:
47 percent of consumers visited a casual-dining restaurant in the prior month.
62 percent of consumers visited for dinner.
82 percent say they've either increased (28 percent) or maintained (54 percent) their casual-dining visitation or ordering compared with a year ago.
29 percent expect their casual-dining usage to increase in the next year, versus 9 percent who anticipate their use
will decrease.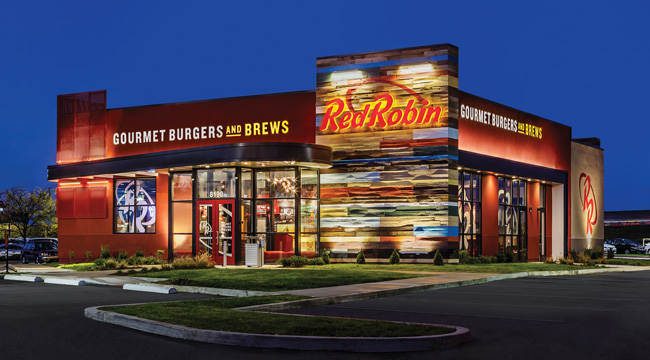 Off-premise business at Red Robin is growing, but, like many casual-dining players, the brand has struggled with trying to grow takeout and delivery without negatively impacting the dine-in experience. Image courtesy of Red Robin Gourmet Burgers and Brews
Deliverance Ahead?
"Things are starting to look up a bit," says Claire Conaghan, syndicated group manager at Chicago-based Datassential. "Our research included 1,000 consumers and more than 160 casual-dining operators, who have a mostly positive outlook right now. A lot of that has to do with opportunities that they see in takeout and delivery."
The report shows that off-premise is, indeed, picking up: 44 percent of casual-dining operators now offer delivery and another 17 percent say they plan to add it in the coming year. And, while packaging and delivering menu items that weren't initially conceived to travel well is a major challenge for the segment, delivery customers seem happy with the early efforts.
"Eighty-seven percent of consumers rated their last delivery experience within the past month from a casual-dining restaurant as either excellent or very good," says Conaghan. She notes that some casual-dining companies are investing a lot of research, design effort and innovation into creating systems that work for takeout and delivery, citing Buffalo Wild Wings (BWW) and Bloomin' Brands as examples.
Bloomin' Brands, for instance, has opened combined Outback Steakhouse and Carrabba's Italian Grill locations that only offer takeout and delivery. And BWW last year rolled out a new, more compact takeout and delivery-centric prototype with clearly designated counters for off-premise order pick-up and smaller on-site dining rooms. And the chain is among the first to start testing delivery of beer as well as food, a game changer for boosting the profitability of delivery for operators in this segment.
BJ's Restaurant and Brewhouse, too, is innovating in the delivery space. The California-based chain recently integrated DoorDash into its website and app for a faster, more seamless experience than is often the case when utilizing multiple separate third-party providers. And in 2017, the chain began offering customers the option of adding canned or bottled craft beer and/or wine to their orders in select California markets. Last spring, it rolled out a new wine program for takeout and delivery, offering selection of five wines priced at retail-competitive $10 per bottle.
But just as some leaders in the casual-dining segment are working to fully embrace and promote stronger off-premise sales with delivery, others have yet to get on board.
Texas Roadhouse, for instance, one of the brighter stars in the segment, has eschewed delivery citing concerns over food quality and a negative impact on in-store operations. Olive Garden, which has seen solid success with takeout and with delivery of catering orders of $100 or more, isn't rushing headlong into mainstream delivery either.
In a FY 2019 first-quarter earnings conference in September, Gene Lee, president and CEO of Olive Garden parent Darden Restaurants, said that despite some restaurant's attempts to ramp up delivery service with the help of third-party providers, he still has major reservations about delivery of small, individual orders. That's in part because of the 20 percent to 30 percent delivery fee such services take out of every order. But Olive Garden, which posted a 5.5 percent same-restaurant sales gain for that quarter and a 2.4 percent same-store sales growth for its full 2018 fiscal year, points to other concerns. "We're not sure that it enhances our brand," Lee said. "We're concerned about how it's executed; we're concerned if it can create incremental growth at scale; we're not happy with the economics."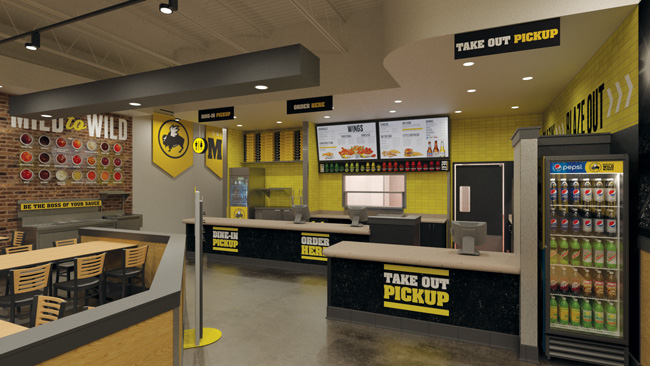 Buffalo Wild Wings is seeking to reverse declining sales and traffic in part with a new, smaller prototype designed specifically to offer faster, more streamlined service for takeout and delivery orders. Image courtesy of Buffalo Wild Wings
Rocky Road to Recovery
Darren Tristano, CEO and founder of research and consulting firm Foodservice Results and former president of Technomic Inc., cautions that casual dining's comeback has been and continues to be a rocky one. Many brands within the segment have shuttered, declared bankruptcy and/or have been acquired by stronger competitors or private equity firms and such announcements continue.
"If I had to describe the segment even today, I'd say it remains oversupplied," says Tristano. "A lot of units have closed, but there are still too many casual-dining restaurants out there with too many seats and not enough differentiation, particularly among the large chains. They're finally beginning to get more innovative and aggressive with things like delivery, but those fundamental issues still plague the segment."
Indeed, many survival tactics have been tried and many have failed. Among the biggest of those failures, in Tristano's view, has been casual-dining operators' various attempts to be what they're not and/or deliver what they're not equipped to deliver.
For instance, as the fast-casuals ate their lunch in the post-Great Recession years, a lot of casual-dining operators "thought it would be a good idea to follow that herd and create fast-casual versions of their brands," Tristano says. "In most cases, that was a tremendous failure. A prime example is Red Robin with Burger Works."
After five years of failing to gain traction, Red Robin pulled the plug on its fast-casual experiment in 2016. Of the 12 units that had been developed, 9 were shuttered and 3 were rebranded as Red Robin Express units, offering smaller menus and faster service than the full-service format but ditching the fast-casual build-your-own-burger element. One of those, in downtown Chicago, was converted in late 2017 to a delivery-only test unit.
Meanwhile, Red Robin's core business continues to struggle as it, like many of its peers, grapples with how to meet growing demand for takeout and delivery without compromising the in-store experience. After significant restructuring the past couple of years, and what looked like positive momentum beginning to take hold in its 2017 fiscal year, the chain's comp-store sales declined in each of the first three quarters of 2018. CEO Denny Marie Post admitted to analysts and investors that the in-store experience, particularly during peak dining hours, suffered at the hands of growing off-premise demand. She said the company is now renewing its focus on service fundamentals while aggressively marketing the brand's affordability, value and creative burger options.
Applebee's, too, stumbled mightily when it made moves to reposition itself as something it isn't and never has been — a hip, cool concept targeted at Millennials. The chain added more expensive, foodie-oriented menu items and began marketing Applebee's bar as a modern and sophisticated happy hour and late night hangout spot. In 2016, it touted hand-cut steaks and installed wood-fired grills in all 2,000-plus locations as part of its quest to woo younger, more food-savvy and affluent guests.
For all of its effort and investment, Applebee's got little more than lost sales thanks to confusion among core customer groups and a collective eye rolling from the very customers it was trying so hard to attract. The chain closed more than 100 units in 2017, its parent company's stock hit its lowest point in nearly a decade and the slump continued.
Last year, however, led by Dine Brands CEO Stephen Joyce and Applebee's president John Cywinski, the brand gave itself a hug and got back to basics in its own neighborhood, focusing again on offering an affordable, approachable, family-friendly, middle-America bar-and-grill experience. Relying heavily on data analysis to guide its efforts, the chain has reintroduced top-selling limited time offers, combo meals and traffic-building deals such as all-you-can-eat riblets and chicken tenders. Last September, Applebee's announced a new national delivery partnership with DoorDash and, just in time for the holidays, launched a new catering program as part of its efforts to boost off-premise sales.
It is also better leveraging the bar, with highly successful monthly drink promotions, including the Dollarita, DOLLAR JOLLY, $2 Dilly Dilly (Bud Lite) and Dollar L.I.T. (Long Island iced tea).
Indeed, the focus on the bar in casual-dining operations is greater than ever, with many in the segment adding extensive tap beer programs and with a focus on microbrews.
"The focus on adult beverages has been a big success in this segment," Tristano says. "They have the space and the ability to offer 20, 30, 50 different types of beer, for example, tapping into the popularity of local and microbrews. A lot of the polished-casual brands are doing more with wine programs. Many of these brands have been able to create a really nice experience, a solid draw for guests and at a high profit margin that takes them from happy hour into late night."
The one caveat: With so many casual-dining operators now touting those same types of bar experiences, lack of differentiation is again becoming an issue. "Yard House and Buffalo Wild Wings were unique when they came out, but as they've grown and as others in casual and polished-casual dining have learned from them, they're not all that unique anymore. Everyone's doing the same thing again, and they have to look elsewhere for innovation," Tristano says.
In particular, that means more menu innovation and better use of customer data to drive menu decisions. It means savvy marketing, with creative promotions and LTOs that meet food-savvy customers' demands for crave-worthy classics with a twist while also delivering the value they expect from casual dining.
It means offering better experiences in right-sized footprints with lighter, more contemporary interiors, open kitchens, vibrant bars and outdoor patios that suit different types of dining and social experiences in one place. And it means serious investment in technology, customer-facing and mobile solutions as well as behind-the-scenes technologies that help operators more effectively control costs.
Labor continues to present the biggest cost challenge in full-service casual dining. Datassential research shows that more than two in three (64 percent) operators in the segment peg labor costs as their top business challenge.
"They'll continue to look to technology to help in that area," Conaghan predicts. "Kiosks and tablets at the tables are welcome now by guests and they not only help to bring labor costs down, they also help to increase average checks by making it easy for customers to add on to their orders without waiting for a server to come by."
It's too early to tell if reimaging, tech enhancements and other recent moves within casual dining will lead to a sustained comeback for the segment, or to a hearty re-embrace for some of its most iconic brands. Downs still overshadow ups. But long-overdue investments in innovation, quality and experimentation appear to be paying off. Led by brands with the vision, intelligence and resources to give consumers what they want most from casual dining today, the segment just might get its mojo back.
---
Crafthouse
With 3 units open in Virginia, Crafthouse has secured $250 million in funding and plans to develop 100 franchised units over the next 5 years. Image courtesy of Crafthouse Concept: Casual bar and grill
HQ: Fairfax, Va.
Founded: 2017
Units: 3
"It seems everyone in the industry has been trying to rush to fast casual, but I think that they're overlooking casual dining. There are still a lot of people out there who want to go to a restaurant, sit, relax, be waited on, and have a good time with friends and family," says Evan Matz, founder and CEO of Crafthouse Franchising LLC. "Crafthouse fits that need. It's a social gathering place as well as a place for corporate events and private functions."
Matz founded Crafthouse in 2017 and quickly grew it to three units in Virginia. But he's just getting started. Initially targeting North Carolina, Michigan, Virginia and Maryland, the brand plans to develop 100 new franchised locations over the next 5 years.
Seeking to buck the sameness and lack of differentiation that has long plagued casual, bar-and-grill-style chains, Crafthouse focuses its menus sharply on local specialties and on fresh, from-scratch preparation.
As the company gears up for franchising, it has landed on an ideal end-cap or in-line unit size of 4,000 square feet plus generous outdoor patio space. Freestanding buildings will be closer to 5,000 square feet.
Matz describes the brand's interior decor and ambiance as rustic and warm, with stone and wood finishes and a mix of booths and high-top tables. Crafthouse bars are large, with roughly 50 beers on tap and another 100 to 150 available in cans and bottles as well as a selection of 40 to 50 scotches, bourbons and whiskies.
In addition to local, he says, the company is keeping a sharp focus on quality.
We don't need to have every beer in the world and a 15-page menu," Matz says. "We're more interested in quality and in differentiating ourselves with local. We'll be listening very closely to our customers and to our franchisees as we grow to make sure we get it right."
---
The Melting Pot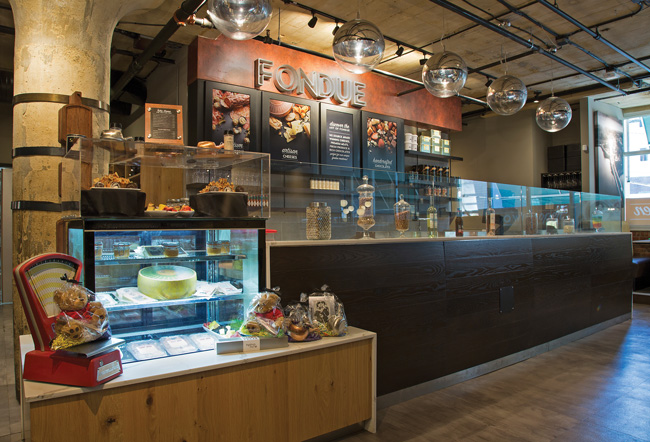 Melting Pot's new design highlights an open cheese and chocolate kitchen that showcases the chain's high-quality ingredients and adds a layer to the fondue-centric brand's experience for guests. Image courtesy of The Melting Pot Restaurants Inc.Concept: Polished-casual fondue
HQ: Tampa, Fla.
Founded: 1975
Units: 115+
"The necessary pace of innovation has never been faster than it is today in casual and polished-casual dining," says Mike Lester, president of The Melting Pot Restaurants Inc., a 43-year-old Front Burner brand. The Melting Pot's pace of innovation has been extremely rapid over the past three to five years, Lester asserts. Like many in its segment, the Melting Pot team has grappled with how to update and enhance its concept and broaden its appeal to that changed consumer base while staying true to its DNA and to long-time fans.
A new prototype rolled out last fall, along with new menu and merchandising initiatives, takes major steps in that direction. Focused on giving guests reasons to visit more often and for more than just dinner or special occasions, it's open, contemporary and offers multiple social, interactive experiences. It takes ideal unit size down — from the previous 5,500 to 6,000 square feet to 4,500 to 5,000 square feet — and it's menu includes more sharable happy hour items, chef-prepared, "no-pot-required" entrees and sandwich selections that travel well and can be prepared quickly.
To attract more users throughout the day, the prototype incorporates more and larger windows and tables that can be moved to accommodate different group sizes and occasions. And its iconic "Lover's Lane" area, while still intimate and romantic, is now more up-front and less secluded than in the past, a nod to changing consumer preferences toward more social, energetic experiences.
Lester says this iteration of the brand gives guests what they've told the chain they want. "We hadn't kept up with the needs of our consumers," he says. "We hadn't updated our spaces to be as cool and as innovative as our experience is. That's what we're doing today. We'll continue to learn, tweak and innovate along the way, but early guest response tells us we're hitting the nail right on the head."