In February Bodega and Share House, two new concepts from Uptown Hospitality Group opened in an 8,000-square-foot former train depot in Charleston, S.C.
The depot had previously housed multiple restaurant concepts and that's what Uptown Hospitality wanted to do, too. It opened Bodega, which has a New York deli feel and Share House, which feels like a coastal cantina. The two restaurants operate completely independently but share a kitchen.
Opening two restaurants in one building has huge advantages, says Keith Benjamin, director of operations and co-founder of Uptown Hospitality. Buildout is faster, with just one set of sub-contractors; the same interior artist can work on both concepts; using just one kitchen saves enormous amounts of money.
Money and time are also saved on the permitting process, and rent is reduced since there's only one kitchen.
What does it take to open two concepts concurrently, with one kitchen? We talked to Benjamin and Mitchell Banchik, president and co-founder of Charleston-based Uptown Hospitality.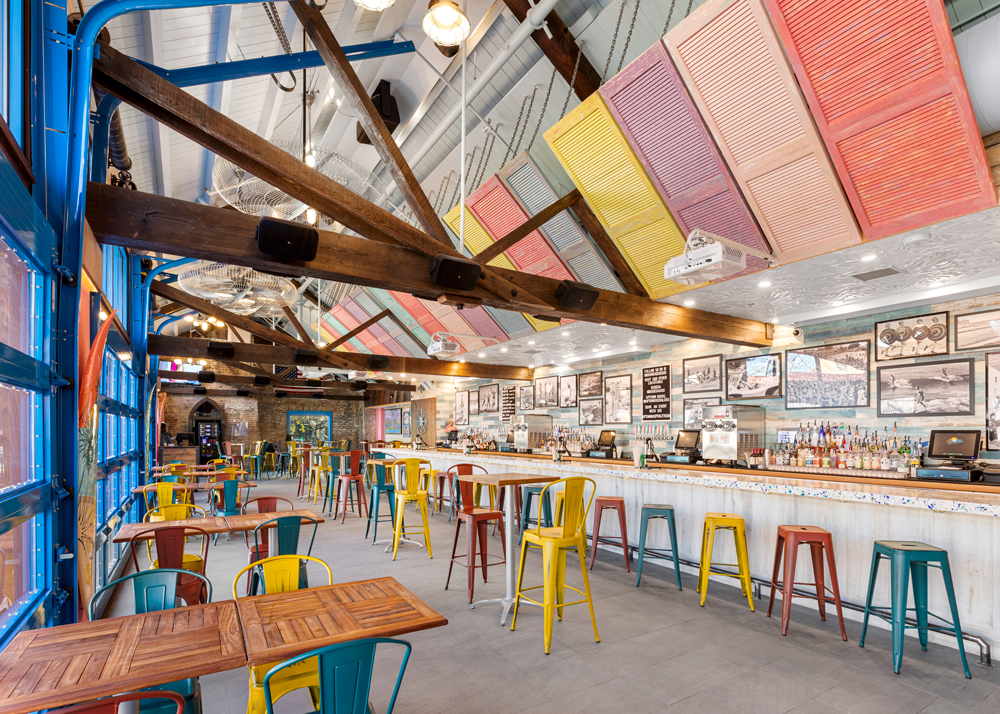 Share House, image courtesy of Luke Higgs.
Keep them similar – and different
Both Bodega and Share House have a similar vibe and feel open and airy. They have an open-air indoor-outdoor layout featuring expansive garage doors opening onto a patio that overlooks a pedestrian walkway, which spans the entire block.
However, while Bodega has a more gritty New York feel with graffiti-ed walls and colorful tiles, Share House features beachy décor that includes a large bottle-cap mural and sea glass, along with a crushed shell-topped bar.
But the colors of the two concepts work together — similar, but not identical. "Our goal from the start was to make both concepts bright and vibrant. Share House definitely lends itself to more pastels while the Bodega colors are a bit more pronounced," says Banchik. "Even though they're separate operations they have to flow together."
Do a soft, soft opening.
Uptown Hospitality opened both concepts through a soft opening. However, Bodega was a known concept, having operated as a popup out of the company's original restaurant, Uptown Social, and since it closed Uptown Hospitality had built the excitement, largely via Instagram.
The result was the restaurant was "clobbered," says Benjamin. "It made our operations really tricky so we decided to serve some food out of Share House but that threw the kitchen out of whack and it made it difficult for them to do their menu later."
"We were eager to open both concepts on the same day with a nice 10-day roll-out of soft openings leading up to the grand opening," Benjamin explains. "Our regret would be attempting to serve Bodega to the Share House side of the building on Saturday and Sunday mornings. It was just more than the kitchen could handle. We are much more comfortable keeping the concepts completely independent."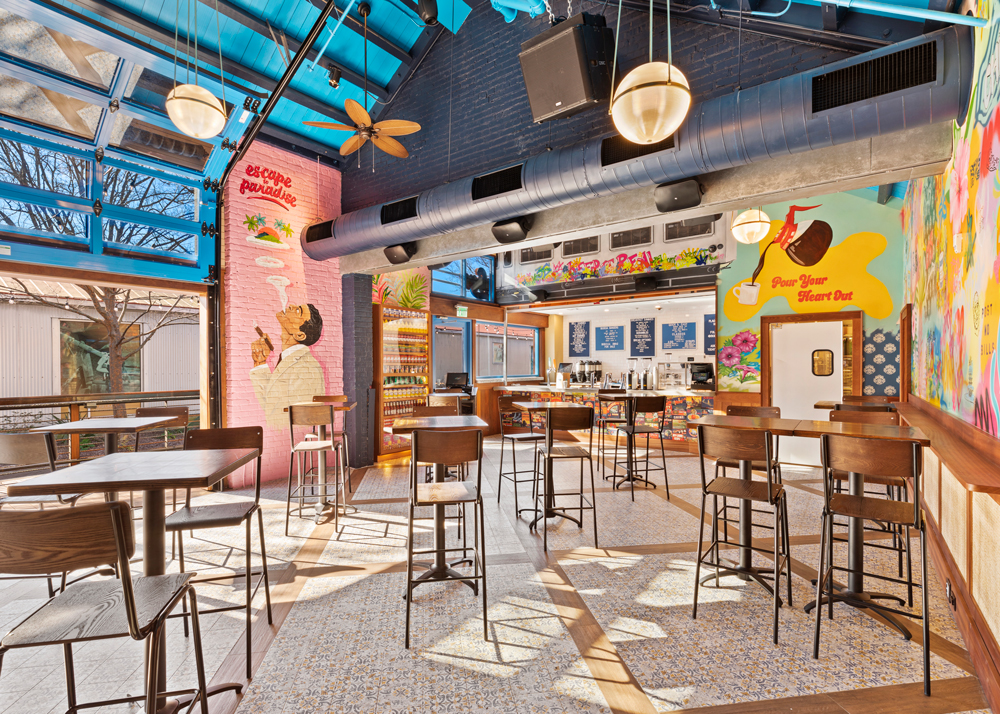 Bodega, image courtesy of Luke Higgs.
Make signage clear.
The building that houses the two concepts is about 280 feet long, or about three-quarters of a city block. Share House faces onto the street, and two blade signs above it proclaim the names of both restaurants. Above the door is a Share House sign. Bodega is accessed via an alley and three A-frame signs direct people down there. A sign above the Bodega door lets them know they've arrived.
Add a twist.
Bodega is open from 7 a.m. to 2 a.m.; Share House is open from 4 p.m. to 2 a.m. (opening at 11 a.m. at the weekend). However, Bodega transforms from a breakfast and lunch spot into a cool, hip cocktail bar at night, with an almost speakeasy feel to it, Banchik explains. To complete this transformation, the lighting is lowered and servers roll down a graffiti-ed gate, a replica of an authentic Bronx bodega, over the coffee window.
Stagger prep but combine it, too.
Bodega and Share House share prep areas in the kitchen and split the shifts. Bodega staff arrive at 4 a.m. and take care of all prep before service starts at 7. By mid-afternoon, they're doing some prep for the following day, with some crossover with the Share House team coming in to do prep for the evening service.
A sous chef oversees both concepts and makes sure crossover prep happens — just one person would prep tomatoes for both concepts, for example. "We try to make sure we're cross-utilizing as much as we can," Benjamin points out, adding that in fact, "the menus were built with that in mind." Having as much cross-utilized product as possible cuts down on storage space, too.
Maximize storage.
Buildings with a kitchen in the middle were often built to house one restaurant concept, which means that often, storage space is at a premium.
Uptown Hospitality had to expand the footprint of the building to ensure it had sufficient storage space. This was added behind each restaurant and both spaces are climate-controlled. On the Bodega side, the space houses a walk-in refrigerator and part of the bathroom space; in Share House it holds ice machines, the soda system and dry good storage.
Uptown also bought two shipping containers which it keeps in the parking lot to store lesser-used items like furniture, paper goods, janitorial items and merchandise. No food is kept here since the containers can get very warm.
Images courtesy of Luke Higgs