Building a restaurant can be a lengthy and expensive process, but there are ways to keep construction costs down. With a little forethought, some flexibility and careful planning, almost every aspect of the building process present opportunities to save on the bottom line.
Timing is Everything
Timing your construction is one of the easiest ways to keep costs under control, says Chuck Taylor, director of operations with Englewood Construction in Lemont, Ill. If you can, time having designs and drawings available as you are entering the fourth quarter of the year, he says, since most construction companies' fiscal years follow the calendar year.
"Contractors and subcontractors are starting to set the table for the next year and they want to have backlog," says Taylor. "They get more aggressive at the end of the fourth quarter and the beginning of the first quarter. You get better pricing when contractors are slow."
Taylor also recommends avoiding winter conditions for construction if you're in a cold climate. "If you start in the fall, it's a mad dash to get into the ground and get a structure up, and we might have to do temporary barriers or figure out some heating." Plus, he adds, certain materials aren't easily available in the winter — the asphalt industry mostly closes down between Thanksgiving and Tax Day.
It's also important to factor in the availability and delivery of materials needed in the building process, Taylor says because they all go into the schedule for construction and lack of availability slows everything down.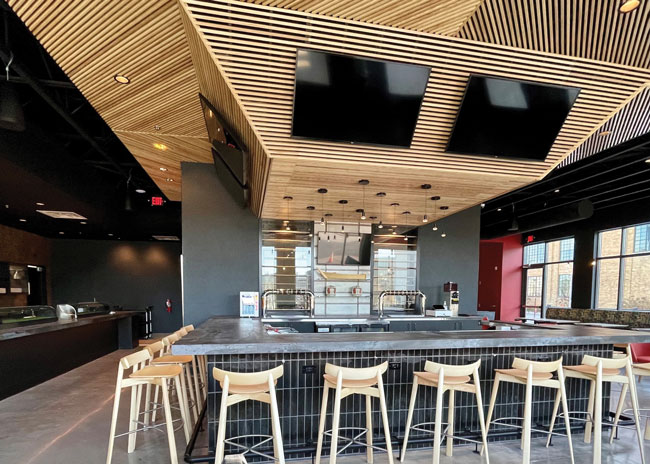 Tim Spiegelglass, owner of Spiegelglass, has found that tile and granite are two commonly requested items that can have cheaper alternatives. His company worked on Wasabi Sushi Bar in St. Louis.

Electricals and Equipment
The condition of existing electrical, mechanical and plumbing elements — vs. the installation of all new components — can make a significant difference to the construction costs of a restaurant.
In a second-generation restaurant space, try to use as much of the existing structure that's already there. "We look at utilizing the existing mechanical, electrical and plumbing to minimize the build out costs," says Jim Kalomiris, co-founder and COO of SoBol, a bowl and smoothie fast-casual concept that's headquartered in Patchogue, N.Y.
When SoBol goes into a second-gen space, the chain configures its restaurants around what's already there and what's useable. For example, says Kalomiris, "we arrange our layout to put our sinks on a certain wall to minimize plumbing if it's already there. We find out where the electrical panel is to put refrigeration and most of our electricals close to that."
Larry Sidoti, chief development officer with fast-casual Pokeworks, based in Irvine, Calif., estimates that if the mechanical, electrical and plumbing in an existing space is all useable, that can reduce the chain's construction costs by around 50%.
And if you can find a second-gen space that housed a similar concept, capitalize on it as much as you can, especially for expensive items like exhaust hoods and grease traps, says Tim Spiegelglass, owner of Spiegelglass Construction Company, Maryland Heights, Mo.
However, most experts recommend buying new equipment over used whenever possible. Used equipment may seem to offer significant savings, but that's only true until it breaks. "Typically, restaurants selling equipment haven't done regular maintenance on it, so it's not in good condition," says Spiegelglass, "and repair costs can add up very quickly." When you buy brand-new equipment, he notes, it's in great condition, is less hassle to purchase and install and is under manufacturer warranty.
Fifty-three-unit SoBol learned this the hard way. "You think you're saving money in the beginning, but losing a refrigerator in the back, you're going to lose product also," says Kalomiris.
"If you can find a second-gen space that housed a similar concept, capitalize on it," suggests Tim Spiegelglass, who worked on First Watch in Brentwood, MO.
Material Selection
The materials used for functional and decorative elements of a restaurant can make a significant difference to the bottom line in construction, and if a product is expensive there's usually an alternative.
Taylor worked with a concept that specified a hard-to-source dark African wood called wenge. "It's absolutely beautiful but was ridiculously expensive," he says. Instead, he stained some clear white oak, and the client couldn't tell the difference. But what was different, he says, was the price — white oak costs two-thirds less than wenge.
Another client, a Greek restaurant, requested prepoured stone columns but, to bring down costs, Taylor found columns made of fiberglass from precast stone that looked identical and were "significantly cheaper to purchase, ship and install." Yet another client wanted to use tiles made in Italy, "but we found a tile made in the U.S. that looked darn near correct and saved a lot," says Taylor. "That particular Italian tile was not going to help sell any more food."
Making changes like these, Taylor says, "can save thousands of dollars and not impede on design intent."
Spiegelglass has found that tile and granite are two commonly requested items that can have cheaper alternatives that include the level of granite and the price point of the tile as well as alternative surfaces such as wood, plastic laminate, and even stainless steel. "You have to ask if someone is going to see this and is it going to hurt or help their experience in the restaurant," Spiegelglass points out.
SoBol uses materials "that stand the test of time in style and durability," according to Kalomiris. In the front of the house, the brand uses MDF paneling with a hard pine trim exterior to save costs but achieve the desired aesthetic. And along countertops, SoBol uses butcher block 1¾-inch thick because they've found that, over time, a ١½-inch block warps. Butcher blocks and all customer tables are made from Baltic birch, Kalomiris says, because it's "durable, has no warping, is easy to maintain, and long-lasting."
Also important is the availability of materials, points out Kalomiris, because if the products you order aren't available when you need them, it holds up your entire construction project. So, SoBol deliberately specifies materials that are readily available from multiple sources. "We don't want to limit ourselves to one vendor," Kalomiris says.
Layout and Drawings
The layout of your restaurant can make a big difference in terms of construction costs. Before you start building, ensure your kitchen design is perfectly in line with your architectural drawings, advises Taylor. Also, make sure there are the right electrical hookups. "Often a design will call for us to install a certain electrical receptacle without enough amps, so it's important to make sure we're not doing it twice."
Also, make sure the design is up to code before you start construction. Taylor has experienced a couple of restaurant projects that didn't allow for sufficient hand sinks, which meant ripping open walls, and that is far more expensive to do late in the process.
Try and keep plumbing together as much as possible, recommends Spiegelglass. Locating bathrooms and the bar near to the kitchen means they can all use the same plumbing. Some restaurants do insist on island bars in the middle of their restaurants, which is pricey because it involves running the plumbing farther and digging up the concrete to install it, he points out.
And develop an appreciation for straight lines because "curves cost more," he explains. Curves involve cutting wood in a circle, which wastes material, and it usually has to be wrapped with something that needs to be bendable or can be made to be bendable — a material like laminate, wood and tile. On top of that, a curved bar creates wasted space because the equipment doesn't fit squarely next to each other if it's not in a straight line "so you might waste a square foot and that's costing you."
Before you equip your kitchen, solidify your menu as much as possible, advises Spiegelglass. That way you know exactly which pieces of equipment you need. And make sure each piece of equipment is doing multiple functions, he adds.
Take it Off-Site
Both Pokeworks and SoBol are finding that huge cost savings can be made in construction by outsourcing various tasks.
Pokeworks is looking to use an outside company to create items like millwork, fascias, counter pieces, backlines and anything that requires shelving. "It's anything that can be prefabbed almost like a puzzle," Sidoti says.
Right now, all of these products for Pokeworks are custom made and made to order. "We want to create an opportunity to plug them in without sacrificing the look and feel — and produce at a bigger scale the pieces we'll do over the course of a given year and have those ready," Sidoti explains. Ideally, Pokeworks will sign a deal with one company "so we'll leverage the buying power," he says.
This would save money and time in many ways. Costs would be cheaper due to greater buying power; products could be mass-produced and that would eliminate the challenges — and hence delays — that pop up when creating custom pieces. It would also reduce building delays because products would be ready to ship so there would be no wait for materials. And, to top it off, everything would fit perfectly.
At press time, SoBol was close to signing a company to build its cabinetry and millwork. This company will ship the products to each construction site as needed, "which will save an immense amount of time in the buildout," Kalomiris says. This, he adds, prevents the delays that inevitably happen when this work is done on-site, amidst everything else "and we can control the quality."
In the future, the products will all be shipped together to keep costs down, come ready to install and arrive on time.
Construction of your restaurant may be a headache, but it doesn't need to hurt your bottom line, too.