In 2018 Drew Kellogg and Stacie Colburn Hayes joined a 3-year-old company, Oath Pizza. Both came from Chipotle and joined the fast-growing better-for-you pizza startup with the goal of expanding it across the country.
Now, Boston-based Oath has eight corporate stores and 21 franchised locations in 17 states. The company's not ready yet to put a number on how many locations it will open annually, but it plans to be aggressive, especially in the franchise realm.
Kellogg, president and CEO, and Hayes, chief marketing officer, offer up five best practices on moving a small brand into one with a national presence.
Images courtesy of Oath Pizza
1. Keep it simple.
Traditionally, fast-casual restaurants have a lot of requirements from a back-of-house perspective, a prep perspective, and a labor perspective, but to keep it simple, Oath operates a commissary kitchen, where as much food as possible is prepared then shipped to stores.
This ensures consistency, brings efficiencies of scale, and means Oath can hire employees with no restaurant experience. "We need them for their personalities," Kellogg says. This also means the restaurants can open every day with just one staff member on-site, and can close a lot faster, too.
The commissary, in New England, has the capability to continue to support the brand as it expands. "If growth expands beyond its capabilities, that will be a good problem to have," Kellogg says.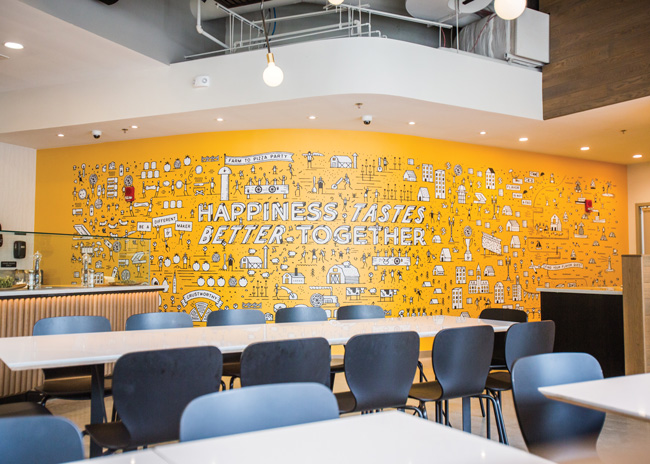 Oath's mural wall in the Cambridge, Mass., prototype unit uses sketches of singing pigs and happy farmers to suggest the quality of its ingredients.
2. Keep training requirements minimal.
New employee training at Oath is just two to three days. "It's just not very complicated," Kellogg points out. This means employees can be working the line quickly.
This is partly because Hayes put digital infrastructure in place and was thinking ahead by five years. Her priority was implementing platforms that were easy for both Oath and franchisees to implement.
These systems can also be accessed remotely during and after training so employees can learn as much as they like and do it on their own timeline.
The platforms she chose to implement include Toast for the POS, Olo (delivery) and Thanx (loyalty). Thanx in particular worked well, she says. "We were the first beta test with Thanx, so we were able to customize the features to exactly what we want them to be," she explains. This ordering platform allows Oath to keep all data and grow its database to market to its guests.
3. Keep the design simple.
Build outs for Oath Pizza are much less complicated than traditional units because most food is prepared in the commissary. There are no ventilation requirements, no black iron gas lines, or black iron piping for open flames, which takes up a lot of space and has infrastructure requirements. This is not only a time savings in opening stores but also leads to double-digit cost savings, Hayes says.
And overall, the kitchens are smaller, walk-ins and freezers are smaller or sometimes even on wheels, providing the ultimate in flexibility, and making it easier to go into second-generation spaces, even those that didn't previously hold a restaurant.
Oath restaurants have a small footprint, too, with the largest location being 1,400 square feet but the average being 800 to 1,200 square feet.
A number of custom elements in the prototype restaurant have since been replaced by stock items, including a stock light fixture and laminate tables as seen here in a New York City restaurant.
4. Keep community in mind.
Oath's values and mission are tied to the community, Hayes says. "We try to find partnerships with our local communities. We do fundraisers on an ongoing basis. We also do percentages of sales to different nonprofits, different menu items that have a component of donating back to the community as well."
Community, says Hayes, "is not only important, but essential to growth and expansion. Without a true, genuine, continued commitment to community, a business may operate, but is not fulfilling each and every day and will not last."
5. Leverage partnerships.
In 2018, Oath Pizza signed up foodservice contractor Aramark, which has an extensive supply chain and decades of experience in the nontraditional foodservice market. "That's allowed us to scale quickly," Kellogg says. "We're piggy backing on Aramark's supply chain so it's really been beneficial. Without that relationship it would be very challenging."
Aramark works as an Oath franchisee, and currently operates 20 nontraditional Oath locations.
Having the relationship with Aramark also helps with brand recognition, Kellogg says, simply because it gets the brand in front of many more people, but especially because these are often students who both tend to opt for better-for-you brands and who have the purchasing power of the future.
Oath also franchises with Covelli Enterprises, which is the franchisor for around 300 Panera Bread locations between Ohio and Florida. Oath started working with the company when Covelli was looking for a concept to go into a very small, 400-square-foot space in a toll road plaza. Oath plans to open more locations with Covelli.