For site selection, the pandemic and its impact on consumer behaviors triggered or accelerated fundamental shifts in how brands analyze opportunities. Smaller footprints, drive-thrus, outdoor seating, easy ingress/egress, upfront parking for delivery drivers and to-go guests — all trending previously have become pandemic-proofing prerequisites for many. What's more, uncertainty abounds. Which office-heavy business districts will rebound and when? What are the potential impacts of disruptors like ghost kitchens and virtual brands on brick-and-mortar development? With so much up in the air, following the old "location, location, location" mantra becomes ever more complicated.
Bottom line: Brands jump-starting development efforts likely need to refresh their site selection strategies to maximize revenue-generating opportunities in the wake of the COVID-19 pandemic.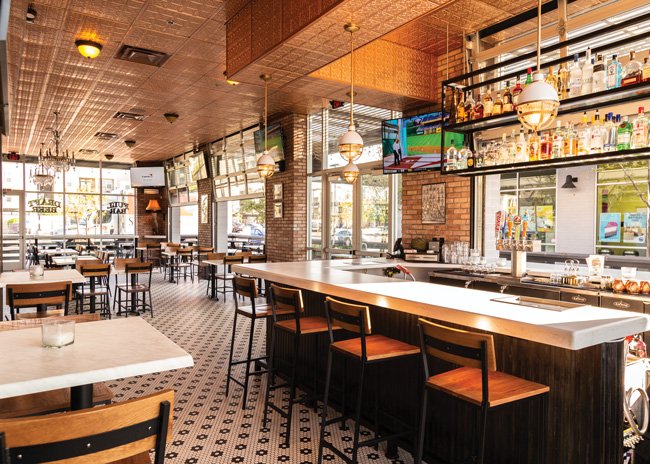 Artichoke Basille's Pizza, which opened units in Tempe and north central Phoenix during 2020, pulled out of a pending lease agreement on a site in a downtown Phoenix business district, shifting instead to a mixed-use development in a fast-growing suburb. Images courtesy of Artichoke Basille's Pizza
"We definitely advise companies to take detailed stock of what has changed since before the pandemic," says Sean Ryan, director of support and professional services at location intelligence platform SiteZeus. "Are your revenue streams materially different than they were in 2019? Are your customers different? Are they shifting more toward online and is that sticking? Because when you go to build sites, you want to keep the 1-, 2-, 5-, even 10-year trends in mind for how customers are going to interact with your brand. A lot of what's changed isn't going to change back. It's critical to get beyond the point of COVID-19's impact on sales and update existing predictive models to reflect 2021 performance."
At Mighty Quinn's Barbecue, a New York City-based fast casual, primary target sites since the brand's founding in 2012 have been in dense urban markets, particularly central business areas. At 9 units as of late July, with an additional 50 in a recently launched franchise development pipeline, Mighty Quinn's is on track to open 6 new units by spring of 2022, according to CEO and Co-Founder Micha Migad. While the brand's site selection strategy isn't changing dramatically, it is being updated to reflect important changes.
Images courtesy of Artichoke Basille's PizzaDelivery, for example, has become a much larger contributor to overall revenues, with average units now doing 25% to 30% of sales in delivery compared to roughly 10% pre-pandemic. "Like everyone else, our business has changed," Migad notes. "We were always mainly takeout and dine-in, and that's still the case, but delivery has grown significantly. As such, our real estate needs shrink because we need less physical dining space. We're also much more mindful of accessibility when selecting sites. We need high-volume locations, but increasingly need to be on public-facing streets where customers and couriers can find us easily, park for 10 minutes, get in quickly, grab their bag and leave."
Mighty Quinn's is also paying more attention today to opportunities in markets outside of urban, central business districts and is remaining flexible with models and unit sizes. While most locations average 1,500 to 2,000 square feet, its newest location is 3,000 square feet with a full bar while another, in a takeout- and delivery-heavy market, is just 1,000 square feet.
While real estate opportunities in dense urban areas may be more available and attractive, at least temporarily, the brand is taking work-from-home trends into account when considering new sites for development. "We've always been in central business areas, and we still always want a mix within downtown locations," Migad says. "But we'll probably now be putting a little more focus on residential, especially as in-office work seems not likely to return to a five-day week."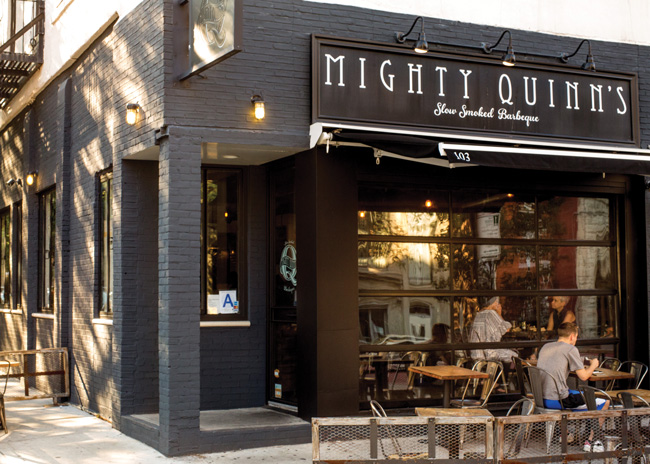 With 50 new units queued up in a franchising pipeline, Mighty Quinn's Barbecue is remaining flexible with models and unit sizes. It's also taking work-from-home trends into account when considering new sites for development. Image courtesy of Mighty Quinn's Barbecue
Pivot Point: Work-from-Home Trends
Matt Sheppard, director of franchising development at The Hummus & Pita Co., also based in New York, says sites closer to where customers live and shop are becoming more interesting to his brand for the same reason. The company has nine units open in New York, New Jersey and Connecticut. It's 10th location in Los Angeles, was slated to open in late summer and development was set to kick off in the Columbus, Ohio, market, as well.
"We're definitely looking at what's happening as a result of COVID with office markets," Sheppard notes. "We feel that underserved tier 2 and tier 3 markets are great opportunities and could be very profitable, especially now because of the migration to working from home. Moving forward, fast casuals have to really digest the economics and consider the benefits of smaller markets. Those can range from lower real estate prices and faster construction to a more condensed hourly labor pool. There's always this strong competitive effort to continue to go up-market on real estate, but I think that whoever wins the down-market opportunity is going to do very well on a cash-flow basis in this environment."
Targeting tier 2 and tier 3 markets for development, Hummus & Pita Co. hopes to capitalize on lower real estate costs, faster construction schedules and closer proximity to guests as the migration to working from home continues. Image courtesy of Hummus & Pita Co.
Moving beyond office-heavy metropolitan markets, Sheppard adds, the brand will look for power lifestyle centers with strong retail and entertainment draws. End-cap and in-line spaces work well, but freestanding pad sites may also be in the cards down the road. "Our typography allows us to be very nimble," he says. "We don't need a lot of space. And unlike in the old-school days, when we were doing physical site and market analyses on paper and collecting data on-site, we now have much easier access to the types of data we need, enabling us to clip into already developed locations for quick and seamless conversion."
Artichoke Basille's Pizza franchisees Ron Marino and Keith Bolognese began looking for sites in which to introduce the NYC pizza concept's first units in the Phoenix area in 2019. They quickly found three, two of which they were able to secure and get open even during the pandemic. The first, in Tempe, Ariz., opened in June 2020 and the second, in north-central Phoenix, in September. Both sites had what the pair was looking for — roughly 2,500 square feet, space for a full bar and outdoor dining. Delays in lease negotiations on the third space, however, in downtown Phoenix's business district, ultimately saw that deal fall apart.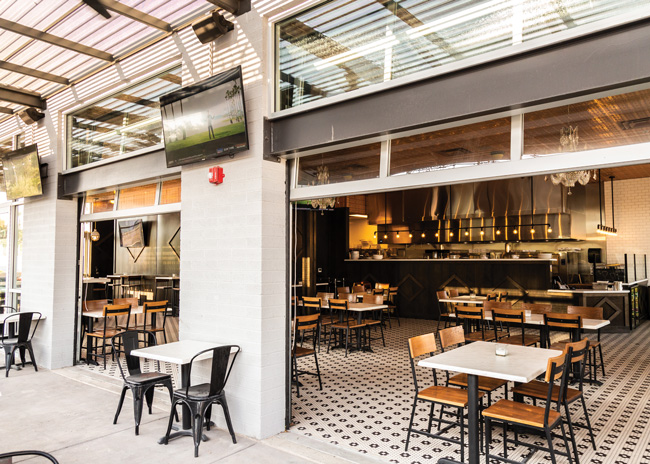 Image courtesy of Artichoke Basille's Pizza
"There was a lot of back and forth with the developer, and then the pandemic hit. We pulled out," Marino says. "We switched gears away from downtown. The business population hasn't returned. Our goal now is to find sites similar to what we looked for in the beginning but in slightly different locales. We're working on a deal that will put our third unit in a mixed-use development in a fast-growing suburb, right where three major freeways converge. It's near a lot of residential and has a great outdoor shopping center. We were able to get a favorable deal in part because of COVID and feel we'll do much better there than downtown."
Image courtesy of Artichoke Basille's PizzaHopes for a robust movement of workers returning to the office as schools reopen this fall seems poised to fall flat. Surges in COVID-19 delta variant cases put those plans on hold for many employers and, lingering pandemic or not, survey after survey shows the majority of employees hope to continue to work primarily from home indefinitely. A May survey of more than 17,000 professionals by workplace social network Fishbowl, for instance, revealed 54.64% of respondents said they'd choose working from home as the new normal. And Microsoft's first-annual Work Trend Index survey, released in May, shows that 73% of workers surveyed want flexible remote work options to continue and that 46% are planning to move now that they can work remotely.
For restaurants, the implications of the work-from-home movement initially focused on delivery, but they increasingly impact site-selection strategies, as well.
"There's a big shift toward figuring out how to serve diners in these new market conditions," suggests Jack Hall, vice president of strategic accounts at Buxton, a consumer intelligence technology and analytics firm. "One survey report recently said about 22% of the workforce will likely be working remotely on a permanent basis by 2025. So, how do you restructure your location portfolio to serve that population that's no longer in the office but working from home? That trend is going to continue and site selection strategies need to take that into consideration, as well as all of the other shifts toward off-premises and digital sales channels."
Hall also suggests that carefully slicing and dicing data from the various digital sales channels can reveal insights that might steer brands toward new customer groups and trade areas. Third-party delivery apps, for instance, may have led to new and previously untargeted clusters of customers discovering your brand during the pandemic. "It's critical to understand the breadth and depth of who your customer is right now," he says. "Trade areas that may have been seen as unfavorable before might now be strong opportunities and vice versa."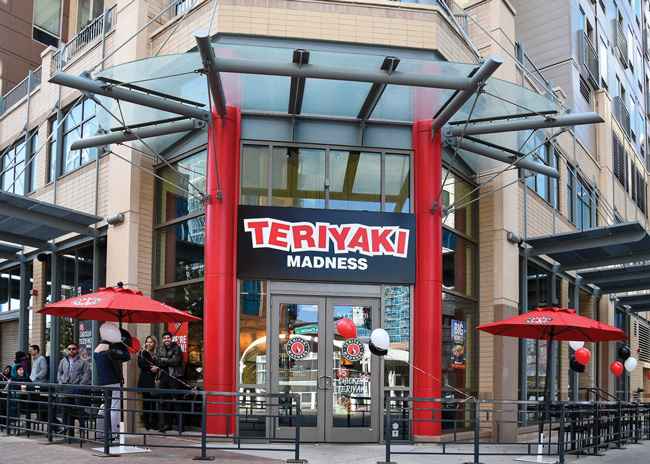 Image courtesy of Teriyaki Madness
Wanted: Omnichannel Opportunities
Lifestyle centers and other locations near residential areas are on the radar for Denver-based fast-casual Teriyaki Madness. The fast-growing chain added 30 units in 2020 to reach the 100-unit mark and is on track to open another 35 to 40 locations this year, including its first in Canada. Chief Development Officer David Biederman says COVID-19
accelerated strategic shifts already in play to secure locations of a slightly different sort. Those shifts, he says, are driven by the need to maximize visibility and omnichannel convenience.
In lifestyle centers, for example, where Teriyaki Madness might previously be found toward the back, the goal now is to secure sites out front, close to the street. High-traffic neighborhood strip centers fronting busy streets with good ingress and egress are targets as well.
"We've always been driven by carryout and delivery — we were already about 70% off-premises prior to the pandemic and had a strong digital infrastructure," Biederman says. "Off-premises has continued to grow. As a result, we've reduced our footprint from 1,400 or 1,500 square feet to 1,200 square feet because we need less space for dine-in. But we're also now thinking more strategically about carryout and curbside. A top focus moving forward is on making our experience as convenient as possible, no matter how guests are accessing us. Customers are more dispersed now. They're staying at home more, their interactions are different with their workplace. How do we make it more convenient? Some of that will be in the way that we locate. We want people driving by to be able to see us, get into our parking lot, parked and out of the car within two minutes. If they want to come in and sit down and have lunch, we can accommodate that. If they want to do a quick pick-up and not talk to anyone, we can make that easy as well."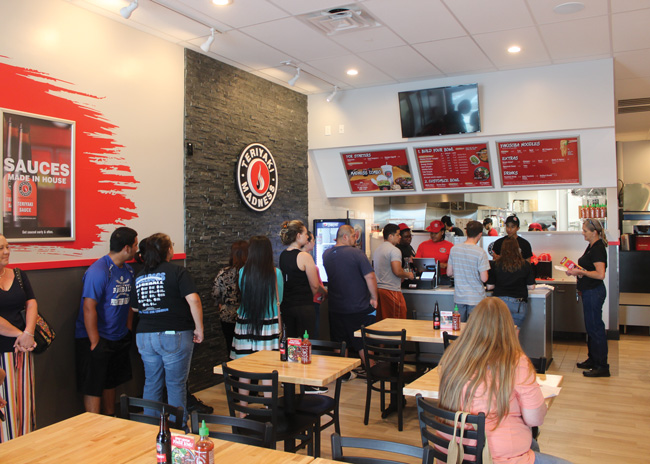 Image courtesy of Teriyaki MadnessThe challenge, of course, is finding affordable locations that match the omnichannel ambitions shared by most QSR and fast-casual brands but also by some full-service and even fine-dining operators. The glut of cheap, available restaurant real estate that industry observers anticipated due to pandemic-induced closures seems not to have broadly materialized. And even where good sites are available, competition is stiff and many landlords and developers aren't willing to negotiate lower lease prices.
"It's a speckled map of opportunities right now," says Buxton's Hall. "Depending on the market, you might be able to find your space requirements, but it might be in a retail environment that sustained pretty well during COVID so the landlord isn't willing to deal. Or, the landlord or developer could be overleveraged and can't really afford to strike a great deal. It's a battle for space because there's a lot of investment in commercial real estate going on, and a lot of investment on the equity side, too."
The battle is especially intense for brands seeking to include drive-thru in their omnichannel experience. Already growing as a preferred operational model across a wider spectrum of the industry, COVID-19 accelerated this trend. NPD Group reported that by December of 2020, 44% of all off-premises orders across the entire restaurant industry was done via drive-thru. While drive-thru volume is expected to moderate in some segments post-pandemic, the format's advantages of no-fee, contactless convenience remain compelling enough for many chains to put a priority on their development.
"This is really one of the biggest shifts we've seen in terms of chains redeveloping their market plans," notes Ryan, of SiteZeus. "Drive-thrus were the savior during the pandemic, and it looks like that's just going to continue to grow. As such, we're seeing increased competition for larger parcels and increased demand for end-cap spaces."
A&W Restaurants is one brand competing for such spaces. The 103-year-old QSR fared well during the pandemic. In 2020, comp sales increased by 9% overall, but the brand's stand-alone drive-thru models saw revenues increase by 14%. That reality is fueling the chain's push to focus almost exclusively on developing freestanding units that can accommodate A&W's traditional dine-in business and drive-thrus going forward.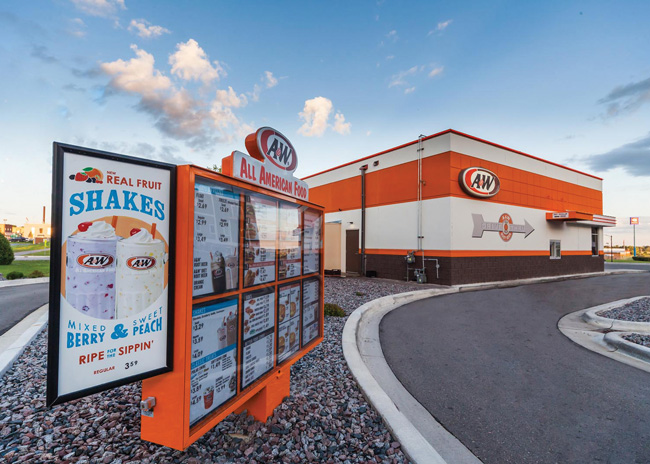 Legacy QSR A&W Restaurants' site selection strategy focuses sharply on both dine-in and drive-thru. Going forward, the chain is exclusively developing freestanding units, both new builds and conversions, that accommodate both. Image courtesy of A&W Restaurants, Inc.
John Palumbo, senior director of franchise development at A&W, notes, "Our dining room is still very important to our brand experience. Others are shrinking their footprints and doing away with dining rooms, but we're not. We still need around an acre of land and a 2,100-square-foot building."
Increases in cost of raw materials and shortages of construction labor as byproducts of the pandemic do have A&W tweaking its site selection strategy, however. "We're looking at build-to suit-options more now than in the past," Palumbo says. "Historically, franchisees would purchase their land and then build their restaurant ground up. But we're finding more opportunities in the conversion world right now. Not every operator with a drive-thru did well the past 18 months and there are some second-generation opportunities out there. We'll be aggressively looking at some of those."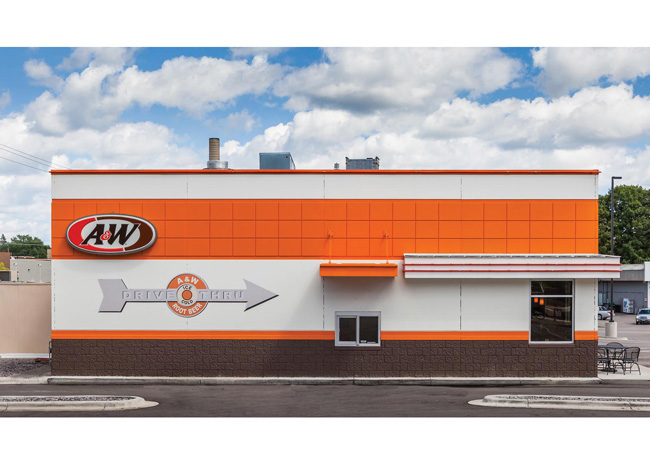 Image courtesy of A&W Restaurants, Inc.Traditionally found in smaller, more rural markets, particularly across the upper Midwest, A&W is also becoming more aggressive in inking franchise deals in newer types of trade areas and geographies. Recent multi-unit development agreements are taking the brand into markets around Las Vegas, Charlotte, N.C., and Tampa, Fla., for instance.
Palumbo adds that with competition for drive-thru space increasing, leveraging the legacy brand's relationships with big-box retailers is another priority. "Everyone wants drive-thru right now," he notes. "We're trying to get creative with big-box retailers who can carve out a pad space for us. We're all being a bit nimbler about where we can build restaurants. The bigger challenges right now are costs and lead times, but by early next year things should be better. Ultimately, we'll be patient when it comes to real estate and stay focused on providing the type of experience our guests want, whether dine-in, drive-thru or takeout."
SiteZeus's Ryan says the smart money moving forward will be on chains who do just that, and do so based on a keen understanding of individual consumer groups, trade areas and revenue streams. Pursuing sites suited to diverse revenue streams will mean different things in different areas, he notes, and brands should remain flexible with their operating models and prototypes.
"Definitely, brands now need to select and design new sites with that omnichannel experience in mind," Ryan says. "Drive-thru, easy parking and pick-up, sufficient kitchen space to handle both peak on-site and digital channel demand are important. You can't always have it all in a single location, but modeling from the perspective of individual revenue streams can help ensure you get the most value from a particular market in the long term."