Paula VissingRecently, Little Caesars opened its first-ever South American restaurant in Santiago, Chile. The chain and its area franchisee, Premier Caesars Chile SpA, have plans for an additional 30 locations in Chile. With the opening of the Santiago location, the chain now has a presence in 6 out of 7 continents (North America, South America, Asia, Australia, Europe and Africa).
Paula Vissing has been with Little Caesars for six years and in the restaurant business her entire career. She discusses some of the pizza giant's current priorities and global expansion plans.
What's your favorite thing about international development?
For me, I love the opportunity that we have to take Little Caesars to parts of the world that we don't currently exist. Little Caesars is such a great brand; we have a fabulous value proposition. We're selling a product — pizza — that people all around the world love. We've got great quality ingredients for a great value, so for us to take that product, value, message and brand to other parts of the world and share that with them, I think that's what I enjoy the most.
You recently opened the first Little Caesars in Chile. In what other regions are you currently pursuing openings?
As we move forward, our approach to development is two parts: First of all, obviously for the countries we are already opening in, we'll continue to develop and build out those markets. Canada is a big market for us. Mexico is a big market for us. We've got a lot of opportunity to continue to build in those and other countries where we exist. But we're obviously focused as well on opening in new markets and expanding our footprint.
Over the last year, we've opened new stores in Jamaica, Trinidad and the Bahamas, and this year, we opened our first store in Chile. It wasn't only our first store in Chile — it was our first store in South America, so as we move forward, our focus will be in those markets we operate in, but additionally, we are continuing to expand our footprint into Latin America and South America — rounding out that region from a development standpoint. You'll also see us push into opportunities in the Asia-Pacific region as well. We're excited that the product we are selling has universal appeal. And with a great focus on value, we think those are going to be great places for us.
From my perspective, pizza has universal appeal, so we're fortunate to offer a product that everybody loves and wants to participate in. It's a family event — something great is going on. For us in particular, the combination of value and great quality resonates with people. Those two attributes of our brand have universal appeal.
What steps do you take to assess proposed locations?
From our standpoint, one of the first things we need to be successful in any market we operate in is a great partner. That's as important to us as anything. We know that pizza is universally appealing, so we have the benefit of that, and we know that our product will be acceptable in the markets we go into, so we want to make sure that we have a supply chain in place that we can support that will ensure the success of our partner and of the brand. We make sure, from a marketing standpoint, that we have those pillars in place. It's the combination of the right partner and, internally, having a supply chain in place. Those two things are really critical to be able to deliver against our value proposition.
What are the current challenges for you and your team?
Given our current footprint and the current opportunities that exist for us to develop, there's a lot of interest in the brand and a lot of interest in people reaching out to us and wanting to grow. So, our first challenge that we have is making sure we're incredibly diligent about our partner selection. We just had a meeting earlier today, and the focus and message to everyone was that we want to pursue these opportunities to grow, but it's not better for us to grow aggressively if we've got bad stores — and that means making sure we've got the right partner. Everybody always jokes about this relationship being like a marriage, but it is. So, I think for us right now, the biggest opportunity and challenge — with the high level of interest in folks growing with us — is going through that due diligence process to ensure we're aligning ourselves with a partner with the local knowledge that we need and rely on to be successful in a market. We want a partner that can grow in the given market and is also committed to our brand ideals and values.
How do you adapt the look and feel of Little Caesars restaurants around the globe?
From an external standpoint, probably not a surprise, but we want to make sure that when a customer in any part of the world sees a Little Caesars store that they recognize it. So, it's really important that there be consistency across the globe in terms of what that design looks like. So, we really do try to make sure we're consistent in terms of look, design and feel irrespective of the region. We want to make sure we're true to the brand standards and brand identity that we have.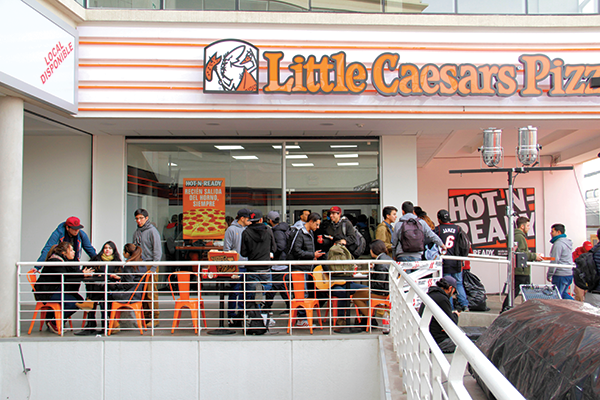 That being said, inside the store is where we have a great opportunity to marry the standard design with some local uniqueness so that in any given market, customers come in and they recognize that this is both Little Caesars and that the store is in Morocco or Singapore or Amsterdam. It's inside the store that we have the opportunity to take advantage of adding some local flavor.
Have you had to change back-of-the-house operations to accommodate international locations? Where and why?
From the BOH standpoint, we've had to make some modifications, particularly in areas where real estate and space is limited. So, our kitchen might need to be condensed a little bit. But our design team has been fabulous at accommodating the space constraints we've encountered while still enabling us to deliver the same quality product we want to deliver and that we work to deliver around the world.
For example, one of the things we do is make dough fresh in our stores every day. That's a commitment to quality that we have, and it's unwavering. If you can imagine, that process takes up space, unlike pulling frozen dough out of a freezer. Our design team has done a great job of creating a smaller-footprint kitchen to accommodate those constraints where real estate is at a premium and still allow us to deliver what we consider one of our core non-negotiables of our brand. We've been able to do that in a way that balances the needs of the market we're operating in and the commitments we have as a brand.
What does Little Caesars consider to be these non-negotiable elements?
First of all, obviously, the color orange is non-negotiable for us. That's part of our brand identity and an iconic color for us. Certainly, the Caesar man is something you will absolutely see everywhere — and then the Little Caesars name. Those would be the pieces that absolutely would be non-negotiable as physical elements of every store. And the fabulous thing for us is that that combination of things is so iconic that you don't need a lot more than that to help the customer understand they're at a Little Caesars.