In this Q&A with Freddy's Frozen Custard & Steakburgers' Co-Founder and COO, Scott Redler explains the company's vision and long-term plans to grow the brand — and encourages other operators to establish founding visions to lead the way.
What does the acquisition by Thompson Street Capital Partners mean for Freddy's?  
The acquisition marks an exciting period of transition for Freddy's. While we've always heavily invested in an unparalleled corporate support system to ensure our operators have the resources they need, our new partnership with TSCP will elevate those capabilities and enable us to take our franchisee support to another level. When we met the exceptional team at TSCP, it was apparent that our core values and company culture aligned, making them the perfect fit for our Freddy's family of Team Members, franchisees and vendor partners.
Following the recent acquisition, we recently announced that franchise and restaurant industry veteran Chris Dull has joined Freddy's as our new Chief Executive Officer. Dull will leverage his extensive industry experience to increase Freddy's focus on marketing and technology deployment while continuing to evolve the brand's operational best practices, as well as accelerate franchise development.  
What does your current development pipeline look like? What are the key areas you see as driving growth in the next 3 years?  
In 2020 we made major strides in our franchise development, including celebrating our 400th restaurant opening. Freddy's has experienced outstanding momentum over the past several years, most notably our openings have grown by double digit percentages annually. We attribute our aggressive growth to the dozens of existing franchisees that continue to reinvest and grow with our brand.
We recently welcomed six new development groups that committed to over 60 development options. Additionally, we signed 11 new development agreements with existing Freddy's franchisees who committed to additional territories and over 70 new restaurant options in key areas including Southern California, Central Florida, Texas, and Ohio. The commitment of our franchisees has resulted in an average of 30 to 60 new restaurant openings each year since 2016, and a healthy pipeline of more than 500 units committed to be developed in the coming years. 
Images courtesy of Freddy's Frozen Custard
What groundwork had to be laid to ensure Freddy's could achieve its current milestones, including opening a 400th store?  
Maintaining our commitment to The Freddy's Way systemwide has been a key factor in our success, because it has allowed us to ensure consistency in the great food and experiences we provide. The Freddy's Way is our promise to approach every aspect of our business the right way, holding true to our values and emphasizing quality. It means every guest can expect genuine hospitality and food cooked-to-order with premium ingredients, served hot and fresh in a clean, family-friendly environment.
In what ways is Freddy's utilizing technology to propel growth? 
Innovations included last year's expedited rollout of a mobile ordering platform that better-equipped franchisees and restaurant team members to facilitate curbside delivery and contactless ordering. The brand saw widespread adoption and use of the app and loyalty program where available, as it played a vital role in facilitating safe and contactless ordering and payment. Curbside delivery was made available in select markets and is continuing to roll out at more restaurants across the system. We've also recently introduced a new prototype option which will attract owners interested in developing drive-thru focused locations. This new prototype design marks a strategic shift towards drive-thru focused restaurants, with features such as a double drive-thru lane, parking stalls for curbside pickup, a walk-up window, and patio seating. Our system greatly benefitted from our improved drive-thru capabilities throughout the pandemic, so we've developed this new prototype in order to further leverage that strength.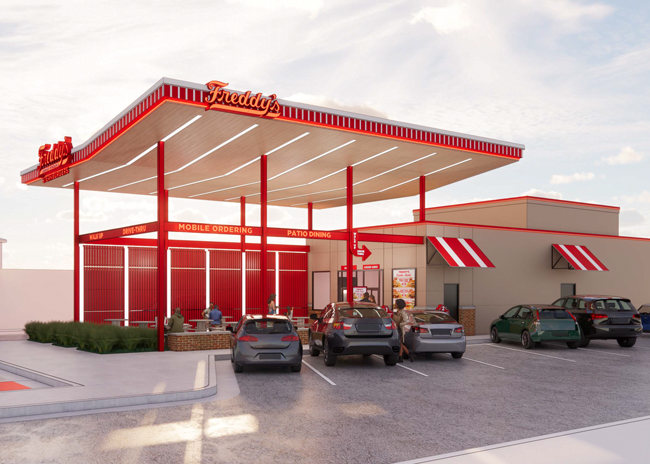 Images courtesy of Freddy's Frozen Custard
What's one piece of advice you'd give to a smaller chain looking to replicate your success?  
Establish your founding values early on and stick to them. In a fast-paced industry where brands compete to be "the first" or "most unique," we have been able to manage through the tough times by remaining consistent and refusing to compromise on our values. We have always maintained that by doing things The Freddy's Way, we are focused on satisfying all stakeholders.