Building a new restaurant from the ground up is no easy task. After land is purchased, permitting and construction regularly takes a year and a half. With the slowdown of basically everything in the post-pandemic era, that 18 months can stretch to two years.
For operators, whether the restaurant concept owner or a franchisee, that's two years of an investment providing no return. Small wonder, then, that many chains are looking for ways to cut development time.
Among those is Golden Chick, a Texas-based QSR specializing in fried chicken tenders.
The chain, with 200-plus locations, has been on a hot streak. In the past two-plus years it's average sales per store has increased by more than $300,000 to $1.3 million. At the same time, the chain has opened about 25 new restaurants.
Still, long lead times to open a store have been a problem for Golden Chick, says President Jim Stevens, so much so that he was "beating my head on my desk" to get new stores built in some situations.
"A couple of days ago I was talking to someone at another brand. They said pre-COVID it would take 18 months to open a new restaurant. Post-COVID it was 24 months [and that they've] got to sell 100 franchise agreements to open up 50 stores because they are just not being executed. We've had some of those frustrations as well."
In the face of this challenge, Golden Chick took a route that's much discussed but infrequently implemented: They developed a modular restaurant.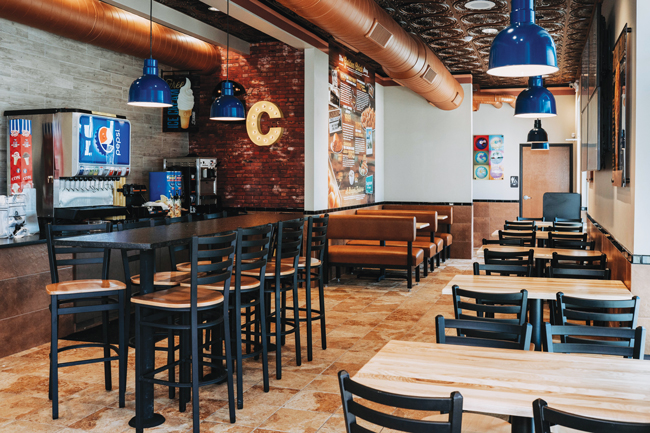 What is Modular?
The term "modular" may conjure a variety images in the minds of people. Some, for example, may think of the shipping container-based stores Starbucks has experimented with.
Golden Chick went another route. Working with a modular building manufacturer based in Texas, the company's modular restaurants are built in three pieces. The modules are each constructed with a steel frame.
These are more than shells, though. During construction at the manufacturer, the building's electrical and plumbing work is installed, certain HVAC components are put in place and even finishes like interior tile, lighting fixtures, and bathroom sinks and toilets are installed. Some of this is performed by the modular building manufacturer; other jobs are handled by the general contractor and its subcontractors.
While all this is going on, Golden Chick's general contractor is doing the dirt work on-site, clearing the ground, pouring the foundation and readying utility hookups.
When the pieces of the modular restaurant are complete, they're shipped to the construction site and put in place via crane. At that point, the modules are sealed together to form a single building. The general contractor and its subcontractors then hook up utilities, and install the kitchen, perform final work on fixtures and finishes and put the exterior facade in place.
The end result is a store that looks and feels like a traditional, "stick build" Golden Chick. "From a consumer standpoint, if they were to drive by a regular Golden Chick and this modular building, they would never know it was modular," says Jay Alexander, the chain's director of construction.
Saving Time, Saving Money
The chain opened the first of its modular restaurants in March of 2021 in Saginaw, Texas. When the company began the process, says Stevens, it was shooting for a new building to take six to nine months. Based on the timeline for its first modular location, Golden Chick now believes it can have new buildings operational four to five months after land is purchased.
Going to four months from 18 months or more is a huge shift. Some of that is due to the trades being able to work at the same time the slab is being poured — that speeds the whole process up.
Many fixtures, finishes and mechanical elements are put in place at the modular building manufacturer, while finishing touches are done on-site.Far more time, however, is saved on the permitting front, according to Alexander.
As anyone involved in building construction knows, the actual construction is only part of the project timeline. Getting a building permitted is another. In a large municipality, permitting easily can take six to 12 months. During the pandemic, this process has only gotten more onerous, says Scott Stevenson, the chain's vice president of development. During this time, the real estate just sits there, costing its owner money without bringing any money in.
Many states, though, have permitting programs for modular buildings. Get the building permitted once, and it has the green light for construction anywhere in that state over and over again.
"Government agencies do a lot of these portable buildings around the country. States have programs set up to speed up development processes. That is a huge time savings. Now we just need a fire inspection and health department inspection, and we are rolling," Alexander says.
These modular buildings should not only save Golden Chick development time but also money on construction. The chain, says Peters, is in the early stages of a growth spurt. It expects to open 30 new restaurants in 2021 and 40 in 2022.
With such high numbers, the chain expects to order multiple restaurants at once from its modular building manufacturer, gaining economies of scale with the manufacturer as well as its general contractors (and subcontractors), which will wire, plumb, etc. several buildings at once.
Once Golden Chick reaches this point, it should be relatively easy for a franchisee to get a modular building up and running. Buildings will be more or less ready to ship on demand, with almost the entire package nailed down.
Project Process
While there's plenty of upside to Golden Chick's new modular approach, it's also taken plenty of work to get to this point.
One of the challenges of modular construction — at least the kind taken up by Golden Chick — is the building size and shape. Simply put, there were limitations on the footprint of this modular building.
"With three segments, we were kind of limited on size," says Stevenson. "They have to go on a trailer to be shipped from the plant. Without closing roads, you're kind of limited to a specific size. [For the lobby and the kitchen] we had some size constraints to deal with."
Dealing with these constraints meant Golden Chick had to revisit its interior layout and parts of its kitchen operations.
To handle these changes, the chain assembled a team similar to what most chains would pull together for a standard redesign. Members included the company's heads of construction, development, operations, franchise operations, marketing and innovation. The company also pulled in architecture and kitchen design support to help nail down the placement of the different interior and operational elements.
In the end, the company tweaked its dining room layout. More tweaks may be coming, depending on how consumers readjust to dine-in as the pandemic recedes, notes Stevens.
More substantively, Golden Chick also made a major adjustment to its expediting station. While the station used to be two-sided (one for drive-thru and one for the dining room) the modular Golden Chick design only has room for a single side expo. Setting up this station so it operates efficiently took some effort, Stevenson says.
Finding the right general contractors to work with is also key, says Alexander. In a traditional build, there's a standard order of work. Slab is poured, then come the framers, then electricians, and so on.
While the simultaneous nature of modular construction is an advantage, it also requires a sophisticated GC that can effectively manage work and subcontractors at two sites at the same time. The modular building manufacturer roughs in plumbing and electrical, but the subcontractors also work at the modular site, placing tile, electrical and fixtures, explains Alexander.
"Their construction schedule is getting spread out a little bit more than it normally would. The tile setter may be used to coming out and banging out a job all at once. Now they may get done really quickly with their portion of work at [the modular building manufacturer's site] before they are ready to set the building. So they have a break in between the work at the [manufacturer's] and work at the construction site. Your GC has to have a good line of subcontractors and good relationships to work that unorthodox kind of schedule."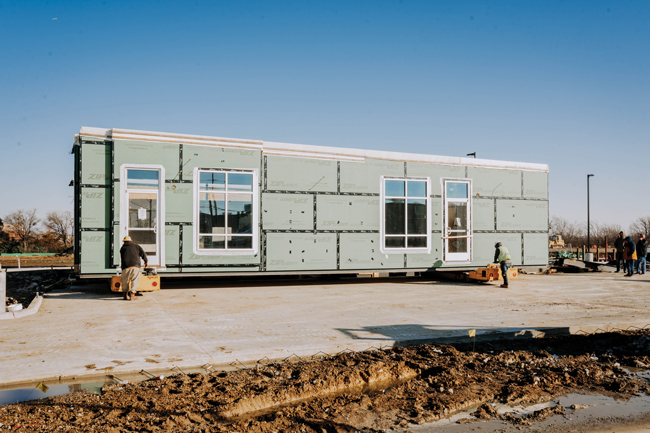 One section of Golden Chick's Modular restaurant at its location.
Ripple Effects
Some of the other challenges associated with this process weren't directly about building design construction but resulted from its impact.
Take labor as an example. When Golden Chick builds a restaurant, it places a sign on the sight announcing the chain's impending arrival. That helps prime the community for new jobs, resulting in a healthy applicant pool, Stevens says.
"When it's a piece of dirt that you're seeing get built up over 15 months, the whole community understands it's coming. People line up and application flow is strong. When it's four months, they don't have that time to figure it out. It's a tough staffing environment as it is. That's been a challenge."
The change to the kitchen also presented training issues, at least for the first restaurant, Stevens added. With no other stores with that design, getting the new staff up to speed was also a challenge. That problem should abate, though, as more modular locations open over time.
And more modular locations are indeed coming. Another two are set to open in the coming weeks.
Grand openings can happen faster with Golden Chick's new modular prototype.
Modular Models, Modular Markets
Despite being modular, these additional stores won't be exact replicas of Golden Chick's first modular restaurant. The chain will likely make small tweaks to the building's operational areas in its next locations. Similarly, it has the ability to make the buildings slightly bigger, perhaps a foot or two wider and/or longer. Such minor changes won't require the model get repermitted.
"There is wiggle room in the permitting. If you aren't making major design changes, they are fine with that. You may decide a piece of plumbing doesn't work in one spot and want to move it. That's fine. If you start moving bathrooms and changing some big configurations, then you have to have it repermitted," says Alexander.
Once these changes are in place and proven to work, modular locations should be made available to Golden Chick's franchisees. That will probably occur later in the summer.
Managing franchisee expectations on timing, Stevens added, is an important aspect of the project. In Golden Chick's case, some partners have been anxious to start these builds, but it's important to take the time to get the building design nailed down.
"Once you've got version one done, explore communicating to the franchise community about version two. That gives you an opportunity to make adjustments. Some might be material. You don't want to get ahead of your skis there."
For Golden Chick, version two almost certainly won't be the chain's final word in modular. The chain is looking at developing an XL-size model for locations projected to have particularly high sales volume. It will also explore a drive-thru/walk-up-only model in a modular format.
Whatever models the company settles on, modular figures to be a major part of its future. The company has recently signed numerous development deals in the Houston area and in West Texas. It's also targeting growth in Alabama, Arkansas, Louisiana, Florida, Mississippi and Nevada — all places with state-wide permitting programs.
Golden Chick is targeting franchise partners that have the capacity to open multiple locations. Such deals are key to Golden Chick's continuing its hot streak. While it's targeted 70 new restaurants by the end of next year, long term, the chain has even loftier goals, says Stevens.
"We want the ability for [franchisees] to scale. We're trying to get to 500. We are never going to get there one store at a time. Can you get a couple in the ground? If you prove you can do that, the sky's the limit."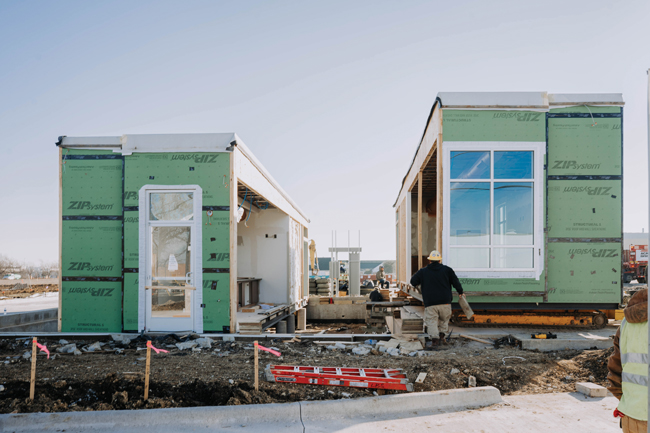 Golden Chick's modular locations are built in three parts, then assembled together on the new restaurant's site.
Project Team
Project leads: Scott Stevenson, vice president of construction and Jay Alexander, director of construction
Kitchen Supplier: Market Source
Interior Design: Howard Terry, chief marketing officer
Kitchen design: Mike Jensen, senior vice president of operations and Kelly Creighton, vice president of purchasing
Snapshot
Headquarters: Richardson, Texas
Concept owner: Mark Parmerlee
Concept: QSR specializing in marinated chicken tenders, roasted chicken, catfish, bone-in chicken, chicken sandwiches, and Zagat recognized chicken salad
Unit count: 206
Location of new prototype: Saginaw, Texas
Opened: March 2021
Size: 1,920 square feet
Real estate: Freestanding
Design highlights: Modular construction comprised of three segments. Building has the same look and feel as a traditional Golden Chick location
Build-out time:  Going forward, modular construction projected at approximately four months per unit.