Now nearing a year's duration, the pandemic is still wreaking havoc on the hospitality industry. In this era of social distancing, bars have been especially stymied, since they depend on close guest interaction with bartenders, the showmanship of mixology and crowded spaces to create energy and excitement.
"It's a complete dumpster fire," says Tobin Ellis, owner of hospitality design and consulting firm Barmagic of Las Vegas. "We've lost almost 40% of our bars and restaurants in this country and each week we lose dozens more: famous, iconic, beloved eateries and watering holes. Reservations are at record lows, hospitality unemployment is at an all-time high — bankruptcies left and right."
The bars and restaurants still in business are digging deep into a mixed bag of tricks to survive including expanding to outdoor venues, offering drinks to go, managing guest traffic, creating more flexible interiors and utilizing touchless technology. In these desperate times, no idea is too far-fetched: drone cocktail delivery, robot servers, drive-thrus for drinks, "ghost" bars and showcasing mixologists' mad skills on big screen TVs. Many of these strategies are quick-fixes; but how many of these changes will be incorporated into the bars of tomorrow?
"Right now, there's a fundamental need for flexibility in hospitality design," says David Shove-Brown, co-founder and principal of the design firm //3877. "Instead of redesigning the industry, designers need to provide smart, flexible solutions that will evolve as our new behaviors do. We must look to temporarily fix the industry, not completely redesign it."
"Necessity is the mother of invention," notes Paul Clayton, AIA, a principal at the architecture firm Clayton Korte. "We've seen our clients make the immediate move to serving on patio spaces. That's the most obvious and immediate relief to doing some business."
Mezcaleria Oaxaca in Seattle modified its existing storefront with a separate kitchen at the takeaway window. Image courtesy of Graham Baba Architects
Moving Outside
To facilitate social distancing, bars and restaurants have shifted seating and service areas to exterior spaces wherever possible.
"In the early days of the pandemic, bars and restaurants took over sidewalks and even streets," says Jim Graham, a principal of Graham Baba Architects. "In the beginning, the makeshift stuff was endearing, then, as time went on, it seemed too haphazard and rough. When winter storms arrived, tents turned tattered and torn." Graham believes these structures need to be redesigned for permanence.
"Outdoor extensions of bars — tents, bubbles, yurts and patios with fire pits and heated seating — now play critical roles," says Steve Carlson, president of Rippe Associates, a foodservice design and consulting firm. Customers are adapting, too.
"Now that restaurateurs are more familiar with incorporating heating and exterior lighting, the outdoor area will become relevant for more than just four to six months of the year," says Shove-Brown. He recommends enhancing outdoor spaces with landscaping to create a more defined outdoor dining environment.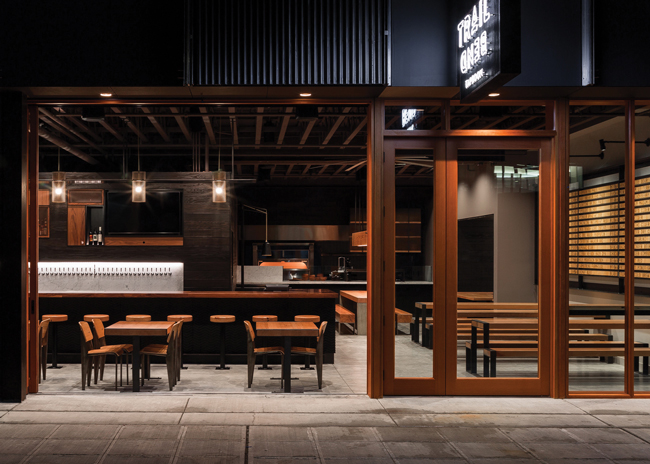 Trailbend Taproom, designed by Graham Baba Architects. Image courtesy of Graham Baba Architects
Inside Out
"Going forward, we'll see smaller front-of-house spaces emerge, with a bigger emphasis on the outdoor spaces," says Jesse Vigil, architect and associate at Cushing Terrell. "The barrier between inside and outside will open up, become blurred, more porous." Garage door-type storefronts open up the interior, extending to screened-in awnings, cafe seating and roofed areas.
"We've helped our existing restaurant clients in Washington, D.C., and New York City to dress up the sidewalk so it still feels like part of the restaurant and not some awkward separate entity," says David Tracz, a co-founder and principal at //3877. This is important when expanding into outdoor dining and drinking during the pandemic. "Making sure this area is an extension of the existing restaurant will help patrons to have a dining experience that aligns with their pre-pandemic expectations and perception of the brand."
Mezcaleria Oaxaca in Seattle is an example of bringing the inside outside. The restaurant's existing storefront was modified with a separate kitchen at the takeaway window where tacos are prepared and customers pick up orders. "So the takeout process enlivens part of the sidewalk experience not only for the customers but for passersby," says Graham, who envisions the idea working for cocktails as well.
Enclosing patrons inside bubbles, greenhouses, yurts and tents provide comfort against the environment, but the structures can be problematic. "The biggest challenge is light and visibility," says Vigil. "Guests need to see what they are doing, and servers have to move freely and keep an eye on guests' needs. Which is why the transparent bubbles have been so popular."
Clayton argues that it is safer to be inside a bar or restaurant equipped with efficient HVAC systems that change up the air frequently. "Enclosing guests in a bubble of air seems problematic," he says.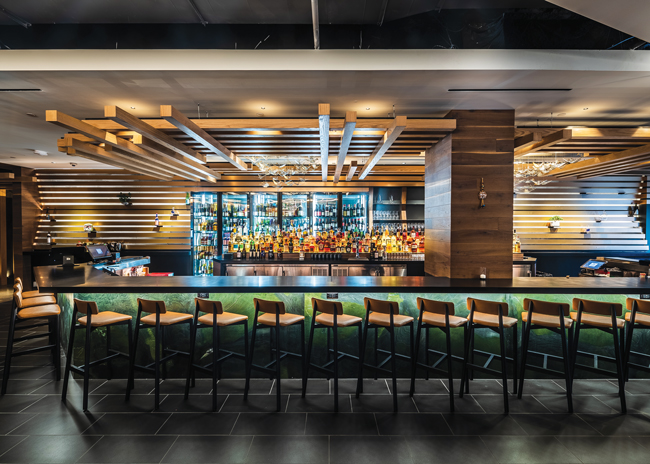 Cranes, designed by //3877. Image by Rey Lopez
Facilitating Takeaway
Drinks to go are here to stay. Walk-up windows, curbside pickup, drive-thru and delivery are options being employed.
Customers love the idea. A full 35% of legal drinking age consumers (and 53% of Millennials) prefer restaurants that offer alcohol to go with takeout food orders, according to the NRA's 2021 State of the Restaurant Industry Report.
For bars, the loosening of restrictions in many jurisdictions has made selling drinks off-premises a viable option. Currently, 33 states allow selling cocktails to go; two states have made that move permanent, and an additional 18 states have filed legislation to make cocktails to go permanent, according to the Distilled Spirits Council.
"We started seeing walkup windows, pickup cubbies and delivery stations popping up even before the pandemic," says Shove-Brown, who notes that these same pickup areas can facilitate to-go alcohol sales. He adds that it's important to segregate pickup, delivery and dine-in traffic. "If you're a food delivery person, you want to pick up the order and get out the door. If you're waiting to get a table, you want to have the waitstaff acknowledge you and seat you in an efficient way. Having walkup windows and pickup cubbies streamlines this process."
"Set up staging points and make the takeout process clear and legible for customers to follow," advises Graham, "so customers can make pickups without disturbing dine-in customers and other staffers."
"Operators learned quickly how to streamline their menus, inventories, increase shelf lives and how to bottle up and package 'experience,'" notes Ellis. "Moving forward, this will only become more important."
Graham envisions takeaway cocktail kits as extensions of the bar's brand and a personal extension of the bartender. QR codes could connect to digital content, either prerecorded or live, and offer tutorials about ingredients and mixology. "Taking that further, bartenders could offer a whole evening of lessons to remotely maintain relationships with guests and further the bar's audience."
Vigil says that his clients are doing everything from packaging premixed drinks in containers to building craft cocktail kits. The latter contains all necessary ingredients, garnishes and mixing instructions. "The challenge is getting quality beverages to the guest as smoothly and quickly as possible," says Vigil. "If drones ever caught on, that would be an amazing delivery tool. Your favorite cocktail flown right to your door."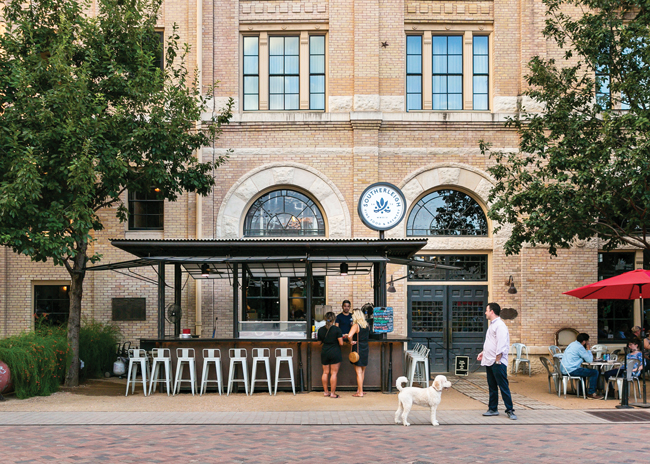 Southerleigh Fine Food and Brewery, designed by Clayton Korte spans 5,000 square feet and includes an outdoor bar. Image courtesy of Chloe Hope Gilstrap
Short- or Long-Term Fixes?
It will take time, but things will get better and normalcy will return, at least according to the experts. If that is the case, then how far should cash-strapped operators go with making big changes?
"I'm not sure it's wise to expend a lot of resources trying to come up with long-term solutions to a short-term problem," declares Ellis, adding that most operators "don't have two nickels to rub together to invest."
"Given that we hope COVID will be over in six months, we're not sure whether bar owners will spend money on permanent changes or remodeling," says Carlson. "At least through the fall or winter of 2021, customers are going to be watching that safety protocols are in place. And bar operators and customers will be much better educated about proper cleaning and safety protocols."
"Everyone is in cash management at this point," says Vigil. "It's critical to operate lean and mean." It's difficult to deal with all the changing regulations and restrictions about occupancy rates while weighing the investment of adding permanent features."
Flexible Spaces
Decisions about changes to interior design are in even greater flux because of constantly changing local restrictions about on-premises drinking and dining. State and local regulations are the biggest challenge that face hospitality teams say 36.13% of respondents to a recent rd+d survey. And generating the excitement that bar patrons were used to is also a challenge for operators.
"Designing interiors is still a fluid situation for bars and restaurants, especially those that operate in several jurisdictions," says Vigil. Flexibility in design is key, with open floor plans using furniture elements or moveable partitions that can be easily adjusted, he says.
"A diversity in seating areas and groups is key — not just having a field of tables or chairs that are separated by 6-feet apart stickers," says Shove-Brown, "but creating interesting divisions between patrons via plants or curated objects — which simultaneously provide social distancing and make it feel more alive."
"With creative seating and social distancing, we've seen a resurgence of drink carts because tables are spaced farther apart so that it's easier to maneuver," says Vigil. "And that's one way to create excitement."
Carlson believes that self-serve drink taps at tables will become more prevalent as well as digital-based, interactive trivia games that could pit tables against each other. "Drinks could also be ordered touchless with Apple Pay and delivered by robots."
Bar None
"The pandemic will change the shape of bars," says Vigil. He predicts more decentralized bar seating, more buddy bars, whiskey rails and smaller stand-up venues.
"The age-old design of a line of stools at a countertop constituting a bar is a problem. Breaking down that idea into its component parts, then spreading it out is a strategy that we've talked to clients about," says Clayton. That would require moving to a more server-oriented model, he suggests, with bartenders mixing cocktails at a station visible throughout the bar, while servers distribute the drinks and interact with customers.
Carrying that idea a step further, a camera could be trained on the bartender as they work, so that customers throughout the bar, at outside tables and even at home could watch cocktail preparation.
Carlson offers a temporary fix for social distancing at the standard bar. He suggests butting rectangular four-top tables up against the length of the bar, creating spines that divide the bar into spaces for small groups.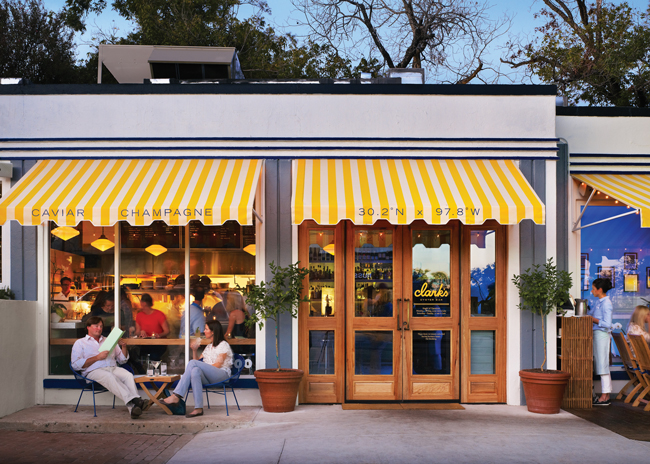 Clark's Oyster Bar, designed by Clayton Korte. Image courtesy of Casey Dunn
Keep It Clean
With the current emphasis on rigorous cleaning and sanitation protocols in bars and restaurants, designers are taking a closer look at surfaces and materials.
"There's been a tilt toward harder, more cleanable surfaces, using less fabric, more metal," says Vigil.
"Good bar design is as much about aesthetics as it is about functionality," says Shove-Brown. "In regards to materials and finishes that facilitate sanitation, we've always leaned toward utilizing antimicrobial surfaces."
"It's always a balance of aesthetics, the experience of place and the demands of health and sanitation," notes Clayton. His team is investigating materials that are easily scrubbable and sanitized. "At the same time, acoustics, softness, human-scale things that make people feel comfortable typically aren't those types of materials. Where do you strike that line?"
Improved HVAC systems that remove viruses and bacteria will be the biggest pandemic innovation, predicts Carlson. "Some HVAC systems remove viruses with UV light, and HEPA filtration and ionization will become more popular." He also posits that some establishments may incorporate COVID-19 rapid testing into the bar experience. "Customers get a drink while waiting for test results. If they pass, they get a wrist band and can join the crowd."
Tech & Human Touch
Operators are looking for help from touchless technology — menus, ordering and payment. But some fear these digital systems will go too far in eliminating human contact from hospitality.
Shove-Brown believes that bars will use technology to alter the way they service customers. "For example, right now we're seeing an increase in restaurants offering a more digital experience — scanning a QR code to view the menu, place the order and even pay. When this is fully implemented, the restaurant just requires food runners." But, he cautions, "They're not going to completely remove the traditional waitstaff."
"We've seen a switch to contactless payment methods and tabletop taps for self-service of beer and wine," says Vigil. "Some guests love it, some hate it. And you do lose a bit of that personal touch." That is especially true with a craft cocktail bar where interaction with bartenders is a major part of the experience. "That is the biggest challenge, making sure you still have that connection with customers, whether in-house or via takeout and delivery. If you lose that, then people will just buy spirits and mixers at retail and make their own."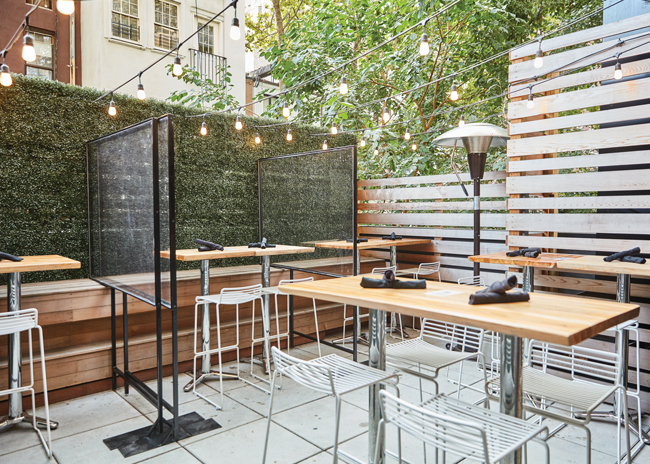 Image courtesy of //3877
The Future of Bars
Will any of these fixes become permanent? What will the future of bars be like? What will bars of the future look like? Much depends on the duration of the pandemic and the qualities of the New Normal.
"Certainly, the pandemic will leave a scar and change the way we do things," says Clayton. He believes that a scattered, modular bar with a server-dominated approach will remain viable post-pandemic. "Once everyone is vaccinated and deemed safe, people will return to drinking in bars and eating in restaurants."
Operators should be prepared for the end of the pandemic, says Graham. "Because there is so much pent-up need and desire from customers."
"Humans will always want to gather in new, interesting, immersive spaces; the design industry has nothing to worry about," says Ellis. "Hopefully, bars of the future will be busy, full of life, and joyous — as they once were. Humans need celebration, revelry and connection. We need bars more than ever right now, and always will."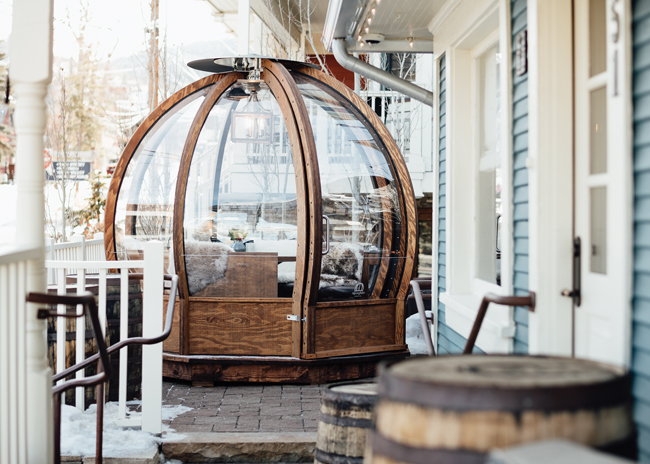 Images courtesy of High West's Nelson Cottage
Snow Globe
Apres-ski or dinner guests at Nelson Cottage, High West Distillery's restaurant and lounge, sit down to food and whiskey pairings inside a snug snow globe-like shelter. The transparent bubble accommodates eight guests who can enjoy panoramic views of the Wasatch Mountains and historic downtown Park City, Utah, while they drink and dine.
High West purchased a prefab unit that measures 10 feet by 10 feet at the base and features an overhead infrared heater, fresh air circulation, an independent sound system and variable mood lighting. Guests and staff enter and exit through a double width sliding door. 
High West's Nelson Cottage can accommodate about 50 guests with an additional 15 more on an outdoor patio equipped with fire pits.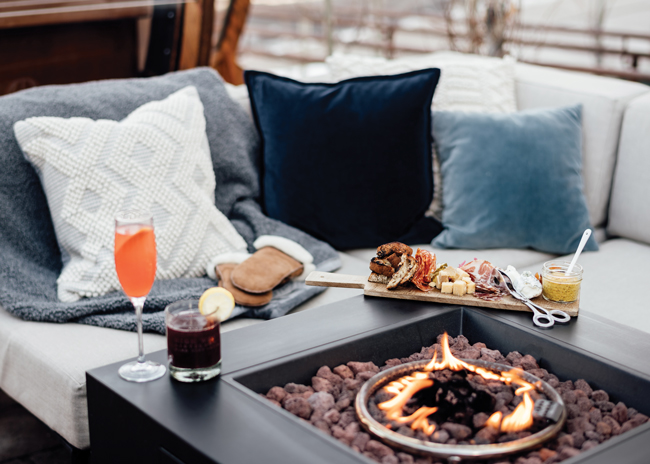 Can Do
One rising beverage trend that could impact bar design is the proliferation of all sorts of canned alcoholic beverages beyond beer. 
Wine in cans is increasing in acceptability and more wineries are adopting this packaging. The hard seltzer category has taken off, with new products added nearly every week, not to mention other "hard" categories, such as alcoholic kombucha, tea and cold brew coffee — all packaged in cans.
Sales of premixed cocktails, driven by spirits-based ready-to-drink (RTD) products, are up 39.1%, or $137 million, to $489 million, according to the Distilled Spirits Council. Many of these premixed cocktails are in cans. 
While much of the canned wine, seltzer and RTD growth is driven by at-home consumption, many customers will call for those familiar quaffs at bars and restaurants in the future. For operators, that means installing more refrigerated storage space to satisfy that proliferating demand.
DineAmic Dining Out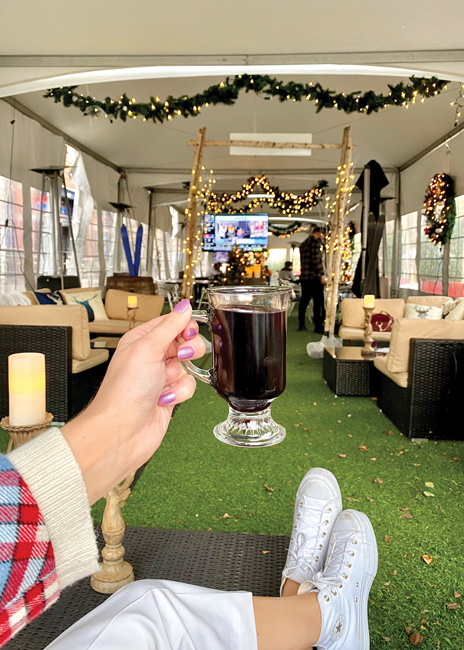 Bandit's Apres Ski patio. Image courtesy of DineAmic Hospitality "Given the recent state of Illinois government mandates, DineAmic Hospitality has proven that when life gives you lemons, it's possible to make some really good lemonade," says Lindsay Goldberg, the Chicago-based company's marketing director. Case in point? Last year, the hospitality group set up heated and covered outdoor dining at four of its Chicago operations. 
Guests are able to safely and comfortably dine al fresco at four locations: Bandit, Bar Siena, Prime & Provisions and Sienna Tavern. The heated and covered outdoor dining areas adhere to both capacity restrictions and social distancing guidelines. 
"The heated and covered outdoor dining areas were created to replicate the guest experience of dining indoors. Over the past few months, we've been working tirelessly not only to perfect the structural component but also the atmosphere — including the installation of festoon and ambient lighting, music, and new food and beverage offerings, which all culminate into the overall vibe," says David Rekhson, co-owner of DineAmic Hospitality. 
"December is usually the time of the year Chicagoans pack their bags and head to warm weather in an effort to escape the winter," says Goldberg. "However, with travel interrupted, the DineAmic Hospitality team has transformed both Bandit's and Bar Siena's heated and covered outdoor dining areas into the hottest winter destinations in town." 
At Bandit Lodge's Apres Ski patio, guests can enjoy a winter menu of classics like Beer Cheese Fondue and nostalgic Tableside S'mores and warm drinks such as the Cozy Old Fashioned, Mulled Cider & Wine and Irish Coffee. 
Bar Siena's Chalet outdoor-dining area recreates winter in the Northern Alps of Italy. The Chalet menu includes Quattro Formaggi Fonduta, served with house made polenta bread, Truffle Mushroom Risotto, and a shareable Deconstructed Cannoli as well as Mulled Wine.
Do You Believe in Ghost Bars?
Even pre-pandemic, ghost kitchens began to materialize around the world. Also known as a virtual restaurant or cloud kitchen, these operations offer takeout only, often via third-party delivery services. The trend has accelerated in the wake of COVID-19. So, why not ghost bars? Such production-only facilities could deliver drinks to thirsty customers.
"We do believe that ghost bars, similar to ghost restaurants, will become more prevalent," says David Shove-Brown. "What's great about ghost kitchens/restaurants (and future ghost bars), is that they give the restaurateurs an opportunity to test out a new concept without implementing a new concept. It's a trend that we'll continue to see rise in popularity, and I think that's a great thing for the F&B industry."
"Not much infrastructure is required to create a remote bar," says Jim Graham. "No dining room, no seating, it's more of an efficient commissary model."
"We think it would be easier for a bar to add incremental sales by adding cocktails to-go, rather than by trying to make a go of it as a ghost bar," says Steve Carlson.
"If it wasn't for constraints of alcoholic beverage regulations, ghost bars could take off like crazy," says Jesse Vigil. "If people are not comfortable or able to go into their favorite watering hole, having that custom cocktail delivered would be a great experience."