Sara Talleux, principal, Simeone Deary Design Group, connects with clients and communities to revitalize storied spaces. Guided by a passion for the perspectives and objectives of others, she harvests details of the past and guides hospitality brands and properties into the future. For Talleux, design is a visual and tactile conversation, one that creates a sense of place that subtly engages people.
A trusted creative with more than 20 years of experience, Talleux has gained the confidence and respect of her clients with her collaborative and intuitive nature on how a design will be perceived by the world. Below she details some of her favorite trends in restaurant design right now.
Thoughtful outdoor spaces. With the pandemic, I find myself spending more and more time outdoors, which has health benefits that include reducing stress, boosting your immune system, focus and creativity as well as eliminating fatigue. I love that both guests and staff can reap these benefits. At Corner, a restaurant at the JW Marriott in Austin, Texas, we designed a large covered outdoor bar to enhance the F&B created inside. The space is filled with activity and has an assortment of seating options to dine, drink and socialize to suit guest's tastes. It's important to provide spaces for varying forms of social engagement right now.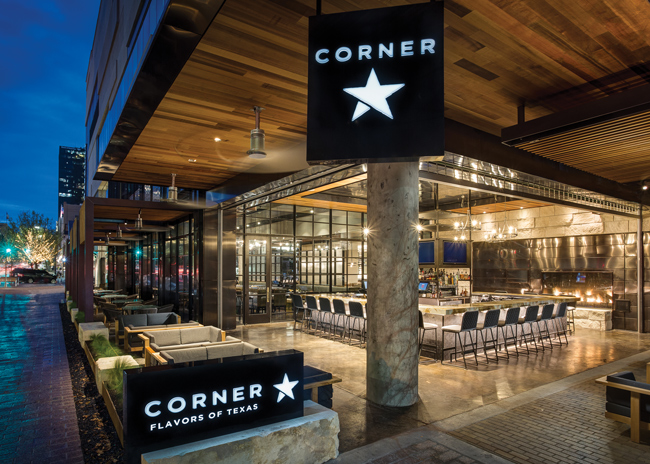 Image courtesy of Dan Ham
Farm to fork and "agritourism." Entrepreneurial farmers are inviting people onto their farms to lend a hand, pick their own product, stay for dinner or even the night. Our client's commitment to educating their guests about sustainable ranch management was the inspiration behind our design of The Farm at Brush Creek Ranch. Rotational grazing, stream and watershed enhancement, forestry management and certified organic greenhouse practices are just some of the conservation practices implemented there. The Farm brings together master chefs, brewers, distillers, sommeliers and fromagers to showcase the beauty and bounty of the land. This project was a labor of love for our team, because it allowed us to reflect on the idea of how small we are as human beings and how amazing the world that has been given to us truly is.
Image courtesy of Brush Creek Luxury Ranch
Bonus Trend
Made in the USA. This year, I am happy to see more interest from my clients to purchase American-made goods. I am working hard to connect my clients with local furniture manufacturers and material providers. I love this push, because creating demand for higher quality American-made products now means that more people will need to create those products in the future, securing more jobs for Americans. Buying locally also reduces our carbon footprint, so we are contributing to a cleaner environment.