From intimate dinners to full-scale parties, power lunches and presentations, private dining has become an integral part of the overall revenue stream in many restaurants. In fact, special events can have as much, if not more, sales and profit potential than the bar in making up for inconsistencies in main dining room traffic.
"Private dining, or a lack thereof, can mean the difference between success and failure," says Clark Wolf, a veteran restaurant consultant and principal of Clark Wolf Company in New York City. "For at least a decade I have never allowed any restaurant I worked on to be without private dining or at least a semiprivate flex space that can bank on targeted, higher-end fixed meals and expand for the holidays and busy seasons."
Private dining — not just big banquets — can build business on an even more regular basis, with the benefit of fixed costs and projected sales. A hefty deposit, often required to reserve private space, doesn't hurt either. While private dining has always been an important restaurant revenue stream, in Wolf's view, it has taken off even more in the past several years as the economy has recovered and both individual and corporate spending have ramped back up.
Part of the Big Design Picture
As private dining has evolved and grown, so too has attention to the strategic design and functionality of these spaces. No longer forgotten-about, out-of-the-way banquet rooms or closed-off empty spaces, these rooms are now more strategically integrated into the big design picture. Often built right off the kitchen, main dining room or wine cellar, private dining spaces can come complete with windows and well-thought-out partitions meant to make them look and feel like a part of the big design picture. In some cases, they even have their own bars.
"The ability to be entirely private or semiprivate is important," says Wolf. "Many times diners want to feel like they're off the main dining room. People like to show off that they're having fun."
The unique design, entertainment, technology and location factors of the private dining room present opportunities for restaurants to reinforce their brand and message. That goes for both ambiance and menu.
"You might have a lot going on in the main restaurant with the standard menu and different groups doing their own thing," says Wolf. "But the private dining room is a great place for restaurants to convey the essence of what they are trying to express through special menus and unique experiences."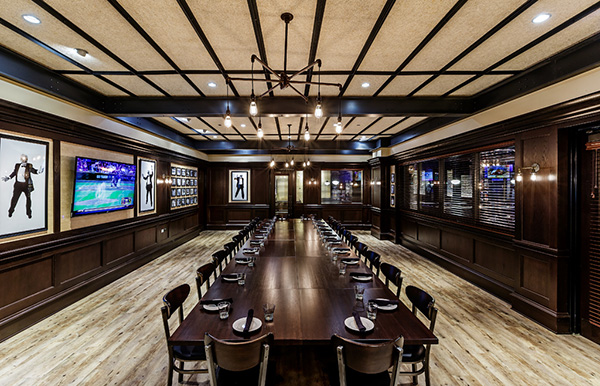 Private dining can also be a great way to use an otherwise unappealing spot in a very profitable way, and a way to use the entire square footage of a restaurant wisely. For example, "a logical private dining room is the wine room, which is usually a dark and separate place nobody wants to sit in," says Wolf. "With some strategic lighting and decor, suddenly the space becomes incredibly attractive."
Technology, music and lighting, of course, are important elements of private dining. While separately controlled music and lighting can create different moods for different events, A/V equipment and flat-screens with laptop and tablet hookups are essential for corporate patrons.
Here's a look at some great private dining rooms doing brisk business across the country, each with its own unique, strategically designed and well-equipped space, from a Southern-style collection of storytelling rooms to an intimate dining area right off the edge of a working farm.
HARRY CARAY'S 7TH INNING STRETCH
Chicago
Spanning 23,000 square feet on the seventh floor of Chicago's Water Tower Place, the newest location in the Harry Caray's franchise, Harry Caray's 7th Inning Stretch and Chicago Sports Museum, opened in late spring. The operation includes a museum-affiliated banquet space that can seat up to 240 for private events, as well as a highly profitable smaller private dining room within the 15,000-square-foot 7th Inning Stretch restaurant and bar.
Located off the main dining room, this 24-seat, 420-square-foot space can be closed off via wooden blinds attached to the windows or opened up for views out toward the main dining room and the John Hancock building and Magnificent Mile beyond. It's a popular venue for smaller dinner parties, corporate events, business meetings, sports-viewing parties and other social gatherings.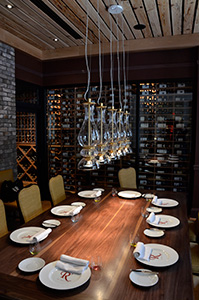 "The private dining room was designed to allow guests to experience the same sweeping panoramic views offered by the main dining room," says Katherine Ingrassia, owner of Ingrassia Design, whose team designed the space. "With private dining, you don't want people to feel like they're not a part of the scene. We also kept the materials the same as the main dining room to make the entire space more homogenous."
Branding and storytelling are important functions of a private dining room. One of the design themes throughout Harry Caray's is dark wooden walls, both inside and outside the private dining room, that feature display cases with sports memorabilia, articles chronicling the legendary sportscaster's career, photographs, signed balls and other collectibles.
While the main dining room's ceiling was left in its "raw" state, exposing pipes and ductwork to help create a refined industrial, subway station–inspired look, the private dining room has a separate ceiling. Its tiles consist of fibrous material resembling crushed spaghetti, which provides maximum sound absorption, according to Ingrassia. And while mirroring the overall design theme of the restaurant, the space has a slightly more polished look because of additional millwork and wall sconces.
The restaurant can open or completely close the room's doors to suit each group's needs. "We worked hand in hand with the design and architectural team [Barker Nestor Inc.] to give diners the feeling like they're a part of the restaurant, but have the option to have a truly private event," says Chuck Taylor, director of operations for Lombard, Ill.-based Englewood Construction, which handled the interior build-out.
In addition, the private dining room can serve as overflow seating for the main dining room in the event of cancellations or no bookings.
A large, flat-screen HD television and full A/V equipment meet the needs of businesses hosting presentations, or parties looking to catch a game. Even technology and TVs, though, have to be thoughtfully integrated with the overall design. "You don't want it to look like a Best Buy," says Ingrassia, who worked closely with A/V technicians to seamlessly tie in the technology.
RESTAURANT R'EVOLUTION and SEAFOOD R'EVOLUTION
New Orleans and Ridgeland, Miss.
Restaurant R'evolution capitalizes on private dining by offering 6 different rooms, each with its own unique look and feel, which cater to groups of 6 to 40 guests. In the case of no bookings, the rooms can be opened up for general dining service.
Bill Johnson, AIA, of The Johnson Studio in Atlanta, led the historically inspired design conceptualized by chef-owners Rick Tramonto and New Orleans icon John Folse. Melding architectural details of grand homes in the French Quarter with contemporary accents, each room was designed to tell the story of the seven "nations" of Creole cuisine. Custom-made, sliding pocket doors similar to those found in a Creole mansion from the 1700s can close off or open up each room.
"Because we have so many different rooms and the spaces are so flexible, our guests have a lot of choice based on the type of event they want," says Folse.
The Chef's Dining Room, the smallest option, offers seating for six overlooking the restaurant's main kitchen. It features one-way glass so guests can watch the action in the kitchen but the culinary staff can't see into the dining room. Optional audio piped in from the kitchen also adds to the experience.
The restaurant's Wine Room is also popular for small private dining events. Set within R'evolution's custom-built wine cellar, it seats 10 and offers an up-front view of the more than 12,000 different bottles in inventory. Groups can use drop-down, flat-screen televisions for entertainment or presentations, and the room has its own private entrance off Bienville Street.
Still another option, the Courtyard Room, seats between 25 and 60 guests and offers a flexible design with one long, communal table or separate tables. With English-style doors for an indoor-outdoor dining experience and chandeliers flanked by nautical paintings, the room can alternate between a more formal or casual atmosphere.
In the Bienville Suite, which reflects the French influences of Creole cuisine, the restaurant can arrange tables separately with seating for 55 or push them to the side for cocktail receptions. Floor-to-ceiling windows look out onto Bienville Street so guests can catch the action of parades, weddings, festivals and other NOLA liveliness.
The Storyville Parlor, with room for 28-person seated events, features white tablecloths, deep red cushions and chandeliers for a more luxurious dining experience, says Folse. A hand-painted mural tells the story of the different peoples and history of New Orleans cuisine.
The Market Room, with black-and-white marble floors and an exposed small cookline showing a wood-fired oven, charcuterie slicers and salumi cases, depicts the Italian influences in Creole cuisine.
All of the rooms, except for the courtyard, feature full A/V equipment.
Tramonto and Folse's latest project, Seafood R'evolution, will open later this year in Ridgeland, Miss. The restaurant will offer four rooms for private groups located off the main, completely open dining room with exposed kitchen. One room, the Chef's Office, will offer a unique experience: Windows look out onto the main floor, and a table for 14 will be set in the same space where Folse and Tramonto work during the day — computers and all. One of the glass walls looks into the wine cellar, and pocket doors expand the space into another private dining area, the Oyster Room, for overflow.
As at Restaurant R'evolution, each room will have full A/V equipment, flat-screens, computer hookups and Wi-Fi. "Some of our televisions are hooked up to cameras in the kitchen so you can zoom in and watch your fish being cooked or salad prepared," adds Folse.
PAUL MARTIN'S AMERICAN GRILL
Newport Beach, Calif.
The private dining options at Paul Fleming and Brian Bennett's casually upscale chain, with eight units throughout California and Arizona, vary from location to location based on space available and local diner needs. While the growth-oriented group shrank the footprint of its concept in the past couple years, most of the private spaces can still seat up to 90 or 100 people, says Tony Smith, president and partner.
"The private dining options are very diverse," he says. "When we designed our spaces, we wanted them to be flexible to handle groups that wanted fine dining or a more casual luncheon or business meeting, whether that was inside, on the patio or in the lounge area."
Designer Janet Hendricks made each unit's private dining spaces look slightly different. In one location, she worked with the restaurant's exposed brick, pairing brown leather padded tables and warm light fixtures to match the natural earth tones. In another, a long, white marble-topped table sits surrounded by dark wooden walls lined with wine bottles. At the El Segundo, Calif., location, a barn door was incorporated into the design for a homey feel. At the Scottsdale, Ariz., location, a "wine room" seats 10 to 14 amidst wine bottles for a more intimate, formal luncheon or dinner.
Large plasma television screens built into the walls can connect to computers for presentations or to show sports, movies and more. Wi-Fi is also available throughout the restaurants, while sound systems are built specifically for each individual room.
"In the restaurant business you don't necessarily want to be everything for everyone, but private dining is a little different," says Smith. "Ten years ago private dining consisted predominantly of dinners or some type of party or business event, but as food continues to be more of a focus in day-to-day life, the private dining sector has become a lot more diverse."
Paul Martin's might accommodate a baby shower on the patio on the same day it might see 20 executives from a major company use the wine room for a special dinner.
Because it's "always about the food," a mixture of warm lighting and overhead lamps highlights the dishes. Paul Martin's hires a special lighting designer for each restaurant because no private dining space is cookie cutter, Smith says.
BLUE HILL AT STONE BARNS
Pocantico Hills, N.Y.
Blue Hill at Stone Barns takes farm-to-table dining one step further. Located at the Stone Barns Center for Food and Agriculture, a nonprofit farm and education center that supplies the restaurant with some of its vegetables and fruits, pastured pork, chicken and more, Blue Hill at Stone Barns' dining spaces are designed specifically to take in the farm's beautiful landscape.
"The space was designed to try to connect people visually and emotionally with the farm," says Danielle Harrity, director of events for Blue Hill. The restaurant hosts large events in its Hay Loft, a wide-open barn, but groups of up to 14 guests can host dinners, luncheons and cocktail receptions in a smaller dining area that straddles the main dining room and a cobblestone foyer leading to a patio.
Large, floor-to-ceiling windows in this 500-square-foot space overlook a small herb and vegetable garden just outside, as well as the rolling fields and pastures beyond. As Blue Hill at Stone Barns' menus have evolved, so has the use of this space. Now smaller, more intimate parties can join together to enjoy the restaurant's "grazing, pecking, rooting menu," Harrity says, adding that Blue Hill is known for its elaborate, multicourse meals marked by extreme creativity, precision and beautiful presentations.
Limestone floors and architectural details were designed to keep the visual flow from the patio grounds to the neutral-toned private dining room. The minimalist decor — which also includes reclaimed wood and texturized, Venetian plastered walls in beige and other neutral colors — was purposeful. Says Harrity, "Instead of being heavy handed in any way, we wanted to let the farm be the centerpiece with its beautifully colored flowers and herbs and vegetables."
The understated decor and natural light also help put the focus on the food and create a sense of antiquity and authenticity. While windows draw in plenty of light during the day, just a few floor lamps and recessed lighting throughout the arched ceilings provide warm light during the evening. Some lighting was placed throughout the terrace and herb garden to create a "magical and quiet" feel and highlight the farm at night.
Umami Lab Takes Private Dining Casual
Casualization of the restaurant industry is spilling over into the private dining niche as well, with casual and fast-casual operators tapping in. Case in point: Umami Burger, the fast-growing, better-burger chain with 24 locations throughout California, Nevada, New York and Chicago. The chain straddles the full-service and fast-casual segments with servers and swiftly made burgers in a casual setting. It now offers private dining at its newly renovated Umami Broadway location in Los Angeles.
Dubbed Umami Lab, the private dining space there serves items from the regular menu as well as a separate, nonburger menu available only to those booking private events. The space's design helps create a multifunctional and easily manipulated area that can meet each client's request, according to Melissa Summers, event sales manager.
"The room is a large, open space with vaulted ceilings, though it still feels intimate enough for 20 guests," she says. "With industrial elements like reclaimed wood, exposed polished concrete and incandescent lighting, the room captures a modern feel while paying homage to Broadway's theaters of the 1920s."
Umami Lab's furniture can be moved around to accommodate small business luncheons or larger cocktail receptions for up to 125 guests. Large windows bring in natural light during the day and showcase California's beautiful sunsets in the evening. A rotating, floor-to-ceiling display showcases Umami's special wine collection for private events.
Though Umami Lab does not feature specific A/V capabilities, the restaurant has worked with an outside contractor to customize packages for clients with that need. Music and sound volume can be controlled independently from the main dining room.