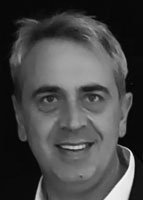 Georgios DrososIt didn't take long for Greek from Greece (GFG) Café-Cuisine to make apparent its intent to become a strong player on the U.S. fast-casual restaurant scene. Founded in late 2016 as Greek from Greece Bakery-Cafe, the company opened its first unit in Hoboken, N.J., in February 2017, bringing Greek coffee and cafe culture to market in a concept built to satisfy American consumers' cravings for authenticity, convenience and quality. By December 2019, GFG had developed several more units across New York City and New Jersey, as well one in Florida at Tampa International Airport. Late last year, the company began franchising and has since ramped up development of both franchised units and corporate stores.
In January 2020, GFG merged with and rebranded Fournos Theofilos, a New York-based competitor with two units in Manhattan. In February, the company changed its name to Greek from Greece Café-Cuisine and added significantly more fuel to its expansion fire, purchasing a chain of Dairy Barn drive-thru convenience stores. That acquisition netted GFG 30 units on Long Island and one in Stamford, Ct., for conversion.
Leading the brand's charge is founder and CEO Georgios Drosos. An experienced franchisee originally from Epirus, Greece, his portfolio includes more than 100 franchise locations with concepts spanning bakeries, cafes, frozen yogurt shops and furniture stores in Greece, the U.S., France, Austria, Romania and Russia. He's an enthusiastic ambassador for Greek cuisine and everything he feels it represents — balance, flavor, authenticity, versatility and a focus on natural food products.
Despite the challenges presented by COVID-19, Drosos says GFG is in a dynamic and exciting stage of development, and he's confident the brand will meet or exceed its aggressive expansion targets. He shares some insights on what's happening with the brand and why he's so optimistic about its future in the fast-casual space.
You had a lot of momentum built up in early 2020, prior to COVID-19 hitting. What has the impact been on your development and expansion plans?
GD: Obviously, our operations have been impacted. Catering sales dried up, and like everyone else, we had to shift to takeout and delivery only. But on the development side, by later this summer, we'll have our first franchised store open, in the Philadelphia suburb of Kennett Square, and a joint venture store open in Rye, N.Y. We also have a lease signed for a store in Weehawken, N.J., right on the waterfront, and we're working on a deal, which we'll be able to announce soon, for a second Tampa location.
We're also working on converting the 31 recently purchased Dairy Barn facilities to corporate GFG stores, and we're in the process of building a new logistics facility with a large commissary kitchen in Rutherford, N.J. So, while some things had to be put on hold when COVID-19 hit, there's still a lot going on, and we have very exciting development news that we expect to be able to announce in the next 60 days or so.
The Dairy Barn purchase is a big step for the company. As a former c-store brand, why was that a good fit for GFG?
GD: Those units were within our target market, they let us scale up rapidly, and we can remodel and convert them to the GFG brand fairly quickly and economically. But what's really exciting is that those locations have drive-thrus. So that's where we're going to introduce the drive-thru component to our model, which we think will be very successful.
To date, our model has been more heavily focused on eat-in. Our sales pre-COVID-19 were around 70/30 eat-in to takeout and delivery. Now, of course, we're 100% takeout and delivery — at least until we're able to open our dining rooms back up. But we believe the timing of the Dairy Barn purchase could be perfect because a lot of consumers are now switching to the drive-thru model as their preferred method of shopping and using restaurants.
How would you describe your prototype, and has it evolved in any significant ways beyond incorporating drive-thrus as you've geared up for rapid expansion?
GD: Overall, our spaces are designed to be light and airy. The furniture is minimalistic but comfortable. I'd describe it as luxury and distinctive for a fast casual. Given our focus on dine-in and our breakfast through late afternoon operating model (most units right now are open from 7 a.m. to 3 p.m.), our restaurants are a little bit larger, averaging 1,500 square feet. They're beautifully designed spaces that suit the needs of the consumer any time of day — breakfast, coffee and a pastry midmorning, lunch, and afternoon coffee and snacks. Because our stores are big and spacious, we're hoping that as dining rooms start opening up again, we'll be a comfortable destination for guests who do want to come inside and relax.
We have also designed our stores with careful attention to the flow of consumers in the front and the flow of employees in the back. And we've built in flexibility, so queuing lines can be easily adapted and modified when needed for crowd control, which will also be important as we open back up.
Probably the biggest change we've made to the design as we've grown has been geared toward building stronger corporate lunch sales. Last February, we added a salad bar and a hot food counter that, prior to COVID-19, had been very successful. We were able to incorporate those offerings into our takeout and delivery service during the pandemic and feel confident that we'll be able to adapt and continue with them post-COVID-19 as well.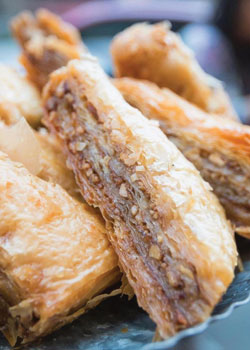 Which aspects of authentic Greek cuisine have customers embraced the most? What are some of your best sellers?
GD: Definitely the spanakopita, which is the traditional Greek spinach and phyllo pie. That's our No. 1 seller overall. Due to the virus, we started selling it, as well as other savory phyllo pie variations and homestyle Greek meals like pastitsio, vegetarian moussaka and lemon chicken in family-style portions, which have been very popular. For dessert, our top seller is baklava, and among a selection of imported specialty products that we sell in the stores, the extra virgin olive oil routinely sells out.
We fly in all of our key ingredients and products directly from Greece, and our commissary kitchen model helps to ensure ease of operations and product consistency. The quality of our products remains seamless, even if it's made in the commissary and purchased in the stores.
Another portion of our menu that has really gained ground is our coffee program. In the beginning, we'd sometimes see customers come in for our food carrying with them a coffee from someplace else. That doesn't happen anymore. Guests are buying our coffee, and that part of our menu is contributing strongly to sales. We've also introduced some iced Greek-style coffee drinks, such as the Freddo cappuccino, Freddo espresso and frappe, that are becoming very popular.
With franchising now in place, where do you see GFG headed next in terms of geography and target markets?
GD: We are going for national expansion, looking for locations in densely populated areas with both residential and business customers. Every location is being scouted on a case-by-case basis. We have decided that we're not going to exclude any real estate model or any particular demographic unless and until they've been proven to not be effective for our concept. So, you'll see Greek from Greece in the bottom of skyscrapers in New York City, in suburban shopping centers or malls, and in airports and other nontraditional locations as well.
While we do have one store now in Tampa, and another one opening soon in a mall there, we expect most of our expansion to take place initially in the Northeast, moving outward from our existing markets. But that being said, we're exploring every single opportunity, and our phones are ringing with people who are interested in growing with our brand.
Why do you think GFG is resonating as an emerging brand right now, even in the midst of a pandemic?
GF: We offer consumers a different fast-casual experience, both in terms of our menu and our store experience. And our focus on authenticity and product integrity is appealing. People are turning to more healthful fare, and the Mediterranean diet is increasingly popular, so we're very well-placed in that regard.
On the business side, we have all of the infrastructure in place to be able to grow quickly, but we're still small enough to be nimble and adapt to changes or shortfalls very, very quickly. We also did use time during the pandemic, when operations slowed, to enhance and improve our back-end IT and POS systems. We worry about a second wave with the pandemic and what the implications on business might be, but we're optimistic that our franchise development efforts will be successful — maybe especially so now. That's because we've found that if you're part of a team, you're better off than being out there alone. I think a lot of operators have realized that during these times. It's good to have the feeling that you can pick up the phone and find someone on the end of the line that will give support and try to help. The value of the franchise really comes out in times like these.