Soon after its opening in 2009, the Roof on the Wit became a sensation in Chicago. "Lines went around the block," says Jackie Koo, principal, Koo Architecture. "People were selling room keys to people who wanted to get on the roof." The Roof on the Wit was the Windy City's first rooftop restaurant and it launched a lofty construction spree. "Now every hotel has to have a rooftop space," Koo says.
The rooftop bar and dining trend is a coast-to-coast phenomenon. The appeal of ascending to the top of a tall structure with panoramic views of an urban space has always been stirring. In the past, however, if a skyscraper had a bar or restaurant, it was in a fully enclosed space. Today, open-air (or partially open-air) establishments capping a high-rise have caught on. Some combine indoor and outdoor areas to remain open year-round in any climate.
Along with the usual challenges of designing an eatery or bar, rooftops comes with singular trials. Issues including coping with higher winds, weight limitations, transporting patrons up to and down from the rooftop in an orderly fashion, allocating optimal space for pedestrian flow, and shielding people from rain and hot sun require clever solutions. Done well, a design makes the space a pleasant retreat from the street-level fray or a vibrant hot spot with unique views. But, substandard aesthetics or uncomfortable conditions can diminish the experience.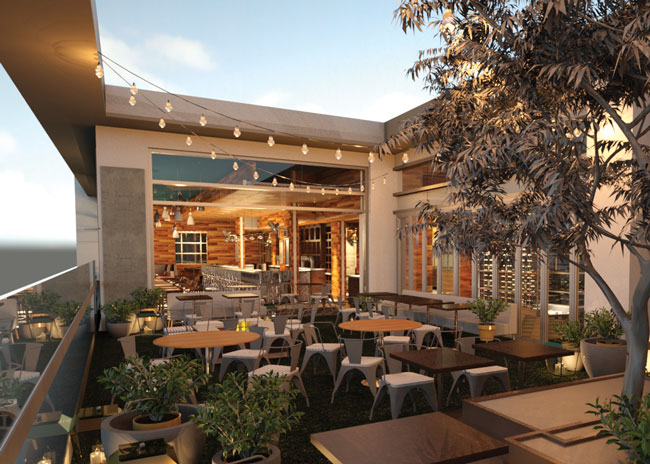 The glass raixl at Orion's Roof was specified at 7 feet tall instead of 4 feet as prescribed by code for added wind protection and safety. Images courtesy of Stonehill Taylor
Bearing the Load
Assessing whether a rooftop venue is viable begins with finding out whether the space can handle the added weight of walls, furniture, kitchen appliances and people. In modern high-rise construction, this is typically not an issue. "There's not a whole lot of difference when designing a restaurant on a roof than it would be to add another hotel floor," says Michael Linker, associate principal for architecture firm Cooper Carry. Taller buildings are made with larger columns that provide plenty of support for a fully decked-out eatery.
The calculus is different with older buildings, though. A rooftop on an existing building that already has a certificate of occupancy is good to go; otherwise, a structural engineering study will be necessary. "The engineer's work will be made much easier if the original structural drawings are available," says Neill Parker, principal, Stonehill Taylor. "It may be necessary to engineer some reinforcement to the structure."
The Navy Pier Hotel, currently under construction on the historic Navy Pier that juts into Lake Michigan, carries concern about how much weight it can bear. "Because we don't have data on the 100-year-old wooden piles that support the building, our approach was to have a net zero structural load," Koo says. "Whatever structural weight that was added for construction of the building, we had to remove an equivalent amount from the existing building that we built on top of." Her strategy for reducing structural weight for Offshore, the rooftop restaurant at Navy Pier, included replacing large areas of concrete roof-topping slab with more lightweight pavers. In addition, ETFE, a lightweight air-filled polymer material, was used for overhead and side roof panels on the restaurant.
Space Analysis
Safety codes for rooftop establishments impact the amount of space available and the layout of the floor plan. "All public buildings have at least two stairs going to the roof, and there has to be a clear path through rooms, doors, tables and chairs to reach the stairs within a certain minimum distance," Parker notes. "And there needs to be an alternate path in a different direction available in case the first one is blocked."
According to safety codes, the capacity of stairways limits the amount of people — guests and employees — that can be in the space at any one time. Each stairway has a limit on how many people can enter it from every floor. That number influences total allowable roof capacity. In addition, walls, bars, counters and furniture must be carefully laid out to enable speedy evacuation in the event of an emergency.
Wide corridors between tables and other elements such as hostess tables and bars are a must. At Orion's Roof, the rooftop venue at Marriott Virginia Beach Oceanfront in Virginia Beach, Va., J.C. Schaub, owner, 5th Edition Design, allocated between 8 feet and 10 feet for an egress pathway the length of the space to the exit stairways. The host station was positioned to be visible from the elevator, but farther away than where most restaurants place it in relation to the front door. "We had to have a lot of floor space so as to not create a bottleneck near the elevator," Schaub says.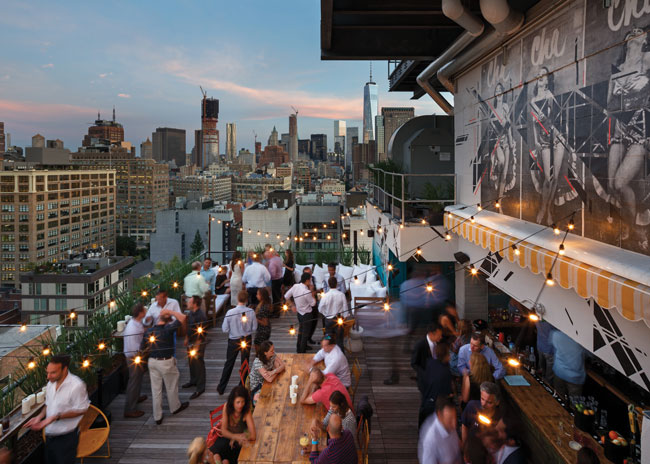 Azul on the Roof at Hotel Hugo in New York City evokes a Cuban cantina vibe inspired by old Havana.
Access and Security
Rooftop establishments in a hotel or mixed-use structure typically cater to customers from both inside and outside of the building. The goal is to get them to and from the venue efficiently while maintaining appropriate security protocols so that restaurant-goers don't wander the hallways of the floors below.
"It is usually best to dedicate a separate elevator to the roof," Parker says. "Sometimes a service elevator or a hotel guest passenger elevator can be made to do double-duty, being used for rooftop access in the evening only when the other uses are past their peak." Key cards, fobs, or some other technology can ensure secure access to the hotel or residential space.
Beware the Wind
The force of the wind can be far more powerful atop a tall building than on the ground. A wind study determines the potential force of uplift from gusts. This informs the methods of anchoring elements for features including overhangs, safety rails and enclosures.
Designers often create wind breaks, typically composed of glass, to protect patrons. These glass rail structures that can range from five feet to seven feet tall on a high-rise also act as safety barriers. Absent wind screens, gusts would knock over drinks, send napkins flying and make a chilly day feel colder.
Furniture and umbrella stands must be made of a heavy material such as cast iron to ensure that they don't become flying objects. During high-wind periods items such as sun shades and movable fabric awnings should be folded up or retracted. At Navy Pier, umbrellas used for shade are hurricane-rated, but they still must be closed when it gets gusty, Koo says.
Safety First
To ensure safety, designers sometimes recommend exceeding code requirements on rails. For example, couches with high backs were placed along the outside edge at Orion's Roof. "Kids will climb against anything," Schaub observes. So, instead of installing a 4-foot-tall glass rail as prescribed by code, he specified a 7-foot-tall glass rail for added peace of mind. Those afraid of heights may also appreciate the higher barriers, he notes.
Sometimes you have to consider possible safety impacts to the surrounding environment. A boisterous bar is more likely than a fine-dining space to have people lose inhibitions and behave inappropriately. On a rooftop project in Baltimore, a netting assembly was added below the exterior side of a safety rail, Schaub says. "It wasn't pretty, but was put in place to mitigate the consequences if some knuckleheads throw beer bottles or plates," he says.
With two entrances, one on street level and one on the roof, access control is a must. "If the place is going to be as popular as you want it to be, you have to control the number of people getting in and out," Koo says. This may require posting a greeter near the elevator at ground level to admit patrons.
Noise Mitigation
If the establishment will have live or recorded music, noise ordinances come into play. Open-air spaces easily transmit sounds to the neighborhood. If entertainment is in your plans, you are probably going to need an enclosed space to muffle the sound and may have to turn down the volume after a certain time. Even without music, a packed house during late-night hours may disturb neighbors just from the sound of people talking.
Noise mitigation will likely include some type of sound-absorbing floor underlayment to prevent disturbing guests and residents below. Low frequency (bass) sounds are particularly challenging to muffle and will disturb hotel guests trying to sleep without acoustic dampening.
At Offshore, Chicago's Navy Pier Hotel venue named by Guinness World Records as the world's largest rooftop restaurant, a large Y-shaped planter divides space that would otherwise look sprawling and monotonous.
Delineating Spaces
While there are innumerable ways to dress out a rooftop venue, many designers break up floor space into multiple vignettes. This was especially critical for Offshore at Navy Pier, which was certified by Guinness World Records as the largest rooftop restaurant in the world. Koo had a 50,000-square-foot canvas to fill. "I didn't want a sea of concrete and tables," she says. "We created special furniture that gave the space some height and helps to provide some intimacy even when you have 800 people." One notable feature — a large Y-shaped planter that emulates the convergence of two branches of the Chicago River — stands out and provides a kind of landmark that divides space.
Koo cleverly separated part of a wraparound bar with a partition that slotted into the bar. This marks the edge of a function space and allows bartenders to freely move behind the entire length of the bar to easily serve guests in the event space along with everyday clientele in the adjacent area.
Using different flooring material, wall coverings and design elements like living walls or overhead structures such as awnings and trellises can also work well to delineate space. An obvious way to divide space is to enclose a portion of the establishment while leaving another section open to the elements. Retractable glass doors are a popular and practical option to separate inside from out. They provide a clear view for staff and customers and wide access between the two spaces. A combination of natural plants outdoors with artificial plants indoors can bridge the gap in an aesthetic sense.
Durable Flooring, Materials
Durability is critical for any material exposed to sun and rain. "The things you are specifying have to be able to stand up to the beating they are going to take," Koo says. Fade-resistant fabric and vinyl classified as "marine grade" is preferred.
Flooring materials including ceramic and faux stone will stand up well to any weather. Flooring has to be secured to withstand strong winds, though. A common floor arrangement is to install pedestal pavers that clip into a grid system. This approach allows water to flow in between tiles and to seep into the drainage system below. "This also allows tiles to be hosed off," Koo says.
Back-of-the-House Strategies
Planning for the kitchen area begins with an assessment of whether another kitchen on a lower level of the building can do the bulk of the cooking for the rooftop space. Does the existing kitchen have the capacity to handle orders from a lower-level restaurant and your rooftop concept? Can a service elevator ferry prepared food up to the rooftop rapidly enough at peak times?
If the answer to those two questions is "yes," then a small finishing kitchen on the rooftop could be adequate. If not, you are going to need a full-service kitchen. When the rooftop venue is being designed to cap a new building, it provides the opportunity to create customized features including a depression in the slab to accommodate a walk-in refrigerator, and may make it easier to select where utility infrastructure can be placed. Planning early in the design phase for these measures provides for the most flexibility.
A lower-level kitchen could provide cold and dry storage and prep service. Many rooftop eateries, even those operating independently, make do with smaller manager's and chef's offices. Space can be tight up high, so designs often have to adjust to reduced square footage. "Sometimes we have to get creative such as constructing a long, narrow kitchen," Schaub says.
In many ways, designing and constructing a rooftop restaurant is no different from any other eatery. The look and feel of an enclosed rooftop space can be much the same as one at ground level. But you must address the important differences — sheltering from the elements, access control, durability and more.
Construction challenges might include using tall cranes to raise materials and position a walk-in refrigerator, or in the case of Offshore at Navy Pier, a helicopter to deliver a roof assembly. These measures add complexity and cost, but the payoff of unbeatable vistas may drive the venue to the height of popularity and make the venture well worth it.