Restaurants are pivoting to offer pickup, delivery and drive-thru during the COVID-19 pandemic.
Never before has such widespread upheaval hit the restaurant industry. Dining rooms are closed and many restaurants have shut their doors, not sure when — or even if — they'll reopen.
But others have been able to adapt and have switched to other modes of feeding their fans. It started with fine-dining restaurant Canlis, in Seattle, which started offering pickup, delivery and drive-thru. Others are doing the same, adding new services or beefing up what they already offer.
Teriyaki Madness
Denver
Sales are down across the restaurant industry, but Teriyaki Madness isn't faring too badly. Across the 69-unit chain, sales are down 36%. For pickup, two units have started testing an integrated software platform for ordering and delivery. The software alerts the shop when customers place a curbside order, when customers are en route and when they arrive. At that point, an employee runs outside with the prepaid order.
One of these two stores is in downtown Denver, where there's no parking. Since orders are prepaid and traffic is light at the moment, cars only stop for about 30 seconds and don't interrupt traffic, says Jodi Boyce, executive vice president of marketing for the Denver-based chain. When customers order they receive a text immediately, telling them to pull up to the red cone at the curb, where they can wait. So far, there's not been more than one car waiting. "It's been a steady flow," Boyce says, "but it will be challenging when we get back to a regular downtown." This system also works well for third-party deliveries, and staff can take orders out to them, too, she notes.
The second store testing this is in Denver suburb Wheatridge, which has a big open parking lot and a parking spot in front of the restaurant, so it's a little easier, Boyce says. This is like most Teriyaki Madness locations.
The Asian fast-casual restaurant company is also testing curbside pickup at most of its locations. Customers can enter their car make, model and color, "so we can be looking out of the window to see if it pulls up," Boyce says. "I don't see this going away once COVID-19 goes away."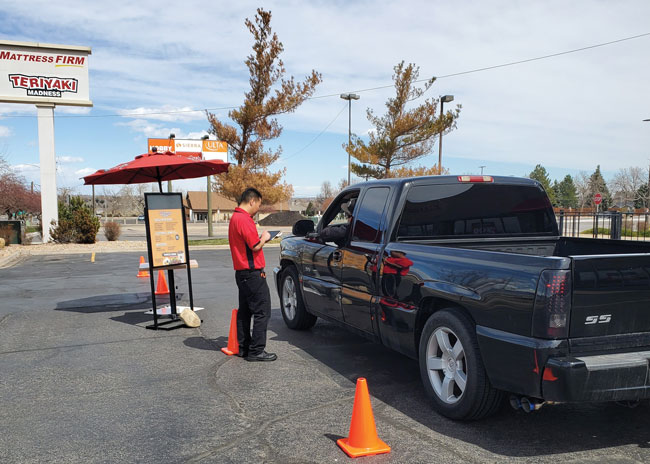 Image courtesy of Teriyaki Madness
Two of the chain's locations were built as drive-thrus but used the space as pickup windows. Now they are being used as originally planned. Teriyaki Madness is also testing an abbreviated menu.
The chain needed to make upgrades to get this off the ground: a speaker system, since previously customers ordered and paid ahead; a menu board; and an alert system to let employees inside know customers were outside.
The company ordered the speaker system and the alert system through Amazon, "so we could get this done quickly and fix it up later," Boyce says, and a San Diego franchisee knew someone who installs menus, so he executed it quickly. They're not backlit, Boyce says, but have lights shining onto them and they're in a frame. Sales in these two stores are doing well, all things considered. In Elko, Nev., the store is down 20% and in San Diego, the unit is down just 8%.
Teriyaki Madness is also adding drive-thrus in parking lots where shops don't have traditional drive-thru components. These stores use a cloud-based POS and employees take iPads outside to take customers' orders from a safe distance, returning a few minutes later with the order.
Cahawba House
Montgomery, Ala.
Cahawba House has cleared out its dining room and transformed into a bodega.
This breakfast-and-lunch restaurant used to serve mostly tourists staying downtown but with the travel industry at a standstill, the owners have reimagined their business to provide for the community. Now the location is serving lunch and dinner — and groceries.
"Everything happened really fast," says Tara Essary, one of the owners. "Within a week, all of our catering was canceled and once they talked about closing down the restaurant, we had to go into to-go mode."
Sales dropped by almost 80% in a week, the restaurant lost more than $10,000 in catering business and Essary had to let most staff go. So, she took out the chairs and most tables, both to make space and to discourage any pickup customers from lingering.
"Then we had the idea of turning the space into a market," Essary says. "We'd seen all the empty shelves in the grocery store and fear and panic on the faces of our community. That really got to my heart, so I called our distributors to see if I could get the things to create a little market."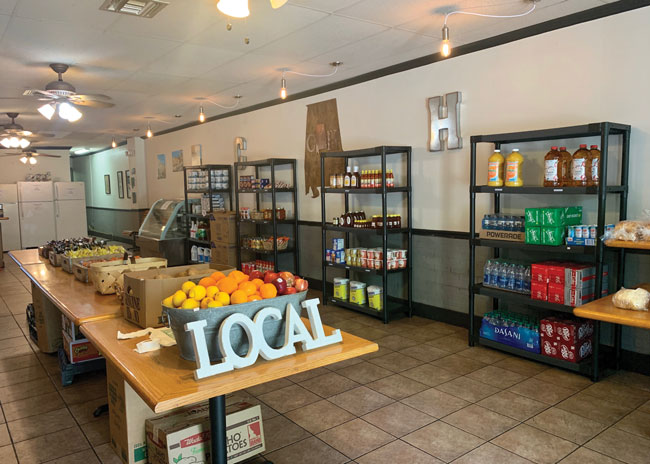 Image courtesy of Cahawba House
She brought in shelving from her father's seasonal business and converted the restaurant to the Bama Bona Fide Bodega. It sells groceries, farm produce and cleaning supplies. The latter are the most popular, she says. "They're flying off the shelf along with bread and milk — the essentials."
When the novel coronavirus struck the U.S., the Essarys were in the process of opening a new bar across the street. That now houses most of their tables and chairs; they've retained a few tables to display bodega items. And the family rents out several B&Bs nearby, which there's no longer any demand for, so they took out the refrigerator-freezers and placed them near the back entrance of the restaurant to hold the bodega's produce. One refrigerator has a glass door, which is useful for walk-in customers who may see things they'd like to purchase, Essary says.
Cahawba House has also added a casserole option for take-out, which is very popular, Essary says. The casseroles are available refrigerated or frozen and customers can buy them by calling ahead or ordering online. Customers pull up in front where the Essarys have blocked off three yards for curbside pickup and a restaurant employee takes out their order.
Customers can also walk in. It's a small restaurant so Essary can remind them verbally to stay 6 feet apart. But as a reminder, she's also taped the floor to mark 6 feet, though she has to reapply that every morning since it comes off during the nightly cleaning. And, she adds "some people don't even see the floor markers."
Most orders contain both prepared and bodega items, Essary says. And she encourages people to pay in advance to ensure social distancing. If they don't, she says, "We punch in their credit card number and ask if it's OK to sign their name and charge the card that way."
To switch to this new method of business, Essary and her brother Tim Essary have re-written their business plan to include "how we're going to survive this, and how we'll keep our staff and community safe," she says.
H2O Grill at the Hilton Pensacola Beach,
Pensacola, Fla.
High-end meats are available in Pensacola, Fla., during the coronavirus pandemic, thanks to H2O Grill restaurant at the Hilton Pensacola Beach. The restaurant has transformed its lobby Starbucks into a butler's pantry and butcher's shop.
Here it sells 1855 Black Angus, Wagyu, bone-in pork chops and bone-in veal chops — "specialty cuts you won't get in any supermarket and none of the other restaurants in town," says Omar Torres, director of food and beverage and head chef.
"I saw people posting online that they miss restaurants, so we wanted to bring fine dining to their homes." First, he advertised his Wagyu (which was Asian though he's since switched to American suppliers to support American farmers) on Facebook and on a new page created by the local Chamber of Commerce. He offered 14- to 15-oz. steaks for $45 "which is pretty much giving it away," he says. "Everybody started contacting me and people started going crazy for it, and I sold that out in 40 minutes."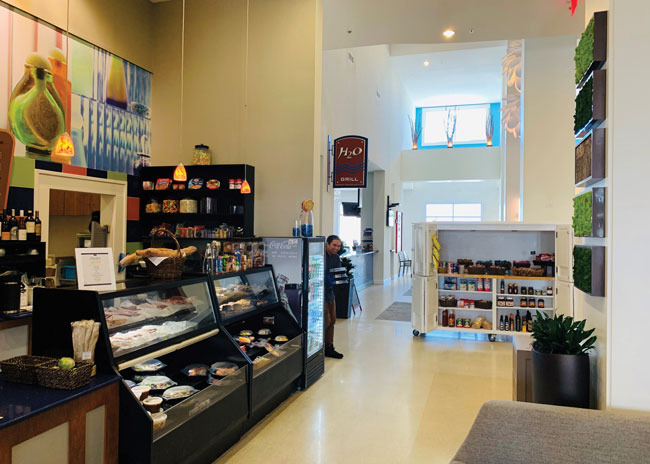 Images courtesy of Hilton Pensacola Beach
So now, the meat is sold from the Starbucks, and Torres has created a video and shared it online to help customers cook it. He's also expanded into selling it cooked, with recommended styles being sous-vide, pan seared, grilled or braised.
Most customers opt to cook the meat themselves. Torres is also featuring a variety of sides such as parsnip puree and fried collard greens, and potato dishes, so customers can buy those along with their meat, as well as sauces such as a demi. He's also making sushi, which is popular as a to-go appetizer, he points out. To round out the offerings are a few other dishes such as a seafood bake that can be easily heated at home in a pot or microwave.
The lobby Starbucks is still operating though business is light, Torres says. All the coolers have been cleared out and now feature his meats and side dishes. A cabinet (which used to be poolside) displays some items like extra virgin olive oil "that customers can't get anywhere else," Torres says.
Customers can come into the lobby or he'll take prepaid orders out to them — customers call once they arrive. Since the lobby is large — and these days, empty — there's no problem with social distancing.