Keiko Ono Aoki, CEO of the Benihana of Tokyo chain, and Japanese Iron Chef Yuji Wakiya have partnered to launch KOA, a new "haute modern Chinese" noodle restaurant concept.
Opened in New York City's Flatiron District in late September, KOA is a casually upscale restaurant with a large, central bar and 22-foot solid wood communal dining table as key design features. It occupies 6,000 square feet of space on the first and second floors of a commercial building, with total capacity of 125.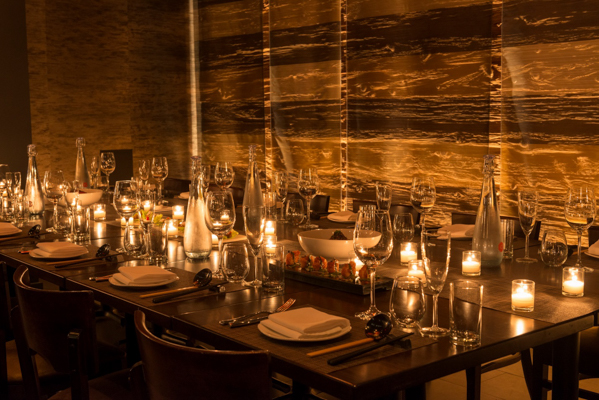 KOA Interior
Designed with a sleek, modern aesthetic, KOA has multiple seating styles to suit a variety of dining occasions. In addition to the bar and communal table in the center, the main dining room features freestanding tables and a chef's counter near the front, and booths and loung-style seating toward the rear of the restaurant. A semi-private dining space sits behind copper metal curtains and accommodates up to 18 guests for seated meals or 40 for cocktail service.
The menu offers a wide array of modern Chinese and Japanese dishes, but its signature attracton is fresh Sorba noodles served in large bowls with handcrafted soy milk and a variety of creative toppings.