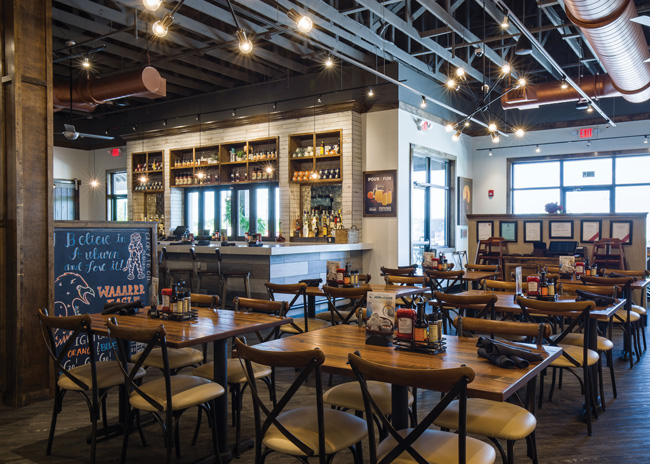 The main dining section features hardwood tables and upholstered seats. Images courtesy of Another Broken EggWith a cultural shift toward brunch and morning cocktails, this breakfast chain has redesigned to emphasize its bar and its Southern roots.
On the surface, the story of
Another Broken Egg Cafe's
redesign could apply to dozens of other concepts. A breakfast/lunch concept with about 70 locations, the company's customer base was starting to age out. In response, the chain decided to update its look to appeal more to younger diners.
Look a little deeper, though, and you'll find something more. Yes, the chain redesigned with the coveted Millennials in mind, but Another Broken Egg is also responding to a cultural shift in when and how people eat breakfast food.
"Customers themselves have really changed," says Clay Carson, the chain's vice president of Franchise Sales and Real Estate. "When I was growing up and first got married, brunch was something that was offered occasionally at hotels or for Mother's Day or something similar. It was really a special occasion offering. About 15 years ago, it gained traction. Brunch really became kind of a thing. My daughter in college goes every Saturday or Sunday, and sometimes both. It's just part of their culture."
The hunger for brunch also brings with it customers who want to quench their thirst with more than coffee and juice — with bloody marys and mimosas. To satisfy these guests, Another Broken Egg has enhanced its bar program in recent years, adding a variety of specialty drinks, including spiked cold brews and several variations on the bloody and mimosa.
"Our bar sales over the last three years have doubled. As a breakfast brunch place, system-wide we are over 10% for gross sales in alcohol, which is crazy," says Carson.
Seeing an opportunity, Another Broken Egg has developed a new prototype that places the bar front and center, figuratively and often literally. By enhancing its bar space to match its cocktail program, as well as creating a more fun, energetic space overall, the chain now offers a more compelling experience during brunch and all its other dayparts.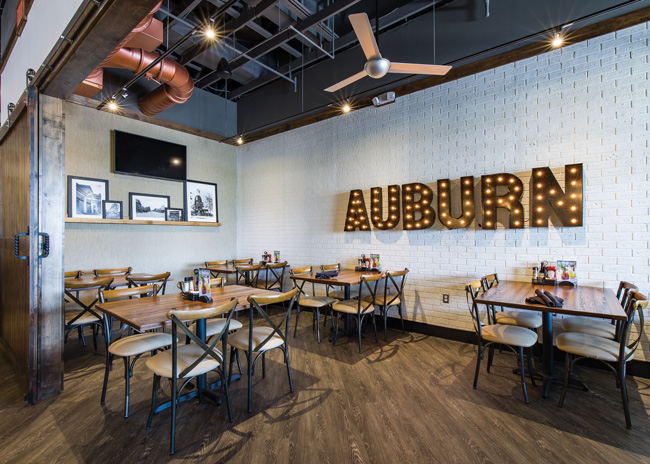 A private dining room can be used for parties, corporate events or even in-house training. Sliding doors open it up to the main dining area when the space is not reserved.
Goodbye to Grandma
Designing for a modern, Millennial-friendly breakfast/brunch/lunch place is about more than an upgraded bar area and signature cocktail program. For Another Broken Egg, it required a full-on redesign of the entire restaurant.
The chain's previous look was affectionately known within the company as Grandma's House. The feel was residential, with ornately framed mirrors on the walls and even a large mural of a country kitchen on one wall. "There were a lot of fabrics and nice, warm earth tone colors. It truly was what you would see in your grandma's kitchen. It was very, very comfortable, and it worked for a long time," says Carson.
That aesthetic, though, didn't necessarily match what a younger crowd — or a crowd up for a few drinks with their pancakes — was after.
In addition to the design having aged out, the Grandma's House floor plan was also dated, with more compartmentalized zones. This not only made service more difficult, but it also wasn't keeping with the current consumer preference for open, energy-filled spaces.
It wasn't hard for the team at Another Broken Egg to identify these shortcomings, says Carson. The company had several long-term employees who had been bouncing around redesign ideas for years. When the decision was made to go forward with the project, the company was able to hit the ground running.
"The whole idea of changing the look and going to more of a modern, open look had been on the drawing board for a while," says Carson. "It wasn't like we sat down one day and decided to completely redesign."
Members of the corporate team visited company-owned restaurants to talk to employees and guests about the brand, the space, what they're looking for from a breakfast/brunch restaurant and more. From there, the chain developed and honed its design concept in partnership with architecture firm Barker/Nestor and interior design firm Ingrassia Design. The end result was the New South design, which rolled out this summer.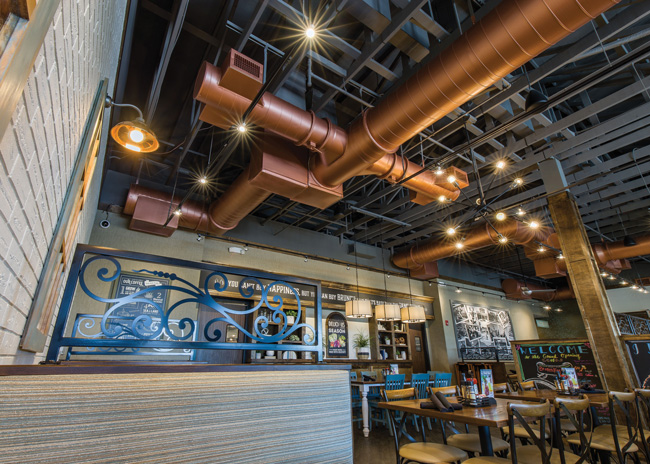 The chain used an open ceiling and brass-colored ductwork to add visual interest. Image courtesy of Matthew Pendry, Pendry Photo
New South
Taking its design cues from the Southern U.S. is no stretch for Another Broken Egg. The chain was founded in Mandeville, La., in 1996 and is now headquartered in Orlando, Fla. The bulk of its 70 restaurants are located in the Southeastern U.S.
Not only is the company geographically Southern, its menu is also Southern inspired. Alongside a.m. staples like eggs Benedict and buttermilk pancakes are offerings like shrimp and grits, fried chicken and waffles, and a Louisiana Crawfish Skillet.
The chain describes the New South design as a "light, bright, modern design that honors the brand's Southern-inspired heritage." More specifically, says Carson, it takes its design inspiration from the warehouses-turned-restaurants that are so popular in New Orleans.
"They all have the old Chicago brick walls and the open wooden beams and things of that nature. We wanted a lot of that same feel," says Carson. "We really wanted more of an open, shared dining experience."
Upon entering a New South location, guests go to the restaurant's host stand, a cabinet-style piece with a reclaimed feel. It's painted a light blue, "a very comfortable, lived-in color," says Ron Stuart, the chain's director of Design and Construction.
If no seats are immediately available, customers now have a waiting area with soft bench seating and a stylized, localized logo painted on the white brick wall — one of many localized art elements in the new design. This space not only makes the wait for a table more pleasant, but it also provides the restaurant with an opportunity to improve sales, Carson notes.
"When we are busy on Saturday and Sunday, it is not uncommon to have two-hour-plus waits," says Carson. With this new waiting area, "we can get bloody marys and mimosas in their hands, along with some light bites and things of that nature."
When space is available, Another Broken Egg guests have their choice of a few different sections. The featured area of the restaurant, as mentioned, is the bar. The location of this space can shift from store to store depending on layout but will always be given a prominent spot in the restaurant.
The bar was also significantly expanded in the redesign, with around 16 seats at the bar itself, along with additional high-top banquette seating in the bar area. In fact, the New South design increased the restaurant's seat count from roughly 80- to 140-seats to 120-to-160 seats, with a big chunk of the additional seats located in the bar area.
The bar itself is made with durability and appearance in mind. The bar face is clad in tile designed to look like reclaimed wood, while the bar top is a marble-style solid surface material.
The backbar is framed with a second type of reclaimed wood-look tile. Items like coffee cups and jars of hot sauce sit on wooden shelves overhead, while to the side are liquor displays on tiered shelves backed by mirrored tiles. The heart of the backbar, though, is a set of folding windows that provide access to the patio.
Like the bar, the patio has a set of barstools that pull up to the window, with an outdoor bar top made of the same solid surface material that's used for the interior bar. This, notes Stuart, is just one of several elements that connect the exterior with the interior design. Others include the reclaimed wood-style tile that frames the window (matching their interior back bar frame) and the blue chair frames, which recall the blue host stand and other blue elements found inside.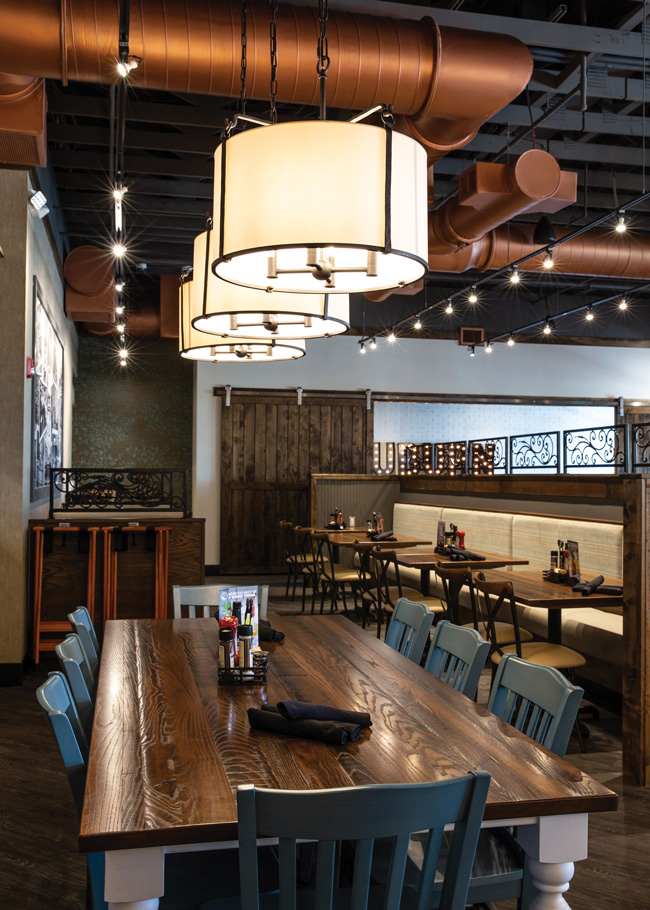 Another Broken Egg's community table is its most residential seating option. Located near the kitchen, it turns an otherwise undesirable spot into a prime location.If a party doesn't want to sit at the bar or on the patio, they can choose the main dining area. This space includes floating tables and upholstered booths that use two tones of brown fabric, matching the high-top banquette seats in the bar area.
The booths also use ironwork trellises inspired by the architecture of New Orleans to provide additional separation between them. This matches the bar banquette divider. The booths, and in fact all the dining area seating is low top, providing separation between the two zones and the different types of customers who may sit in them.
In addition to the standard booth and floating table seating, the main dining area includes a community table. This space leans into Another Broken Egg's Grandma's House legacy design. The table itself is very residential, with a dark wood top and white legs. The chairs for the community table are painted in a similar blue that blends with the host stand.
There are other elements that make the community table feel special. Overhead are hanging barrel light fixtures, while the nearby back wall has a set of entertainment center-style built-in wooden shelves where curios and branded merchandise are displayed.
Combined, these transform the community table into an sought-after seating section, according to Stuart. "That particular area is usually adjacent to the kitchen," he says. "Instead of saying, 'Oh God, I'm by the kitchen,' [customers think] it's a really nice location to sit."
In locations where the space is available, an additional interior section serves as Another Broken Egg's private dining room. This space is separated from the main dining area by solid-wood sliding barn doors. These can open the private dining room to the main dining area, allowing the space to be used for general seating when not reserved for a private party.
This space includes walls covered in a white brick veneer, along with the name of the community painted in large black letters. One option, based on the franchisee's budget, is an AV system for the space. "Franchisees can do training in this room. They can close it off and show videos in there instead of doing it in an office in the back of the house," says Stuart.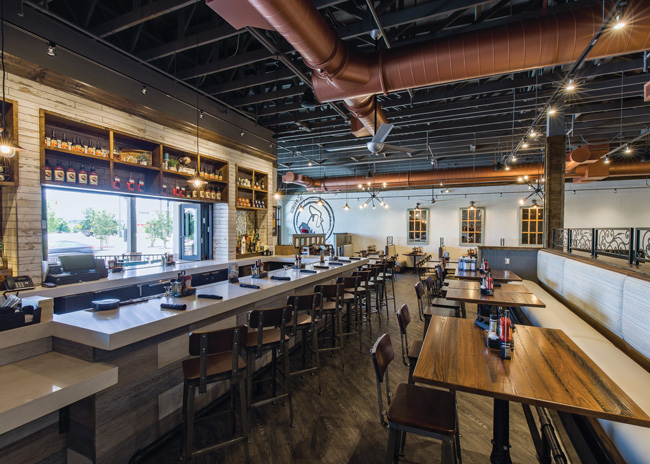 To help drive alcohol sales, Another Broken Egg invested in its bar design, added hightop seats to the area and developed an outdoor patio with direct access to the bar.
Timing an Update
The New South design was introduced in mid-July, so it's too soon for the company to offer a solid assessment of how the new prototype is performing or what tweaks may be needed in future stores, says Carson. Still, the company is confident enough in its new look that it is laying the groundwork to update its legacy restaurants with it.
Another Broken Egg, says Stuart, isn't planning full remodels of its existing restaurants. Instead, it will focus on changing out fixtures, furniture and finishes throughout the restaurants. It will also update and localize its art package, in addition to building shelving for the back bar to match the new look, where feasible.
Notably, this will all be done in small, manageable chunks, says Stuart. "The remodel design work is primarily going to be designed in a way so that contractors can complete the work after hours versus closing down the store for a few weeks," he says. "We absolutely want to minimize any closed-for-remodel days."
While these changes do represent a significant outlay on the part of franchisees, by responding to changing demographics and eating habits, they're a worthy investment for these partners, Carson says.
"Diners change, and customer demographics change over the years," says Carson. "It was really time for us as a brand to change overall as well. There is nothing wrong with that. Our challenge had been during the life cycle of the brand until really last year, it hadn't been as progressive as it should have been. We looked at [the restaurant] and said, 'It is time for a revolutionary change to what we do.'"
Project Team
Project lead: Ron Stuart
Architect: Barker/Nestor Design
Kitchen supplier: Dykes Foodservice Solutions
Interior design: Katherine Ingrassia, Ingrassia Design
Kitchen design: Brock Bodart, Dykes Foodservice Solutions
Snapshot
Headquarters: Orlando, Fla.
Concept owner: The Beekman Group
Concept: Southern-inspired breakfast, brunch and lunch
Segment: Casual dining
Unit count: 70, 32 in the pipeline
Average check: $16
Prototype locations: Sugarland, Texas and Auburn, Ala.
Opened: June 16, 2019
Size: 3,600 square feet
Real estate: Retail center endcap
Design highlights: Open ceilings, emphasized and expanded bar and waiting area, pass-thru window connecting patio with bar
Floor Plan