Every time you open a new restaurant, you're taking a risk. Is the site good for business? Will there be sufficient customers? Will sales be high enough? There are two ways to find out: Open your doors and see what business brings, or run a feasibility study (or two) and look at the hard data.
Larger restaurant chains like to know they have their ducks in a row. The biggest among them run feasibility studies in-house, but midsized concepts typically outsource this task.
"In the food space specifically, competition is huge, and A-plus real estate is very expensive," says Stephen Polanski, senior vice president with Fort Worth, Texas-based Buxton, a customer and predictive analytics firm. "Feasibility studies are how you forecast future performance and consumer behavior to make the best business decision possible. Feasibility studies, market assessments and competitive impact studies are, today, almost a have-to as opposed to a nice-to-have."
And the site you choose dictates everything, says Alex Diaz, senior consultant with The Restaurant Group consulting firm in Miami. "There are a lot of things you can adjust, but you can't control your location or your lease/mortgage, which tends to make up about 10 percent of your revenue. So the most important thing is to find the right location you can afford that can generate the right amount of revenue."
And you need customers, too, says Polanski. "You need the right people living, working or playing in a specific trade area to have success. You've got to find the customer and enough of them."
But each chain's approach to feasibility studies is tailored to their needs.
Gold Star Chili, Inc.
Gold Star Chili, Inc. uses a feasibility study every time it opens a new restaurant for both its Gold Star locations and its Tom & Chee franchises.
"We do a feasibility study before we even start lease negotiations," says Development Director Tom LiCalzi, "even if we're already in that city." This is because every site is unique, he says, so the Cincinnati, Ohio-based company created its own processes.
What's most important, LiCalzi says, is that development costs are never more than 80 percent of the first year's sales. "If you overspend on your development costs — rent or ground lease or construction — it's something you can never overcome."
There is a four-step process for site selection for Gold Star, which has 80 restaurants in Ohio, Kentucky and Indiana, as well as Tom & Chee, which has 13 units across the country. First, it identifies a new city and tries to select its top three sites there. "We can compare three at the same time, so we don't get laser focused on one site," LiCalzi says. "If you don't have sites to compare against, you'll artificially make a site look good or bad."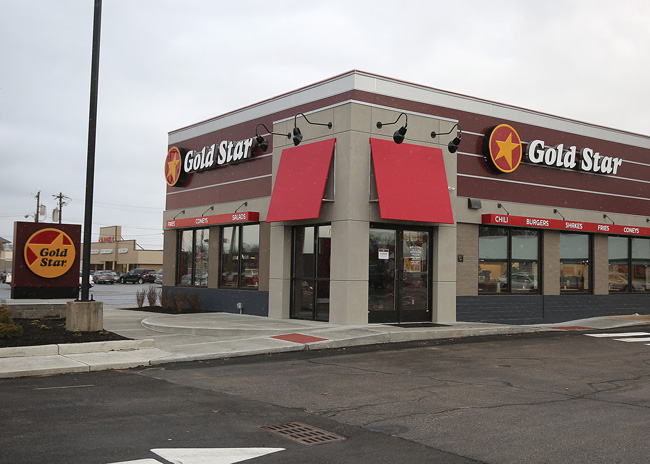 Gold Star Chili, Inc. uses a feasibility study every time it opens a new restaurant. Image courtesy of Gold Star Chili, Inc.
To come up with these sites, Gold Star has developed a scorecard to assess various factors: visibility, ingress/egress, and traffic generators like big box retailers and movie theaters; the nearby population; competitors; and distance to nearby schools. The two most important factors are ingress/egress and visibility. "You have to be seen and be convenient," LiCalzi says.
Next, Gold Star turns to a third-party analytics vendor, which studies the best areas to develop in and projected sales for that neighborhood. As part of this, the vendor uses technology called geo-fencing to track cellphone data on anyone who stays close to a site for five minutes or more. This, says LiCalzi, "gives you a pretty good snapshot of what consumers are doing — driving through or stopping and for how long — which helps us with sales forecasting."
Then, Gold Star turns to software that collects public and private company data. Through this, the restaurant company can see reported sales for restaurants and retail locations nearby. "It's another data point we can reference," LiCalzi explains.
The fourth and final step for Gold Star is bringing in its own development team and an external team of architects and engineers to forecast construction costs for a specific site — but this is down the line. "We've really honed in on a location by the time we're starting to spend some external dollars," LiCalzi says.
The feasibility study, says LiCalzi, is more important than ever "because competition is getting stronger and costs are getting higher, so every dollar has to be spent wisely."
Huddle House
"There is never such thing as too much data," says Christina Chambers, senior vice president of franchise development with Huddle House.
This Atlanta-based chain has more than 400 locations open or in development across the U.S. and uses two types of feasibility studies for every location it develops.
In 2011, Huddle House, which had historically built freestanding locations, started to look seriously at opening locations in truck stops, travel centers, gas stations and similar locations — either alone or with other restaurant tenants. "Then it became more necessary to collect feasibility studies," Chambers says.
This is because with these new locations, business is not coming from a town but from leisure travelers or truckers, she says. She realized early on that at least 100,000 gallons of gas pumped per month was required for a thriving restaurant.
The second most important factor to the success of a gas station Huddle House is the number of potential parking spaces. "That is always going to drive how much business there can be at any one time," Chambers says.
Once it's selected a site, Huddle House works with a market research firm that projects gas, convenience store and potential restaurant sales.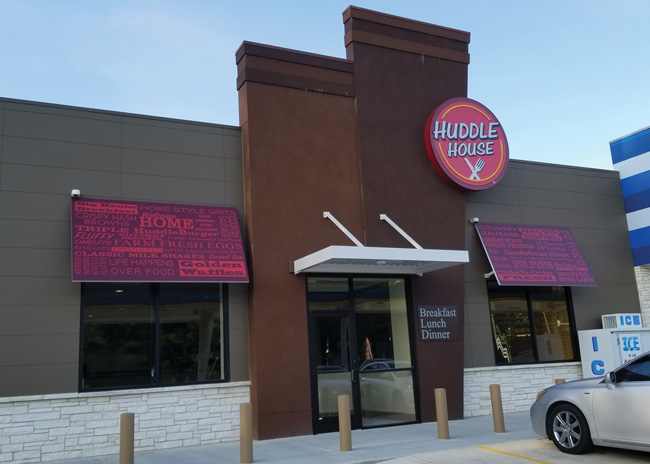 Huddle House uses two types of feasibility studies for every location it develops. Image courtesy of Huddle House
And Huddle House does its own sales projections, too. The chain uses two analytics firms to aid in its analysis. One helps Huddle House create profiles based on current customer data. It also analyzes whether there's sufficient support from nearby residential areas and shows how closely that town matches the population Huddle House attracts. The other firm also looks at nearby competition.
Beyond mapping the density of a residential population that matches its customer profile, Huddle House looks for areas with three or fewer direct competitors in a 10-mile radius; nearby retail drivers with a focus on hardware stores, drug stores and value chains; proximity to high schools, churches, hotels and blue-collar workplace populations. The company uses 30 ranked key model variables to determine a final site score.
"The reports make up about 60 percent of our decision logic," Chambers explains. "The rest has to be boots on the ground," she says, noting that important factors are ingress and egress, visibility, signage allowed by the city, amenities for truckers (such as showers and Wi-Fi), understanding the business owner and his/her community ties, and any nearby commercial or residential development underway that is not captured by the reports.
Both services provide sales projections, Chambers says. One provides general numbers — relevant to any restaurant that would go in there — while the other vendor's projections are specific to Huddle House.
Once Huddle House and the franchisee have gathered the necessary data, Chambers reviews it and puts together a site approval package, which she shares with the CEO and vice president of operations. Together, they look at all reports, sales forecasts, aerials, Google street view, and the real estate director's logic to make a decision.
Buffalo Wings & Rings
Cincinnati-based Buffalo Wings & Rings uses a multipronged approach for site analysis, which includes feasibility studies at its core.
"We say site selection is part art, part science," says Chief Development Officer Philip Schram, and both come into play. However, he adds, for any site, must-haves include high traffic counts, good visibility and a nearby vibrant trade area.
The process starts with franchisees selecting a number of potential sites, then seeking a good restaurant real estate broker with whom they narrow down the long list to five sites. Buffalo Wings & Rings then runs data for each of these sites through software from a third-party vendor, which, says Schram, forecasts sales for the location. It also analyzes whether there's expected cannibalization from any existing stores.
At Buffalo Rings & Wings, site selection is part art and part science but feasibility studies form the core. Image courtesy of Buffalo Rings & Wings
The service also looks at mobile phone data — how are people using the neighborhood, stopping, traveling, etc. And from that, it digs down into individual numbers to find out details on the person owning that phone for data on household income, where the person lives and so forth.
Next, the chief development officer and real estate manager visit the market and sites and listen to input from the real estate broker and from the franchisee since that person is an expert on the market. "They have a lot of insight and intelligence in the location," Schram says.
"We approach this in a very humble manner, and since I don't know the town, I need to listen to the people who live in the town — the franchisee and the broker," says Schram.
Finally, the franchisee officially presents three sites, data and commentary to Buffalo Wings & Rings executives who offer one of three results: approved; approved but … ; or denied.
This whole process takes six months to two years, Schram says.