Christine SpechtSince it was founded in Milwaukee in 1972, Cousins Subs has saturated Wisconsin — from a single restaurant owned by real-life cousins, Bill Specht and Jim Sheppard, to 100 restaurants across the state.
Specht has led a revamp of the company as she's prepared to move the chain beyond Wisconsin. Realizing she had an uphill battle to revitalize the brand, Specht needed to make some tough choices to carry on her father's legacy.
In 2011, she made the difficult decision to close several stores. Since then, Cousins has closed more than 40 underperforming units. Since scaling back to survive and thrive, Cousins has remodeled 36 locations and continues to do more. Here, Specht discusses how she spent several years contracting the business in order to eventually expand as well as the chain's current plans.
When will your first stores open outside Wisconsin, and where will they be?
CS: We expect the first location to open in downtown Chicago in January. That initial opening will be followed by a number of openings in and around the Chicagoland area. We're also actively looking at opportunities with franchisees in other states near our established presence in Wisconsin, such as Minnesota, Iowa, Michigan and Indiana, as we strategically branch outward from our base.
You have remodeled 36 locations. Are the changes aesthetic or operational?
CS: It's a little bit of both. Most of the changes have focused on the aesthetics for the interior and exterior of our restaurants, but each has also had an operational component. The intent is to streamline the look and feel of all locations to effectively communicate our brand to communities in new markets.
The remodel uses an earth-toned color palette, wood features and other natural elements to be more inviting. It also celebrates our Midwestern roots by incorporating a little more of an industrial feel. The new design provides a more balanced environment where guests can sit, stay and work, or guests on the go can get in and out in an efficient manner.
What's your goal with the changes?
CS: Part of the interior design is meant to highlight the three key areas of Cousins. First, we highlight our history and legacy by incorporating a design that reflects our Midwestern roots. Second, we are able to talk about our cuisine philosophy of offering fresh veggies, grilled-to-order meats and freshly baked bread. Finally, throughout the walls of our restaurant, we highlight our commitment to community with our Make It Better Foundation, for which our three pillars are Health and Wellness, Hunger, and Youth Education. It's not just about materials; it's about communicating a message — the value of Cousins and why it's important to us — and we want our guests to know that.
The rebranding creates a dynamic in-store environment that we finally feel matches the high quality of our product. For years, people have said our product is the hallmark of the Cousins Subs' brand. But now, it really matches the environment. It's modern, inviting and it gets noticed. People are seeing the reinvestment in the brand throughout the community. It's not just about remodels, but sometimes we're relocating and building from the ground up, which really gets the community's attention. It demonstrates our commitment to growing both in and outside the Wisconsin market without forgetting our Milwaukee roots.
Tell me about your grill incentive program.
CS: The grill incentive program started in 2012. We realized a majority of our restaurants had microwaves instead of grills, and the product quality wasn't consistent. We wanted to improve the quality of our products to match the vision Cousins Subs was founded on when my dad started the company, which meant we needed flattop grills in all of our restaurants. It's a big ask of our franchisees to make that investment.
So, we incentivized $8,000 of the approximate $30,000 cost — $4,000 in cash and $4,000 in a royalty reprieve for any franchisee who purchased a grill, in addition to an incentive offered by our steak supplier for all grill conversions. After 80 percent of the system upgraded to the new grill system, sales for those stores were up 12 percent during the 52 weeks following the grill installation.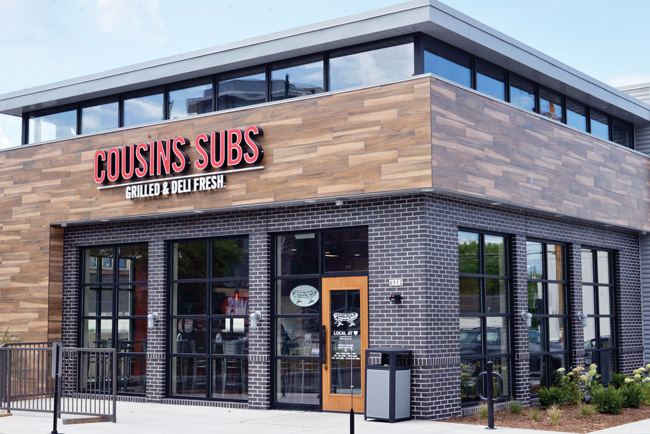 The Cousins Subs remodel modernizes the chain and highlights its Midwestern roots. Image courtesy of Cousins Subs
What was the biggest problem in the underperforming stores you closed?
CS: Over time, traffic patterns and trade areas change and impact sales. You don't want to close restaurants but need to look at the investment and return for the franchisee and for the overall brand. Sometimes the sales just didn't match what we felt we could achieve with a remodel, and when the franchise agreement was up for renewal, we made it a requirement to remodel. Some lower sales volumes no longer justified a substantial reinvestment by way of a remodel, so those stores just didn't see viability for the future. While it's never easy to close locations, we needed to make that decision for the overall health and future success of the Cousins Subs brand.
Why was it important to close stores?
CS: We really started by evaluating all franchise agreements. In 2011, we closed all underperforming or noncompliant locations, evaluated trade areas to see if it made sense to relocate some stores and then worked with franchisees to secure their commitment to the brand. When people don't get on board, it sometimes means they aren't supposed to be part of a larger brand. It's like you're pruning a tree — sometimes you need to do that to gain a stronger core.
The results are in the numbers. Between 2011 and 2015, we saw same-store sales across all units increase by 16 percent and saw average unit volumes increase by 33 percent to $600,000. Those are metrics that tell me we made a good decision. Quantity isn't always the key. Quality is important; it's the quality of the restaurant, location and franchise owner that will help stabilize and solidify the brand moving forward. We had to go through that process back then in order for us to focus on successful growth today.
What are some challenges in your revamp and expansion?
CS: We would love to have all the remodels done today, but we wanted to be understanding and work closely with our franchise community. We made it clear remodels would happen at the time of franchise renewal, so in some cases this could be 2026. Some will go earlier, and some will go by their contract. With expansion, finding locations in trade areas that allow for an upgrade for drive-thru is challenging but important. Off-premise also needs to be a heavy focus, especially when entering new markets. Ultimately, finding sites that help support the evolution of our brand is key.
Have you had any surprises along the way?
CS: When we set out to remodel and rebrand, our goal was to incorporate and introduce a new restaurant look and design that can evolve rather than be static. We didn't want to look at only the short term and then in ten years, we'd have to come up with a new restaurant design. So, what's been interesting is seeing that evolution in the last six or so years.
The first store was remodeled in 2012 and the design has changed since then to what we are doing today. It's not so different that you don't feel you're in a Cousins Subs, but it's been neat to see how we've had to evolve the look while keeping the consistency. We are staying on top of the latest trends in lighting, technology and techniques. All these things will continue to evolve. With the solid base design, then it just becomes enhancements in the future, but it's been interesting to see the path those enhancements have taken.