The concept's growth strategy now includes nontraditional locations. Just this quarter, Slim Chickens will open three units in stadiums, one on the University of Arkansas campus and one in Kuwait International Airport. Two will also open on military bases in early 2019.
Slim Chickens has more than 250 locations in development and plans to have more than 80 open by the end of this year and 600 by 2025. "Our development in Kuwait is opportunistic at best, but we'll see another restaurant or two there next year, and the same in London," says COO Sam Rothschild. "In Kuwait, we'll next open at the airport, and a couple of million people a year will go through that terminal. I think we'll get a lot of brand exposure."
Here, Rothschild shares his perspective on growth as well as on expansion into foreign and noncommercial locations.
Tell us about your background, pre-Slim Chickens.
SR: I've been in the restaurant industry since the late '70s, starting as a young kid. So, I've been doing this my whole life. I'm a Johnson and Wales culinary grad. I started my corporate journey in the late '80s with Bennigan's and spent 13 years there, and that's where I had my initial growth spurt. I went from running one restaurant to forming and starting an international division. And I spent about 80 percent of my year outside the U.S., trying to populate our brands around the world.
I then went to Tony Roma's as the chief operating officer. Tony Roma's was in 25 countries, so my skill set lent itself to what we were trying to accomplish. By chance, I met some executives at Applebee's. They'd just opened the director of franchise operations position. When the largest casual dining concept on the planet asked, I couldn't turn it down. I spent eight years there on the franchise side, but casual dining has been on the decline for a decade. And it just so happens I then found the Slim Chickens guys.
What attracted you to working at Slim Chickens?
SR: I came to give an opinion to the founders, Greg Smart and Tom Gordon, and to Seth Jensen, the CFO, and we liked each other so much and I liked the brand so much that I came on board. And where they are headed with the concept in the fast-casual chicken space seemed to work very well and was attractive to me.
You are planning a lot of new locations between now and 2025. Why so much growth? And where?
SR: We have spent a lot of time and investment in the people that enable us to do this. I believe we've set ourselves up to support company and franchise growth, and we understand what it takes to support people. We've got the systems in place, and people are starting to recognize us more and more, and we're well placed in a category that only has a handful of players in it.
There's still a lot of opportunity in the U.S. to have Slim Chickens in those markets. We're not fighting the pizza wars, and we're not fighting the burger wars. We are in the Midwest — Texas up through the middle of the country. And we're starting to open in Mississippi and Kentucky and toward Ohio and Pennsylvania. It's just a natural progression across the states.
We're also opportunistic, like any franchisor. If someone comes to us and says, "I like your brand and want to put it into a market," you do all you can to make it work.
What kind of locations do you expect to add — U.S., foreign, non-commercial?
SR: I think it will be a mixture. What we're seeing is Slim Chickens works in most venues. But the traditional 2,400-square-foot box with a drive-thru is our best asset from a topline sales perspective. But some of the nontraditional locations offer a great ROI because they're not as expensive as building a ground-up box. Franchisees want a great brand, but they want to make money.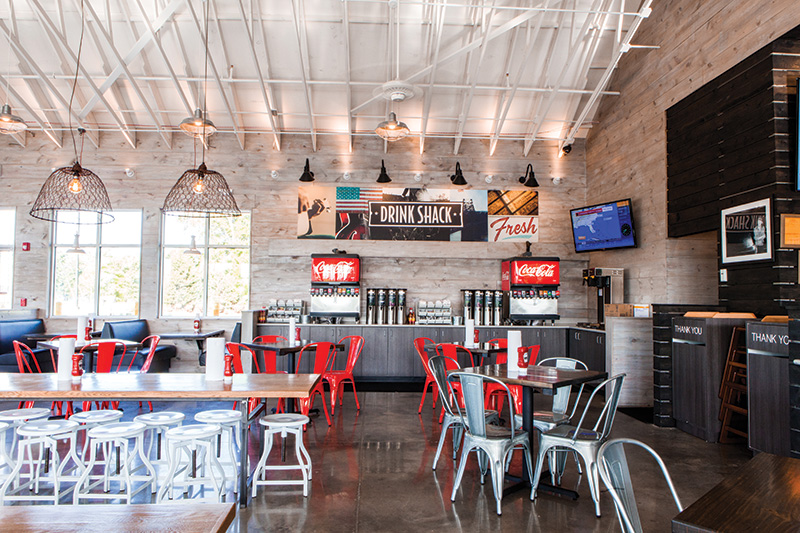 Slim Chickens' locations are in the midwest, but the chain is looking to break into more eastern markets with it's 2,400-square-foot prototype that includes a drive-thru.
Do you prefer to expand via franchising groups?
SR: Yes. We have 17 company-owned stores and open 2 or 3 more a year, but the growth is in franchising, and we have 25 franchise groups and open 20-plus franchised locations every year.
We like to work with franchise groups and like them to open a minimum of three stores in a small market and preferably five or more in a larger market. When you're launching a new brand and going into a new market, you need several stores to get brand recognition and market recognition.
And we don't make it cost-prohibitive. We have low up-front fees because the long-term money is made in opening restaurants and collecting royalties.
What kind of different challenges and hurdles come with opening in nontraditional locations?
SR: First, you have to figure out the space they are giving you and what you can do in that space. The space will dictate the menu you're able to serve. Obviously, we are going to serve chicken tenders and then we evolve from there, depending on the amount of equipment we can put in there. They tend to be smaller — 800 to 900 square feet and up (the traditional store is 2,400 to 2,700 square feet), though they don't have seating, just common seating for many brands.
In stadiums, the challenge is navigating the logistics of getting product in and out because it's just one day for a football game. But part of the advantage at a stadium is there are 80,000 to 90,000 people who go in. You can expose your brand to tens of thousands of people, so we look at it from a branding and marketing perspective.
With colleges, there aren't too many people in the U.S. who haven't grown up eating chicken tenders. These kids on the university campuses love it. Our campus location is run by contractor Compass Group, which makes it easy because they're seasoned operators. It's not easy to break into campuses, but as our brand gets better known, I hope some of the foodservice directors will recognize us more. I think they look at the larger brands with thousands of locations more, but I think they're starting to take a look at us.
What challenges come from opening abroad?
SR: When I came on board, we had nine restaurants, and there wasn't an inkling in anyone's head that we were going to go international. It just happened from relationships and calls we had. I had the international playbook, and we just had to turn it into the international Slim Chickens playbook.
It's very difficult, and a lot of work has to be done to understand the culture of the country you're moving into — the business culture environment and how people do business together, and the cultural nuances and the culture of your brand. So you have to make tweaks, but you have to work very hard to keep the integrity of your brand.
One of the tweaks we made in the U.K. is they don't really eat chicken tenders, so we had to do a bit of education around that and start calling our chicken sandwiches chicken burgers. That's a very subtle tweak.
We also made some tweaks to some flavor profiles of our 17 different dipping sauces. Not all translated, so we changed some ingredients and created a new sauce. And we couldn't import everything because they have some pretty strict GMO restrictions, so we turned to a group of culinary chefs to develop some flavor profiles close to what we're doing.
In Kuwait, we had to make some slight menu modifications. We had to let them add a few things that are popular in that part of the world, such as ice cream and some chicken and rice dishes, but it didn't take away from the integrity of the brand, so we were OK with it.