The new home of Guinness in America opened in Baltimore, Md., in August. The Open Gate Brewery & Barrel House, a brewery, barrel storage, restaurant and visitor center, will be the home of Guinness Blonde as well as new beers created for the U.S. market.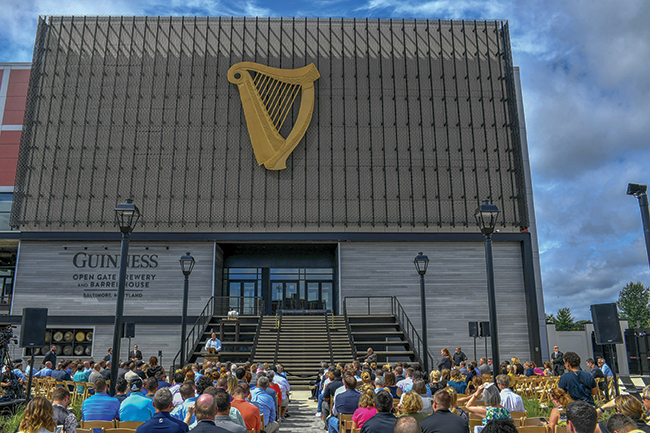 The first part of the brewery's name takes inspiration from the Guinness Open Gate Brewery in Dublin, where the company has been making beer for more than a century. The second part of the name, Barrel House, is a nod to the long history of Guinness brewers maturing beer in wood barrels, a tradition this new brewery intends to continue. In addition, the space was once home to a historic whiskey distillery, so it already boasts a heritage of barrel-aging.
Leveraging a pre-existing structure for the project was a priority for Guinness to maintain parent company Diageo's commitment to environmental sustainability. Guinness has also implemented measures to reduce the overall electric consumption and water usage at the site while utilizing recycled elements for the build, along with low volatile organic compound (VOC) materials and paints.
The Open Gate Brewery & Barrel House is the first Guinness brewing operation on U.S. soil in more than 60 years and is home to two custom-built brewhouses: a 10-barrel brewhouse and a 100-hectoliter brewhouse, both of which are set up to brew and ferment different styles. The 10-barrel system is the small-batch experimental brewery, while the 100-hectoliter system will initially brew Guinness Blonde for national distribution.
Led by Brewmaster Peter Wiens and Head Brewer Hollie Stephenson, the Maryland brewing team has already begun producing beers for the on-site taproom. While the majority of beers will be available exclusively in the taproom, a few brews will make their way to the greater D.C., Maryland and Virginia areas, with some even rolling out nationally.
Visitors can tour the 10-barrel brewery and try the beers made on-site. The initial lineup will include Guinness IPA and Crosslands Pale Ale, a beer made entirely with Maryland-grown malted barley and hops.
While many Guinness classic stouts, including Guinness Draught, Extra Stout and Foreign Extra Stout, will continue to be brewed at St. James's Gate in Dublin, guests can enjoy them alongside the new American beers in the brewery's taproom. The exact number of beers on tap will vary, but there will typically be more than 15 beers available at one time.
The brewery's restaurant, led by Executive Chef Sam Anderson, was slated to open in late summer, and the menu will take inspiration from popular local dishes and Guinness' Irish heritage. Leading up to the restaurant's debut — and continuing after it opens — guests can order casual bar fare in the taproom or enjoy some of Maryland's most popular food trucks, which will often be stationed on the brewery grounds. The Open Gate Brewery & Barrel House also includes a performance area for concerts and local community events.
Guinness has also partnered with Lyft to set up a permanent pickup lane at the brewery to facilitate convenient and responsible rides to and from the brewery. 
The brewery offers free self-guided tours and plans to begin to feature guided tours with beer tastings. Taproom entry and access to the restaurant and outdoor grounds will be free of charge.